For this Homegrown Business profile we spoke with Alexandre Mclean of Alvéole to find out more about their urban beekeeper company.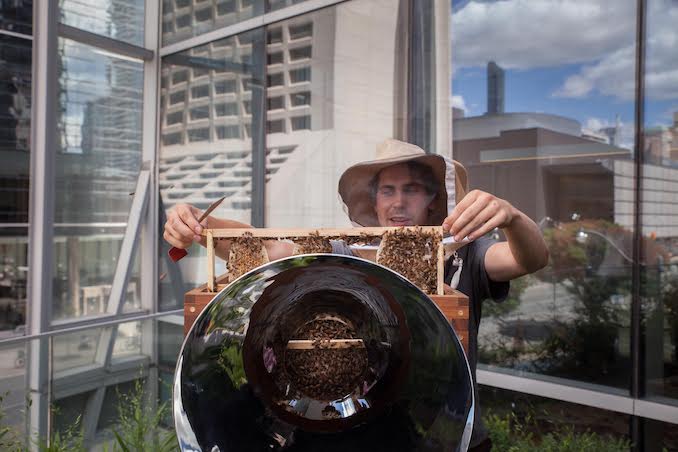 What is your business called and what does it do?
It's called Alvéole. We are urban beekeepers in cities across Canada. We set up beehives in workplaces and schools as a way to connect people to nature.
What made you want to do this work?
I learned to keep bees with my uncles in Manitoba. He's been a beekeeper for the last 30 years. I started working on his farm at the age of 15. When we started Alvéole to bring our passion of beekeeping in the city and try to bring to as many people as possible.
What problem did you want to solve with the business?
Our goal is to make people fall in love with bees, build ecological awareness, and in time, more sustainable cities and food systems. To do this we host hundreds of workshops every year with thousands of people as a way to introduce them to the world of bees and beekeeping. We try to get people to fall in love with something they are usually afraid of!
Who are your clientele/demographics?
We work with businesses and schools in cities across Canada that are looking for a sustainable, engaging and educational initiative.
How does your business make money? How does it work?
We sell a turnkey urban beekeeping packages to businesses and schools :
– maintenance and hive management delivered by a dedicated urban beekeeper;
– your own honey in jars personalized with your organization's logo and colours;
– and a minimum of two virtual or in-person workshops.
Where in the city can we find your profession?
We service 30km around the cities where we are active : Montreal, Toronto, Quebec City, Ottawa, Calgary and Vancouver
What is the best question a prospective customer could ask a member of your profession when comparing services? Give the answer as well.
Q: What's the difference between urban and rural beekeeping?
A: Rural beekeeping is all about the honey. The goal is maximizing honey production. Urban beekeeping is about education. The goal isn't about how much honey is produced but instead about the number of people that interact with bees and get a better understanding of their importance.
What is the best part about what you do? What is the worst part?
I love passing a frame of bees (there's about 2 000 bees on frame) to a person that's never held one before. It's a magical moment and changes people's perspective on bees forever!
The worst part of my job is getting calls from people that have been disturbed by bees. It doesn't happen that often, but sometimes the cohabitation of bees in the city can get people a little tense.
What is your favourite joke about your own profession?
We joke that if you put 10 beekeepers together and you'll get 11 opinions. We're notorious for all thinking we're right.
Where can we follow you?
Facebook | Instagram | LinkedIn
PAY IT FORWARD: What is another local business that you love?
Microhabitat! – https://microhabitat.ca