"Many years ago, I worked at a seaside inn/restaurant on Vancouver Island called Sooke Harbour House. The deal was sweet: seaside, local day-boat fish, several gardeners on staff, foragers, all food was from a 5K surrounding area except the chocolate, orange juice, and coffee. 'You can't run an inn without chocolate, orange juice, or coffee, David,' Frédérique Philip, the innkeeper's wife, would say to me. The kitchen had windows, an ocean view, plants, hippie murals of children playing, and people seemed very happy.
This was odd for me as I had come from the hell kitchens of other men's misery, competitive kill-or-be-killed environments, and was now getting big hugs from other cooks in the morning over seaside coffee. All that smiling was off-putting. Today, I credit Sooke Harbour House as the restaurant that most affected the cooking I did and still kind of do: loose menu, market-driven, an emphasis on the positive mental health of staff.
Having been brought up in French kitchens, I had never seen a Dutch baby, but they were made daily at Sooke Harbour House: breakfast babies, herb and cheese babies, crab babies, clam babies, mushroom babies (to accompany roasted meats in lieu of a starch), dessert babies with foraged berries. Satisfying to cook and even better to eat." -David McMillan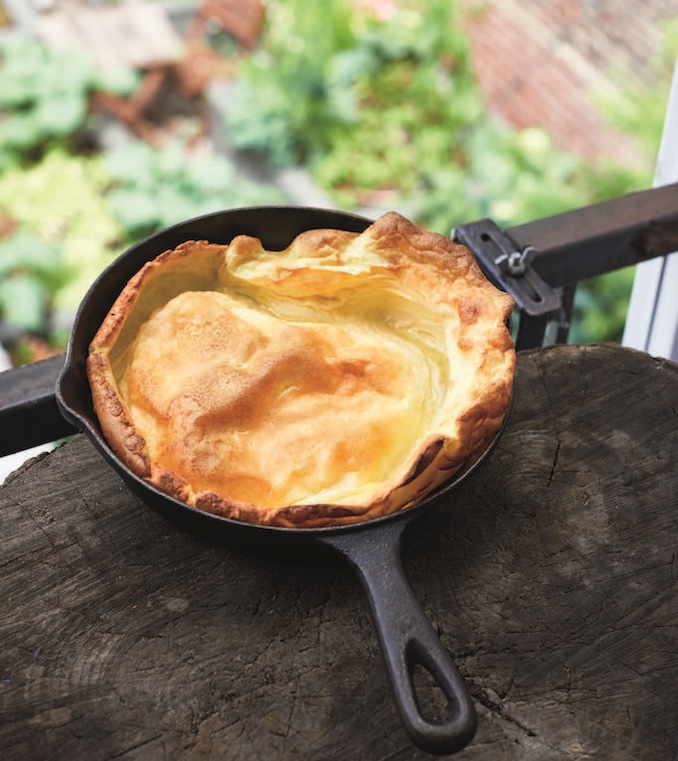 Dutch Babies
Makes one 10-inch (25-cm) pancake, serves 2 to 4
Ingredients
-⅔ cup (160 ml) whole milk
-⅔ cup (90 g) all-purpose flour (or ½ cup/100 g gluten-free flour mix)
-1 tablespoon sugar
-Pinch of salt
-Pinch of ground nutmeg
-Pinch of ground cinnamon
-3 large eggs
-3 tablespoons unsalted butter
Directions
1. Preheat the oven to 450˚F (230˚C), including a cast-iron skillet, placed on the middle rack.
2. In a blender, combine the milk, flour, sugar, salt, nutmeg, cinnamon, and eggs, and blend until uniform, about 30 seconds.
3. When the oven reaches temperature, carefully remove the hot pan from the oven and coat it with 1 tablespoon of the butter, working promptly to avoid burning the butter and cooling the oven. Pour in the batter and return the pan immediately to the oven.
4. Bake undisturbed for 15 minutes, resisting the urge to poke, stroke, or inspect.
5. Remove from the oven, place on a trivet, and put the remaining 2 tablespoons butter to melt on top.
*Note An 8-inch or 10-inch (20-cm or 25-cm) cast-iron pan is crucial to your success here: the heat it retains, its nonstick attributes, and the straight and tall walls. Don't attempt to make babies with anything less.
Recipe excerpted from Joe Beef: Surviving the Apocalypse: Another Cookbook of Sorts by Frederic Morin, David McMillan and Meredith Erickson. Copyright © 2018 Frederic Morin, David McMillan and Meredith Erickson. Published by Appetite by Random House, a division of Penguin Random House Canada Limited. Reproduced by arrangement with the Publisher. All rights reserved.