This vegan-friendly recipe is sure to become a fan favourite because of its sweet and spicy flavours. With a crispy exterior and an irresistible sauce to go with it, you're sure to make it again and again. You can find this recipe, and 59 others in Lloyd Rose's new fall cookbook called "Crazy Good Vegan".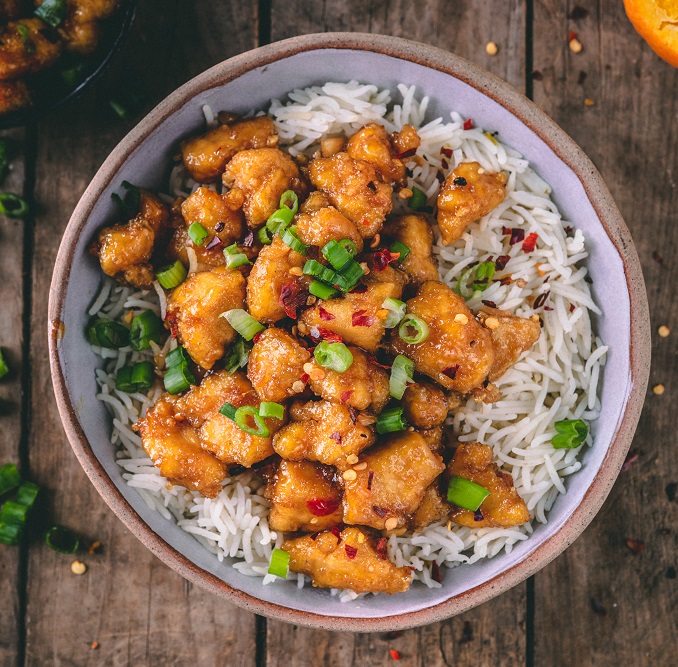 Orange Chick'n
Serves 2
Ingredients:
– 14 oz (400 g) extra-firm tofu
– 1⁄3 cup (43 g) cornstarch
– 1⁄4 tsp ground white pepper
– 1⁄2 tsp kosher salt
– Canola oil or other neutral-flavoured oil, for deep-frying
– 1 tsp freshly grated ginger root
– 1⁄4 tsp red pepper chilli flakes
– 1 tbsp (9 g) minced garlic
– 1⁄4 cup (50 g) granulated sugar
– 1⁄4 cup (60 ml) pulp-free orange juice
– 1⁄4 cup (60 ml) white vinegar
– 3 tbsp (45 ml) tamari or soy sauce
– 1⁄8 tsp orange zest
– 1 tsp sesame oil
– Steamed jasmine rice, for serving
– Chopped green onions, for garnish
Directions:
Drain the water in the package from the block of tofu, then use your hands to tear the tofu into medium bite-sized pieces (see Tip).
In a large bowl, combine the tofu pieces, cornstarch, white pepper and salt. Toss the tofu around in the bowl until all the pieces are coated.
Fill a deep pot with enough oil to deep-fry the tofu and bring the oil to 375oF (191oC). Deep-fry the tofu pieces for 5 to 7 minutes or until the exterior becomes crispy with a light brown colour. Remove the tofu pieces from the oil with a slotted spoon, and place them on paper towels or a rack to drain.
In a large nonstick pan over medium-high heat, heat 1 teaspoon of the same oil that you used to deep fry. Add the ginger, red pepper chilli flakes and garlic, and cook for about 30 seconds until the garlic turns slightly brown. Add the sugar, orange juice, vinegar and tamari, then stir until the sauce has reduced, about 5 minutes.
Add the tofu to the pan and gently stir until all the pieces are coated with the sauce. Mix in the orange zest and turn off the heat. Once the heat is off, mix in the sesame oil and serve hot with steamed jasmine rice and green onions.
TIP: Tearing the tofu instead of slicing it makes for a great texture as the coating will get into all the nooks and crannies.
***