Earth to Rose is a grain and refined sugar-free brand. Earth to Rose's granola called "Cinnamon Raisin Coconut Crunch" has simple, clean ingredients making you feel your best while you get your snack on! On their website, you'll also be able to find the perfect spice blend called " Everyday Organic Spice Rub," perfect for chicken or beef. We spoke with Rose Lilah, Founder & Creator of Earth to Rose to learn more about them.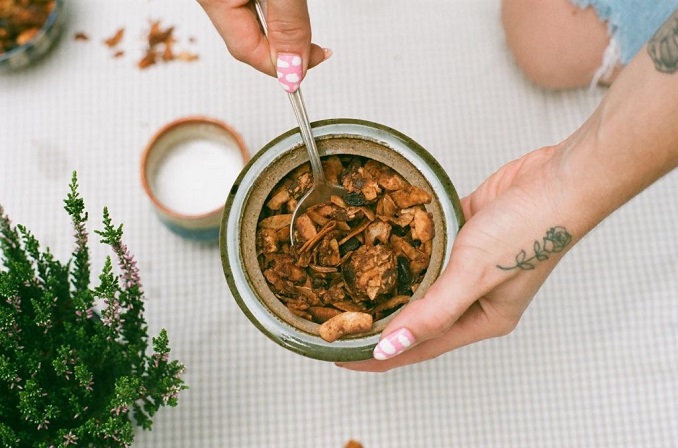 What is your business called and what does it do?
Earth to Rose offers grain-free and refined sugar-free alternatives, currently selling our debut granola flavour, cinnamon raisin coconut crunch, as well as an organic spice rub.
What made you want to do this work?
It all started as I was looking for a way to manage my Crohn's Disease without being on medication. After doing a ton of research on diet, I stumbled across the Specific Carbohydrate Diet, which is a diet that eliminates grains, gluten, and refined sugar, among other things, in order to heal and maintain a healthy gut. It's followed by many people with IBD or Celiac's and can be used alongside medicine and sometimes without. I turned to this way of eating and quickly realized, I would need to start cooking and baking pretty much everything I wanted to eat myself. This led me down an Instagram rabbit hole, where I eventually got so into that I was developing and testing my own recipes, and sharing them with the IG community, under the alias @grainfreee. Fast forward a few years later, and I decided I wanted to pursue this passion a bit more seriously with the creation of Earth to Rose, where I could actually share items that I always wished I could find in the grocery store– minimal ingredients, clean ingredients, ingredients I could eat, while still being delicious. Granola was my debut, which seemed only natural as a grain-free granola was also among the first recipes I developed and shared on my grainfreee.com website, and it's become one of my favourite types of recipes and snacks. Since then, I've also debuted an organic spice rub.
What problem did you want to solve with the business?
Currently, even if you do find grain-free or gluten-free granola at the grocery store, no matter how "healthy" it is trying to be, it typically contains coconut sugar, cane sugar and other additives or preservatives that I personally can't eat. So I wanted to create something that is very minimal and clean – it's actually quite hard to find anything with seven ingredients that you can actually pronounce! No B.S., essentially. As well, I love that my granola flavour is nut free – most if not all grain-free granola rely on nuts, and I have never seen any that rely solely on coconut like mine. In that sense it is unique, but I guess, generally speaking, the problem I wanted to solve with my business is this idea of offering snacks that are made with real ingredients, like something you would make yourself at home but without the hassle and clean-up of course.
Who are your clientele/demographics?
My clientele is mostly similarly-minded, health and gut-conscious folk – whether or not they have celiacs, IBS, IBD, Sibo, they simply care about the ingredients they put into their body.
How does your business make money? How does it work?
My business makes money via direct-to-consumer sales, meaning, consumers can purchase my granola or spice rub directly from me – either through my website or through Instagram!
Where in Montreal can we find your profession?
I'm not sure if there are any full-time grain-free bakers or food producers in Montreal.
What is the best question a prospective customer could ask a member of your profession when comparing services? Give the answer as well.
Well, I think if they're comparing my grain-free granola to another grain-free granola it would be more about what makes Earth to Rose unique. And I would say it's the fact that it is sweetened naturally by Medjool dates and honey, and that it is made entirely with coconut – while still giving you these amazing clusters, which is what granola is all about in my opinion! Whereas other grain-free granola options are made with nuts and have a much longer list of ingredients, typically including coconut sugar.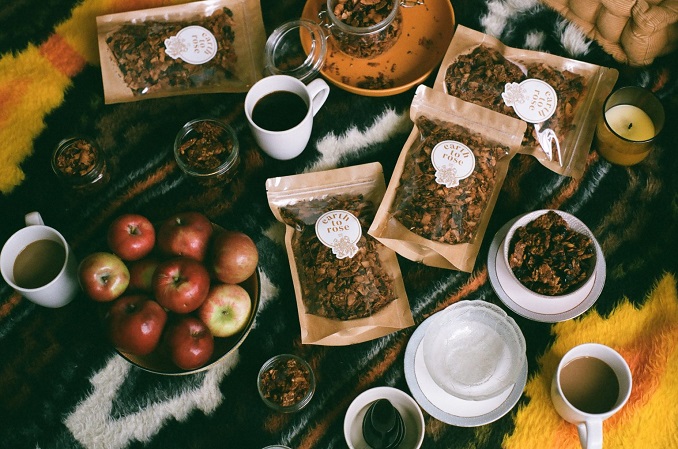 What is the best part about what you do? What is the worst part?
The best part is getting amazing feedback on my granola, and having happy customers! I love the fact that what I'm doing is not only delicious but it's meaningful to the people who purchase it – it solves an issue for them, helps them in their daily life, it's one less thing for them "to do" when they don't have to worry about making their own snacks. I honestly don't have a "worst part" (yet!)
What is your favourite joke about your own profession?
I honestly don't know any jokes about this profession yet, I'll have to Google it ha!
What are your social media channels?
Website | Instagram | Facebook | TikTok
PAY IT FORWARD: What is another Montreal business that you love?
I love the Hudson Soap Co.! I met them at a market and tried their soaps, and they're amazing. I also love what NutMylk is doing, as they offer clean (1-ingredient) milk options – almond milk, coconut milk etc.