Chef Naïka is a private Chef and caterer who brings unique flavour to your meals. She offers different kinds of services such as; takeout meals, prep meals, private Chef at home and brunch. She loves to cook Caribbean food with her own twist and fusion food. She also shares some tasty recipes videos on social media. Here is her recipe for chicken wings with chimichurri and garlic sauce. Enjoy!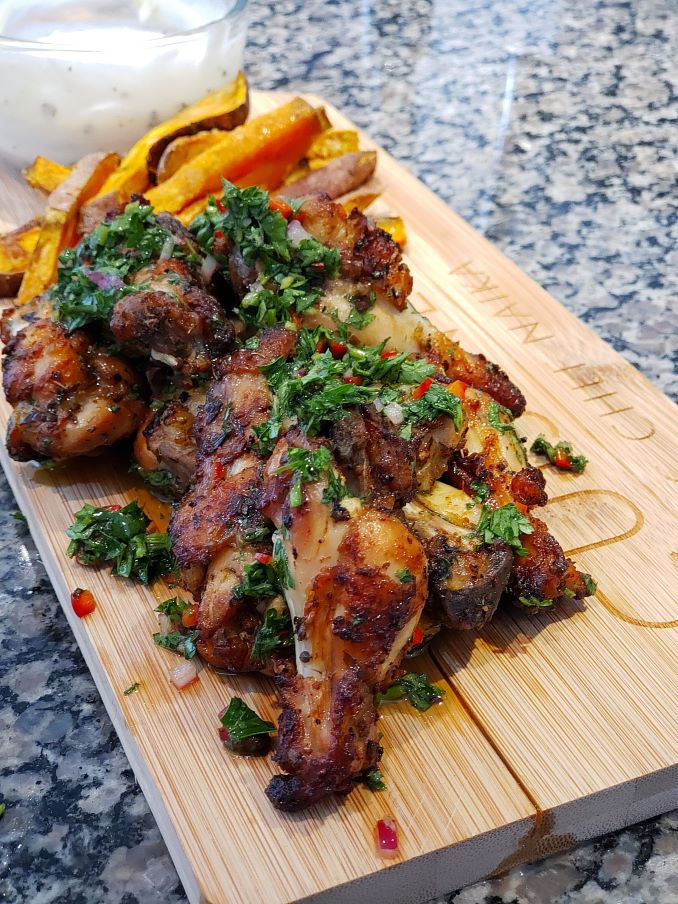 Chicken wings with Chimichurri and Garlic Sauce
Serves 4 portions
Cooking Time: 35 minutes
***
Marinade:
– 1 pound chicken wings
– 1 tsp garlic powder
– 1 tsp onion granulated
– 2tbsp smoked paprika
– 1 tsp oregano
– 1 tsp estragon
– Lemon juice
– Salt, pepper
Chimichurri:
– 1/2 cup finely minced parsley
– 1/2 cup finely minced coriander
– 1 chopped garlic
– 1/4 small diced red bell pepper
– ¼ small diced red onion
– ½ cup olive oil
– 2 tbsp red wine vinegar
– Salt, pepper
Garlic dip:
– 3tbsp plain yogourt
– 1 tbsp mayo
– 1 tsp garlic powder
– 1/2 tsp dijon mustard
– Pinch dried oregano
– Pinch dried parsley
Directions:
1. In a bowl, add the chicken wings. Marinate with all the ingredients. Let them rest for minimum 1 hour.
2. For the chimichurri, add all the ingredients in a small bowl. Cover and set aside.
3. Turn on your Air-fryer (or preheated oven) at 400°F and add the wings. Cook for 35 minutes.
4. In a bowl, add all the ingredients for the dip.
5. When the wings are ready, add them in a bowl. Add some chimichurri and mix well.
6. Arrange it on a plate with the garlic dip on the side.
7. Add more chimichurri on the wings if you like.
8. Enjoy with rice, potatoes or any kind of feculents.