Canadian culinary legend Bonnie Stern shared her recipe for Sheet Pan Chicken with Lemon and Olives from her new book "Don't Worry, Just Cook", written with her daughter, Anna Rupert, and featuring a Foreword from Yotam Ottolenghi.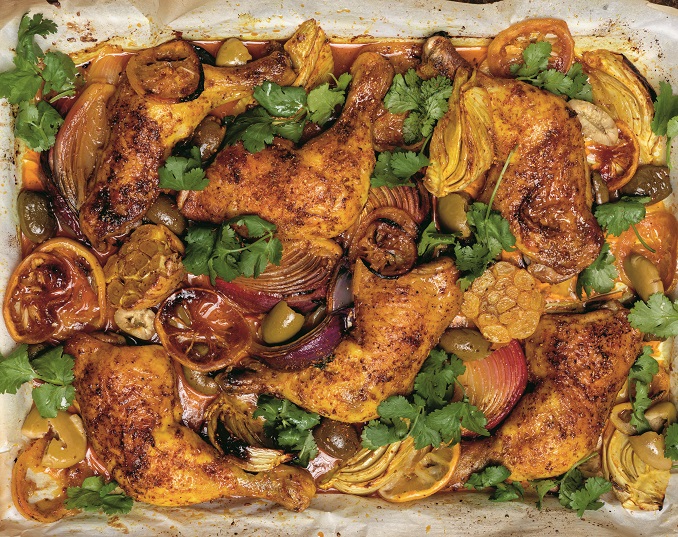 Bonnie Stern's Sheet Pan Chicken with Lemon and Olives
Serves 6
Ingredients:
– 3 lb chicken pieces (12 chicken thighs or 6 whole legs)
– 2 onions, quartered
– 1 head garlic, halved horizontally
– 1 bulb fennel, trimmed, halved, and cut into thick wedges
– 1 lemon, thinly sliced (or 2 if you don't have preserved lemons)
– 1 cup coarsely chopped fresh cilantro or flat-leaf parsley + more for serving
– 1/2 cup large green olives, pitted by gently smashing or tearing apart
– 1/4 cup sliced preserved lemon peel
– 1/4 cup extra virgin olive oil 1 Tbsp honey
– 1 Tbsp kosher salt
– 1 tsp ground coriander 1 tsp ground cumin
– 1 tsp sweet paprika
– 1 tsp ground turmeric
Directions:
1. Place the chicken pieces in a large bowl, along with the onions, garlic, fennel, lemons, cilantro, olives, preserved lemon peel, olive oil, honey, salt, coriander, cumin, paprika, and turmeric. Toss well to mix. Marinate in the refrigerator for a few hours if you have time, or cook right away.
2. Preheat the oven to 400°F. Arrange the chicken pieces in a single layer on a baking sheet lined with parchment paper or in
a large baking dish or shallow Dutch oven, skin side up. Spoon the fennel-lemon mixture over and around the chicken. Cover with aluminum foil and roast for 20 minutes.
3. Uncover and roast for another 30 minutes. If the chicken hasn't browned yet, increase the oven temperature to 425°F and cook for 10 minutes longer or until the chicken and vegetables are nicely browned.
4. Serve topped with the cooked lemon slices and olives, and the fresh cilantro.
***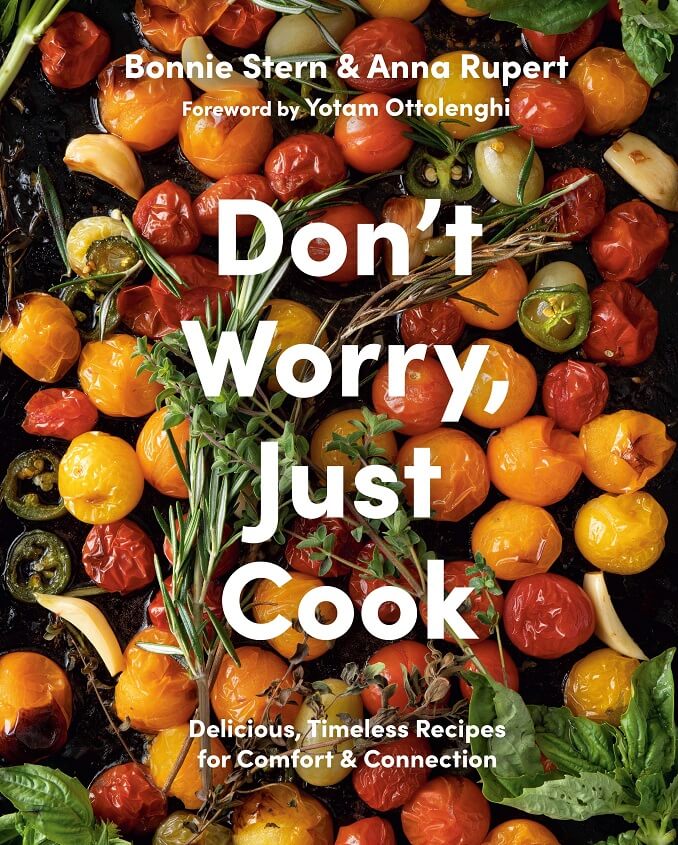 "I tell you not to worry because I've done all the worrying for you!"
Bonnie Stern, beloved teacher and bestselling cookbook author, wants nothing more than for you to feel like she's in the kitchen cooking beside you.
In her latest cookbook, Don't Worry, Just Cook, written with her daughter Anna Rupert (who has, in fact, been in the kitchen cooking beside Bonnie her whole life!), Bonnie and Anna are here to help cooks of all experiences foster comfort and connection through food.
With her trademark encouraging style and attention to detail, Bonnie writes recipes that are consistently delicious, widely appealing, and, as always, timeless. Like all of her cookbooks, Don't Worry, Just Cook doesn't simply give instructions to create a dish, it also shares stories, lessons, and kitchen wisdom that will build your cooking technique and confidence in the kitchen.
In this new book, you'll find easy-to-follow recipes for all-day breakfasts, soups, starters, and side dishes, as well as breads and vegetarian, fish, and meat mains. And, for those wanting something sweet, Bonnie and Anna have included plenty of desserts! You'll be amazed by how quickly such special dishes like Jeweled Roasted Salmon with Herbs and Sheet Pan Chicken with Lemon and Olives come together. The simplicity and beauty of dishes like Ja'ala Herb Salad with Lemon Honey Dressing and Roasted Cauliflower Steaks with Tahini and Z'hug will impress even the cook! And the desserts, like the Pavlova Cake with Lemon Curd and Berries, Bonnie's Rugelach, and S'mores Chocolate Bark have never been so fun or delicious.
Bonnie and Anna have also provided notes and variations to help you modify dishes for special diets, and have sprinkled in essays on topics that will resonate with all of us, from things not worth worrying about, to a love of leftovers and what to do with them. Bonnie and Anna's warm voices and subtle humour come through on every page. With 125 enjoyable and thoughtful recipes, and stunning photography, home cooks will turn to this instant classic time and time again to nourish themselves and the people they love.