LOFT.bijoux is a jewelry atelier and boutique in Montreal. They offer services such as: custom jewelry, engagement and wedding rings and transformation of old jewelry. We spoke with Olga Leclair, the founder, to find out more about them.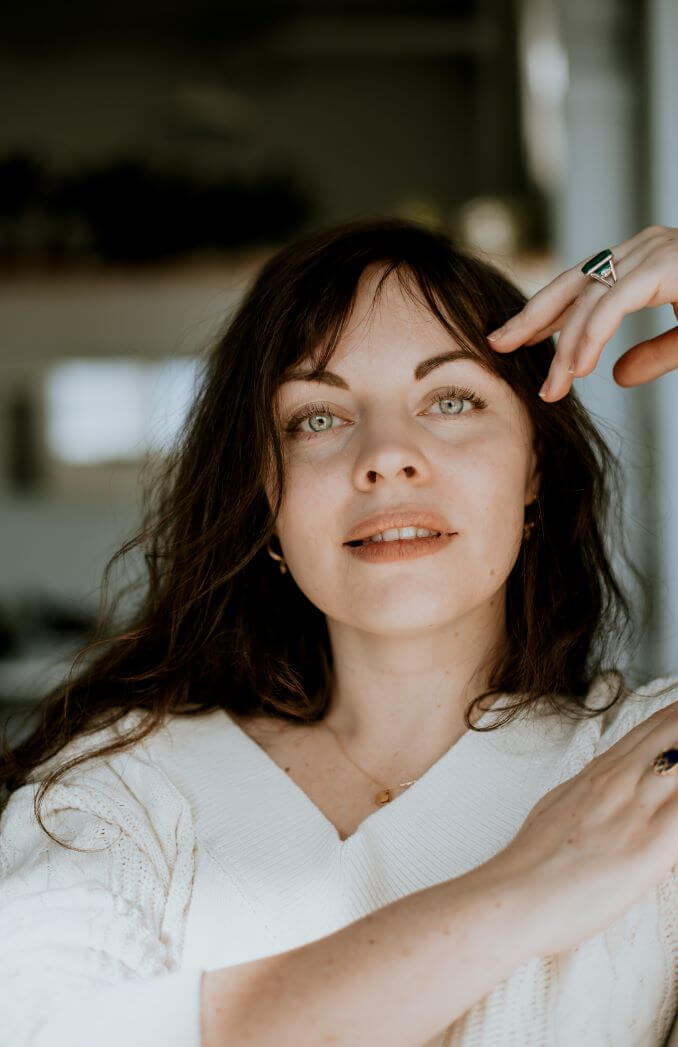 What is your business called and what does it do?
My name is Olga Leclair. I'm the founder of LOFT.bijoux, a jewelry atelier boutique in Montreal, that specializes in custom, wedding, and high-end jewelry. Gemstones are the DNA of LOFT.bijoux. We work with diamonds as well as with other precious gems – emeralds, sapphires of different colors, rare spinels, tourmalines, and others. Beautiful and (whenever possible) ethical and traceable gems are our priority. LOFT.bijoux provides the whole jewelry circle, from searching the gem by in-house and partner gemmologists to custom design and production. There are also some ready-to-wear jewels available at our boutique at 3910 rue Saint-Denis (Montreal). Everything is proudly made in Montreal by me and my amazing team.
What made you want to do this work?
A few years ago, I experienced a powerful and painful personal event. For many months I could not overcome it and return to my normal life. I happened to see at that moment an exhibition of items recovered from the Titanic. There were jewels. Can you imagine ?! No more boat, people, the whole époque – and jewelry is still there! It went right into my existential question at the time – what I want to leave after myself. Don't laugh, but I told myself: "People don't throw away gold. If I create 1000 really beautiful and important pieces in my lifetime, chances are good that in 500 years 10-15 will still be there." That's how LOFT.bijoux appeared in 2016. Then I started to work and to study (and I never stopped learning till today), at the École de joaillerie de Montréal, at the Haute École de Joaillerie in Paris, at the Van Cleef & Arpels school in Paris, at the École de gemmologie de Montréal, at GIA (Gemmological Institute of America), Gübelin Gem Lab in Switzerland and others.
What problem did you want to solve with the business?
My company works in a very art-house niche, custom, and high-end jewelry. People come to me when they want something very personal or when they are in search of a rare gemstone. A very little number of jewellers would have the proper expertise and capacity to satisfy clients with refined demand of, for example, lotus Padparadscha sapphires, or spinels. Or can navigate in the breathtaking and complex world of emeralds. Around 70% of my projects are for weddings. Engagement and wedding rings are the embodiment of personalized and unique projects that I am happy to create for my clients to symbolize their love, to wear, and always cherish.
Who are your clientele/demographics?
The major geography of my clientele is Quebec and Ontario. Around 25% are from the USA, Europe, Russia, I had an order from New Zealand last year. Who knows where Instagram brings me next!
Where in the city can we find your profession?
My office and boutique are in the creative heart of Montreal, on the Plateau, at 3910 rue Saint-Denis (by appointment).
What is the best question a prospective customer could ask a member of your profession when comparing services? Give the answer as well.
When someone is searching for wedding, custom, or high-end jewelry I'd suggest first finding an expert. Find a place where they will be happy to share the knowledge of the gems, of how the pieces are made, how the creation goes. When you will see that it's not just a business, but people are truly in love with what they are doing and are ready to talk about it! I have some experiences of going to jewelry stores myself where the store was not able to answer the question of "how that 20-thousand-dollar sapphire was treated" and find it embarrassing because this information can change the price 2-3 times, how do I know that that piece is well-priced or overpriced three times? It's the responsibility of the seller or maker to give all the major information to the client so that he or she could take an educated decision. It's normal that a client is not a specialist, but it's our duty as jewelry experts to explain to them what information matters and why, as it can affect many times the price and many other things.
What is the best part about what you do? What is the worst part?
There are so many things I love about my work. The first and the most important is people!! All the amazing clients I get to meet, to know…They teach people, treat people, build houses and bridges, launch ships to space, create beautiful things, discover new molecules, cross the Pacific alone on the boat and do so many unbelievable things! Talking with them I look at the world around me through their eyes, and it is beautiful. With my jewels, I am just doing my best to remind all these people how amazing they are.
Second, it's gemstones! Some of them date back to 3 bln years ago and are literally synonyms to processes that created our planet, when the tectonic plates moved, mountains came to the surface, the first life appeared in the oceans…Some diamonds and emeralds know the world before the dinosaurs! Getting to work with these miracles of Nature, to see hundreds of them every week, to travel…I can never get enough of that!
Third, of course, it's the creative process. It's always a living creature and every time grows in its own unpredictable way. I nearly never get to make the same thing twice, it happens very rarely.
The hard part of my work is to say goodbye to the jewels we created when they go to their owners. Always a very happy but at the same time a sad moment when I have to send the precious box to its new home. They are all small parts of me.
Where can we follow you?
The best way to follow me is on Instagram, at @loft.bijoux. I also have the same page on Facebook and, of course, a website.
PAY IT FORWARD: What is another local business that you love?
I am a big fan of local shopping, so hard to name just one company! Let it be an amazing decor store Coeur d'Artichaut