We recently interviewed Montréal comedian Monica Hamburg to find out more about her comedic style, her influences, favourite comics and how she discovers new talent. Monica is also working on several projects so be sure to follow her and go check out some of her shows.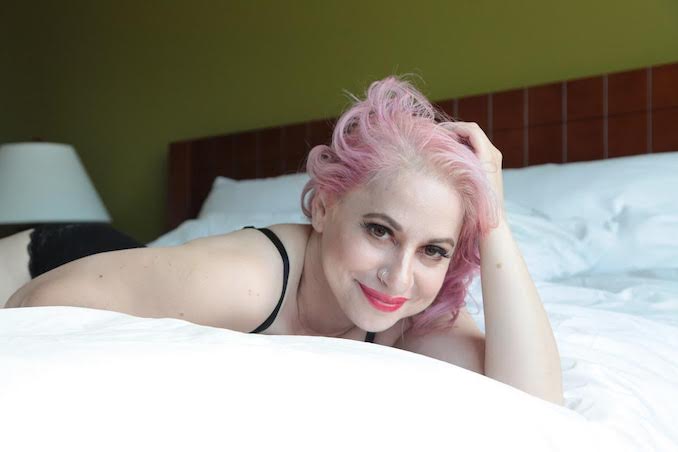 How would you describe your comedy style?
Goofy exuberance? Ebullient cynicism? Kinky incisiveness?
Who are some of your influences?
Maybe less "influenced" and more… "oh, that's possible?!"
I love Bob Newhart (especially his "Bus Drivers School" routine.)
My idol growing up was Bea Arthur. Her characters challenged what it meant to be a woman (i.e. less softspoken and more outspoken).
I enjoyed the Distorted View Show with Tim Henson and listened to it obsessively when I did my (former) podcast and before I began doing comedy. Perverted & clever. (I should get that as a tattoo…)
Who was your favourite comedian growing up?
I can't choose just one! Jerry Seinfeld, Lewis Black (I loved his fury), Judy Tenutum (loved her wackiness), and Billy Crystal (I was especially obsessed with his "Mahvelous" album. And I listened to "I Hate When That Happens" about a million times. Now that I think about it, that might have been crueler than my mom's Engelbert Humperdinck habit.)
Who is your favourite comedian now?
I'm bad at this "choosing one" thing. A few comedians I really like are: David Cross, Bobbie Oliver, Jared Logan, Shalewa Sharpe, Aparna Nancherla, Chris Gethard, and Matteo Lane.
What is your pre-show ritual?
Breathing… I've been performing in one form or another since I was young and stupider & I hoped I eventually stop feeling nervous pre-shows – but it hasn't happened yet. So I do breathing exercises and try to center myself.
What is your favourite place you have performed? Why?
I have 3 (but of course I do): A burlesque variety show (Toronto's Lunacy Cabaret), Montreal's Otakuthon (as part of Andrew Cardazzi & and AC Valiante's Otaku Comedy Show), and a swinger's club. For all of these, the energy was really high & it was exhilarating.
What is your favourite medium for listening or finding new comics/comedians?
I love seeing live comedy shows – especially ones with other formats (i.e. panel, themed shows, variety etc.).
E.g., in Montreal there's Elspeth Wright's "Battle of Wits", Abby Stonehouse's "Get Fucked", Alo Azimov's "Tales of Gender Affirmation", Elspeth Wright & Peter J. Radomski's "I Was the A-hole", and a whole bunch that I am forgetting.
Do you have anything to promote right now?
Yes, I produce and host shows including Pornomedy & Craigslost – and my next one is MomOFF on Friday, December 3rd. This one is a co-production with Peter J. Radomski.
"Whose mom is the most infuriating? One guest will 'win' – or at least be fully validated by an award."(Tickets on Eventbrite)
You can also watch videos, and episodes of an online show I did ("Confined"), on YouTube.
And I have 2 stories in the book "Stories We Don't Tell"
Where can we follow you?
Website | Facebook | Twitter | Instagram | YouTube | TikTok
Tell us a joke.
(A Tweet joke:)
My neighbour is desperately trying to play "Amazing Grace" on her piano & I wish she stayed lost.
PAY IT FORWARD: Who is another local comic/comedian we should know about?
There are too many talented & hard-working people here (and I locked 20 in the basement to land this interview). I'm going to go with Ines Anaya because every time I see her perform, I'm impressed. Her comedy is so sharp & she makes it all seem effortless.