Hadi Kubba is a local comedian who can be found embarrassing his family on stage as well as performing at Theatre Paradox with fellow comic Sugar Sammy. We got to chat with him about his many influences, his favourite bit and what is coming next.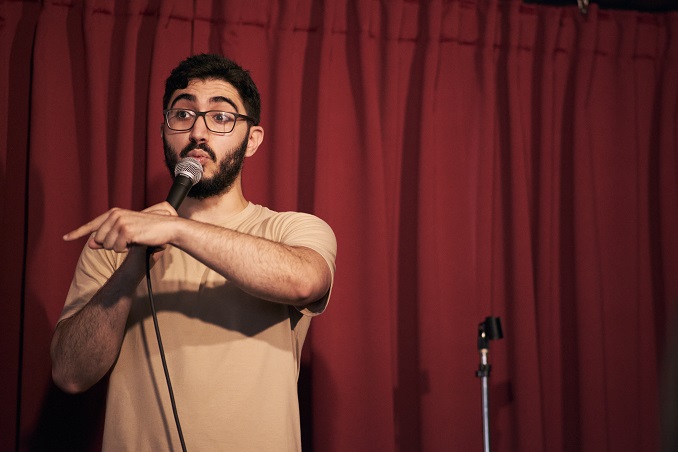 How would you describe your comedy style?
A man bringing levity to the struggles of his everyday life.
Who are some of your influences?
There's too many to count but I've rewatched Tropic Thunder, Rush Hour, Kung Fu Hustle, and Zoolander a dozen times. Also anytime a Seinfeld episode is on, my father and I will sit down together to watch it.
The stand-ups I always go back to listen to are George Carlin, Patrice O Neal, Dave Chappelle, Dave Attell, Tom Segura, Bill Burr and Mitch Hedberg.
Who was your favourite comedian growing up?
Louis CK.
Who is your favourite comedian now?
Shane Gillis and Jessica Kirson.
What is your pre-show ritual?
I shower and drive to the venue with music playing in the car. When I arrive at the venue I usually go to the bathroom and drink some of the sink water to get a feel for the neighbourhood. If I start vomiting, I know it's gonna be a great show.
What is your favourite place you have performed? Why?
Theatre Paradox with Sugar Sammy. It's a beautiful theatre, and his audience is passionate and excited to be there!
What is your favourite bit you have written and why were you proud of it?
I try not to have favorites but anytime I can successfully make fun of my family I get really happy.
There's nothing quite like embarrassing your family in front of hundreds of people.
What is your favourite medium for listening or finding new comics/comedians?
Showcases at MtlComedyClub, 3rd Floor Comedy Club, The Comedy Nest, and the Bordel all have amazing shows with rotating lineups across the city.
Tell us a joke about your city
What did the French Owl say? "Qui qui qui."
Do you have anything to promote right now?
Follow me on my socials! I'll be dropping a bunch of content in the coming months leading to an album taping.
Where can we follow you?
PAY IT FORWARD: Who is another local comic/comedian we should know about?
Peter Bowen. He's a hilarious comedian on and off the stage!