Debuting a decade ago, the psych-pop creation of Rishi Dhir along with collaborators Miles Dupire (drums) and Robbie MacArthur (guitar), and Jason Kent (keys/guitar), Elephant Stone, have released five critically-acclaimed albums, toured extensively throughout North America and Europe, been nominated for the prestigious Polaris Music Prize and picked up praise from the likes of NPR, Brooklyn Vegan, Consequence of Sound, Rolling Stone, Clash Magazine and more. As a highly-regarded sitar player, Dhir has also collaborated with indie-rock icons (Beck) and legendary cult bands (The Brian Jonestown Massacre).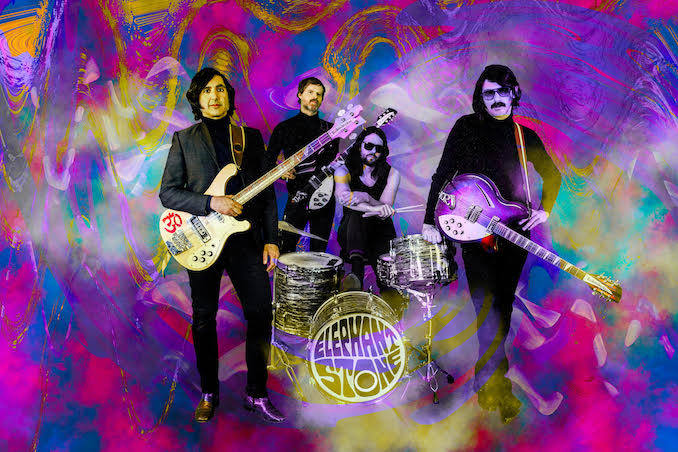 Name : Elephant Stone
Genre : Pyschedelic-Pop
Founded : 2009
# of albums : 5 LPs + 2 EPs
Latest album : Le voyage de M. Lonely dans la lune
Latest single : La fusée du chagrin
Latest vidéo :
Favourite musician growing up : James Jamerson (Motown bassist)
Favourite musician now : Beck
Guilty pleasure song : Tomorrow Never Knows – the Beatles
Live show ritual : Stretching and vocal warm ups
Favourite local artist : Seulement
EP ou LP ? LP
Night owl or early riser ? Definitely early riser.
Road or studio ? Studio
Do you have anything to promote ? New EP, Le voyage de M. Lonely dans la lune
Where can we follow you ? https://instagram.com/elephantstone
***
Questions en rafale
Favourite local restaurant : Super Qualite
Favourite street ? Molson (Rosemont)… great neighbourhood
Favourite park ? Parc Beaubien…. it's along my jogging route
Favourite music venue ? London?
Favourite local music store : Phonopolis