For World Chocolate Day, taking place on July 7th, the semi-finalist of The Great Chocolate Showdown, Gavan Knox, pays homage to cocoa by sharing with us his new recipe for Chocolate Pouding Chomeur.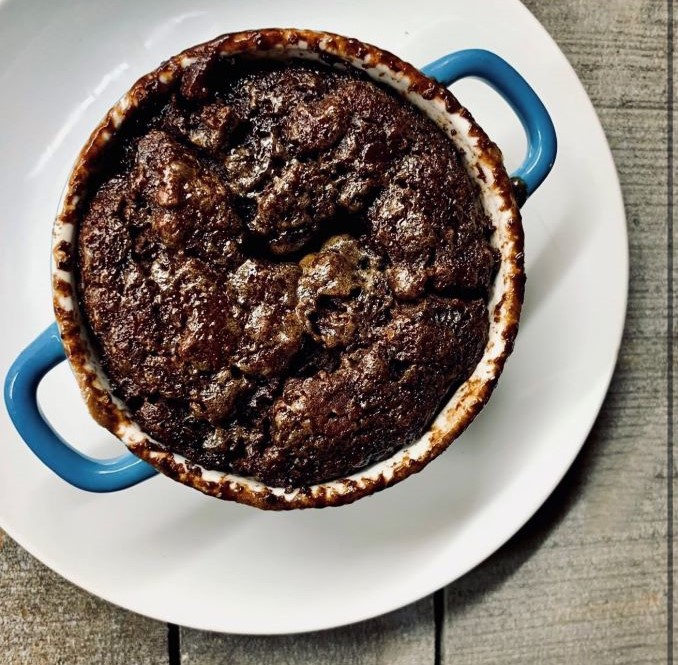 Chocolate Pouding Chomeur
Serves 4 (dependant on dish size)
Ingredients:
Cake
● 1 ½ cups all-purpose flour
● 2 Tablespoons unsweetened cocoa powder
● ½ cup granulated sugar
● 1 ½ tsp baking powder
● 1 pinch salt
● ½ cup cold unsalted butter, cut into pieces
● ½ cup chocolate milk
● 2oz semi-sweet chocolate (I use bars with 1/4 oz square so I can put 2 in each dish)
Sauce
● 1 cup maple syrup
● 1 cup packed light brown sugar
● ½ cup water
● ¼ cup unsalted butter
● 1 tsp vanilla extract
Directions:
Cake
1. Preheat the oven to 350ºF (180ºC). Lightly grease 4 individual (0.25L) mini-cocottes, ramekins or other ovenproof dishes and place them onto a baking tray
2. Sift the flour, cocoa powder, sugar, baking powder and salt into a large mixing bowl. Add the butter and use a pastry cutter or your fingertips to work the butter into the flour until a rough, crumbly mixture – like thick breadcrumbs or damp sand is achieved
3. Add the milk, chocolate milk and stir just until the mixture comes together
4. Spoon this into the prepared smaller baking dishes. Push 2 x 1/4 oz square of chocolate into the middle of each pudding. Set aside while you prepare the sauce.
Sauce
1. Combine the maple syrup, brown sugar, water, butter and vanilla in a pan and bring to a boil over high heat, stirring occasionally.
2. Once it reaches a rolling boil, remove it from the heat and ladle this over the cake in the ramekins.
Bake the puddings for about 30 minutes, until a tester inserted into the centre of a pudding comes out clean.
Remove from the oven and let the puddings cool for about 15 minutes before serving (be careful syrup is hot!).
***
Follow Gavan Knox on his website and Instagram for more recipes!