As a chef who goes into homes to serve local, homemade, fine Italian cuisine, my goal is to take care of my clients as if they were in a restaurant, but with the added comfort of being in their own space. My team takes care of everything from setting the table and serving the food and drinks, to cleaning up at the end of the evening- allowing the host to relax and enjoy their evening.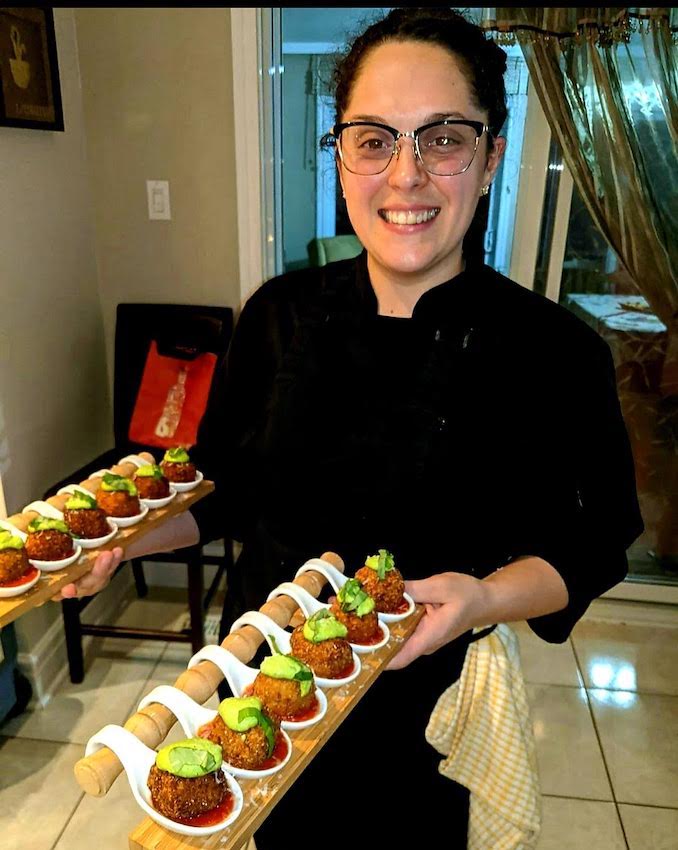 For me, the beauty of food is bringing strangers together for an evening of professional quality food at home, and leaving with the excitement of a child who's made new friends in the school yard. A wonderful connection formed over fantastic wine and delicious, fresh food.
During my childhood, my nonni (grandparents) would often take me to Jean Talon market and this has since become a place of inspiration for my seasonal menus. A walk through this market is a feast for the senses with sights of fresh local fruits and vegetables, cured meats, an array of herbs and spices and the pungent smell of cheese. This recipe is inspired by a trip to the market during the summer months, when basil is at its peak.
Blending basil and arugula together allows you to add a little more flare to your pesto. The sharp, peppery flavour of the arugula balances well with the herbaceous basil, giving you a different spin on a typical Genovese pesto. Best served with egg tagliatelle.
Creamy arugula pesto tagliatelle
Serves 4
Crumble
Ingredients
-Pecorino Romano grated ¼ cup
-Salted Butter room temp ¼ cup
-Panko bread crumbs ¼ cup
-Preheat oven 350°
Directions
1. In a bowl combine all he ingredients to from a homogeneous batter.
2. Line a cookie sheet with parchment paper , spread mixture evenly , pop in the oven every 5 minutes or so stir the mixture to get an even golden brown crumble.
3. Bake total time 15 minutes.
4. Let cool completely.
5. With a spoon break it up into a crumble consistency.
6. Store in an air tight container , serve at room temp.
Pesto
Ingredients
-Basil leafs 1 cup
-Baby arugula 1 cup
-Toasted almonds ¼ cup
-Garlic 1 big clove
-Parmigiano grated ½ cup
-Extra virgin olive oil 1 cup
-Cracked Pepper to taste
Directions
1. In a blender , start with the greens , almonds, garlic and a pinch of salt , pulse till the greens have broken up .
2. Add the cheese blend on high, pour the olive a little at a time. Blend till it's a homogeneous thick pesto.
3. Stays fresh in the fridge for a week or freezes really well .
*Pro tip , freeze pesto in ice cube trays for quick use during the week.
Sauce
Ingredients
-Pancetta cubed ½ cup
-35% cream 2 cups
-Garlic 1 clove whole
-Pecorino grated ¼ cup
-Salt & pepper to taste
Directions
1. In a dry pot , render the pancetta on medium to low heat, slowly browning the meat till crispy.
2. Reserve for later in a plate. In the same pot with the pancetta fat , slowly cook the garlic, once soften add the cream , cheese and season. Let the cream reduce to half.
3. Bringing it together , cook pasta as directed on the package. Reserve some of the cooking water.
4. Ladle the cream sauce over al dente pasta , preferably egg tagliatelle, add the crispy pancetta and scoop 2 heaping table spoons of arugula pesto stir to combine, if the sauce mixture is too thick add a little of the cooking water till desired consistency.
5. Garnish plate with pecorino crumble.
Follow Gianna on: