Enjoy this comforting soup on a chilly afternoon or evening. Created by Montréal Chef Kimberly Lallouz from a partnership she did with the Egg Farmers of Canada. Inspired by the rich flavours of Portugal and Morocco, this dish is packed with flavour and protein, combining fresh herbs, veggies and eggs.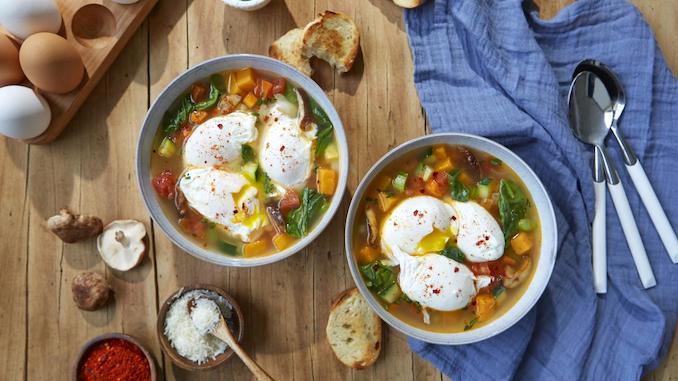 Hearty Vegetable Soup Topped With Eggs
Serves: 4 | Prep Time: 25 min | Cook Time: 18 min
Ingredients
-6 eggs
-2 tbsp (30 mL) olive or grapeseed oil
-6 shiitake or button mushrooms, stems removed, sliced thinly
-1/2 onion, diced
-1 tsp (5 mL) of salt
-1/2 tsp (2.5 mL) freshly ground pepper
-1 carrot, peeled and diced
-2 branches of celery, diced
-1/2 butternut squash, peeled and diced
-1 zucchini, skin on, diced
-2 cloves of garlic, chopped or grated
-1 tomato, chopped
-4 cups (1 L) baby spinach
-1/2 cup (125 mL) chopped fresh parsley
-4 tbsp (60 mL) parmesan cheese or grated cheese of your choosing
-Optional Garnish: Espelette peppers or chilli flakes
Directions
1. Heat the oil in a medium-sized soup pot with a thick base, over medium-high heat. Add the onion, mushrooms, salt and pepper, and cook for 2 minutes, mixing with a wooden spoon.
2. Add the carrots, celery, butternut squash and zucchini, garlic, tomato, baby spinach and parsley, mix and continue cooking for 3 minutes.
3. Cover with 4 cups (1 L) of water and boil. Then lower the heat to medium and cook for 8 minutes without the lid.
4. Lower the heat a little to medium-low. Crack eggs on top of the soup, cover and cook for 3 minutes. Turn off the heat (remove the pot of soup from the stove) and let stand for 3 minutes for a softer egg yolk or 5 minutes for a firm yolk.
5. To serve: In each bowl, serve the soup with the eggs and add a tablespoon (15 mL) of your cheese to the top. You can also garnish the dish with Espelette pepper or chilli flakes and serve with a slice of toasted bread!