This recipe comes from Montréal chef Kimberly Lallouz. Her Taco salad bowl with lightly spiced ground chicken, cumin-lime vinaigrette and homemade baked tortilla chips, paired with Molson Ultra comes from a partnership between the local chef and Molson.
Until November 30th, Canadians will have the chance to win an exclusive virtual cooking class with Chef Kimberly by picking up a specially marked case of Molson Ultra at participating locations across Canada and entering a PIN to win.
You can enter that contest HERE.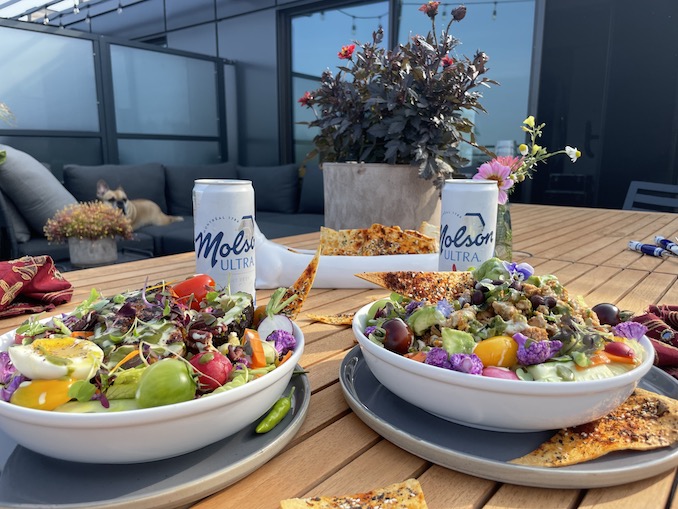 Taco Salad Bowl
Serves 4-6
Salad Ingredients
-2 hearts of romaine lettuce, chopped
-1 can of organic black beans, rinsed & drained
-2 carrots, peeled and shredded
-1 English cucumber, washed, skin on, chopped
-2 cups of corn kernels (frozen or fresh)
-2 cups of shredded red cabbage
-6-8 radishes cut in halves or quarters
-2 avocados
-1 lemon
-16-24 cherry tomatoes (various colours is awesome if available)
-2 cups of cauliflower florets (fresh)
-½ head of coriander, leaves plucked
Lightly Spiced Ground Chicken:
-1 kilogram of ground organic chicken (or turkey)
-1 whole white onion, chopped
-4 garlic cloves, crushed
-2 tablespoons of fresh coriander (chopped)
-1 tablespoon of each: sweet paprika, turmeric and cumin
-Salt & pepper to taste
-Grape seed or olive oil
-1 can of Molson Ultra
-Optional: 1 teaspoon of chilli powder
Directions
1. In a non-stick pan on the stove; on medium high heat, add 2 tablespoons of grape seed or olive oil, add the ground chicken, spices and salt and pepper.
2. Continuously separate the meat with the help of a wooden spoon or spatula, so that it crumbles and cooks evenly.
3. Once the meat starts to break down, add the onion, garlic and continue to cook for 7-9 minutes on medium-low, until the onion looks cooked through and everything is golden.
4. As a final step, crank the heat to medium high and add 2 ounces of Molson Ultra to deglaze!
***
Cumin-Lime Vinaigrette
Serves 4-6
Ingredients
-2 cloves of garlic, well crushed
-2 tablespoon of Dijon or old fashioned grainy mustard
-½ cup of organic apple cider vinegar
-2 limes, juiced
-½ cup of tahini
-½ cup of olive oil
-1 tablespoon of cumin
-Salt & pepper to taste
-Optional: 2 tablespoons of chopped up fresh parsley
Directions
1. Blend all the ingredients in a blender or by hand with a whisk, this is not an emulsion, but rather a loose dressing.
2. Taste and season accordingly.
***
Oven Baked Tortilla Chips
Serves 4-6
Ingredients
-1 pack of (12) green tortillas (spinach) or any tortilla of your choice (corn, cassava, wheat or almond flour, any of them will work)
-1 tablespoon of grape seed oil
-1 egg yolk (mixed with the oil)
-Everything but the bagel seasoning
-Sweet paprika
-Optional: Cayenne (for the heat)
Method
1. Cut the tortillas in triangles or desired shape for dipping, and place on a baking sheet lined with parchment paper.
2. Brush with egg yolk mixture, sprinkle with spices & bake in the oven at 400°F for about 10 minutes until golden.
***
Building the salad
Serves 4-6
Directions
1. Choose the bowls the salad will be presented in. You can also do a large platter or two platters for 2 people each, all of these ideas work beautifully.
2. Start with the romaine, and then garnish with the red cabbage, carrots, corn, black beans, cucumbers, and top with your ground chicken. Finish with the remaining garnishes (tomato, avocado, radish) and drizzle the vinaigrette on everything.
3. Top with plucked coriander, and serve with the baked chips and a Molson Ultra.