For this edition of our Homegrown Business series we spoke with Drew Stevens of Kahnawake Brewing Company to find out more about them.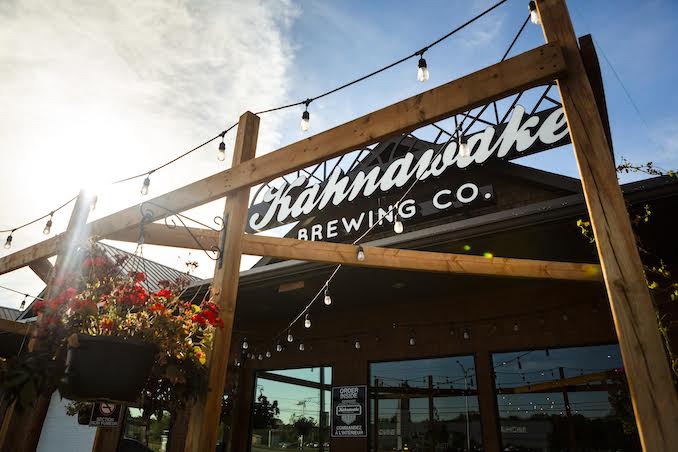 What is your business called and what does it do?
We are Kahnawake Brewing Company, the first Native-owned microbrewery on a First Nation's territory in Canada. We brew beer, make great food, and give people a place to hang out and have fun.
What made you want to do this work?
Matt Deer and Brooklyn Leblanc were involved in a wine business at the time and wanted to expand their offerings into beer. A mutual contact put them in touch with Drew Stevens, who had been brewing for another brewery but who always wanted to start his own business. The three met over a few beers and they really clicked on many ideas for this new venture. In 2016, they began building what we now know is Kahnawake Brewing Company.
What problem did you want to solve with the business?
Our main mission is to change the beer landscape in our community. We set out to give people beer where they can see and get to know the people making the beer but also give them a way to taste variety, something inspired, and something fresh rather than the typical big international brands who have those nice multi-million dollar Super Bowl commercials.
Who are your clientele/demographics?
Anyone and everyone – we have 12 lines of beer at our pub that change up frequently so there is generally always something for everyone. If you don't like beer, that's okay because we have wine and cocktails. If you are hungry, you came to the right place because we have food too. If you do not have a QR code to stay and enjoy our live entertainment, no problem, we sell beer in cans and growlers as well as our entire food menu to go.
How does your business make money? How does it work?
Like any other bar and restaurant, we sell what we make.
Where in the city can we find your profession?
Just off the Honoré Mercier Bridge, towards Châteauguay, across from the Mohawk Bingo.
What is the best question a prospective customer could ask a member of your profession when comparing services? Give the answer as well.
Q: Which beer should I try first?
A: And the answer to that would be to find out what kind of beer you enjoy normally and from there we can suggest a beautiful pint or set you up with a "flight" which is a tray of five tasters.
What is the best part about what you do? What is the worst part?
Beer is obviously the best beverage in the world. It is one of the oldest beverages, it is considered the social beverage, and it is the most popular alcoholic beverage in the world; so the fact that we interact with the primary ingredients, we transform those ingredients into beer, and then we taste what we created every day – that's the best part of what we do.
The worst part for brewers though is a heat wave in the summer.
What is your favourite joke about your own profession?
I do not know of any jokes about being a brewer however being a brewer isn't the best paying job out there so a well-known Montreal brewer has a saying about that which is funny: "If we got paid as much as our egos, we'd be rich!"
Where can we follow you?
Kahnawakebrewing.com and be sure to follow us on Facebook and Instagram.
PAY IT FORWARD: What is another local business that you love?
Messy Kitchen. We are huge fans of what they do!