We recently spoke with Julie Poitras-Saulnier & David Côté of LOOP Mission about their company that reduces food waste by repurposing the outcasts of the food industry, creating new products that can then be sold to consumers.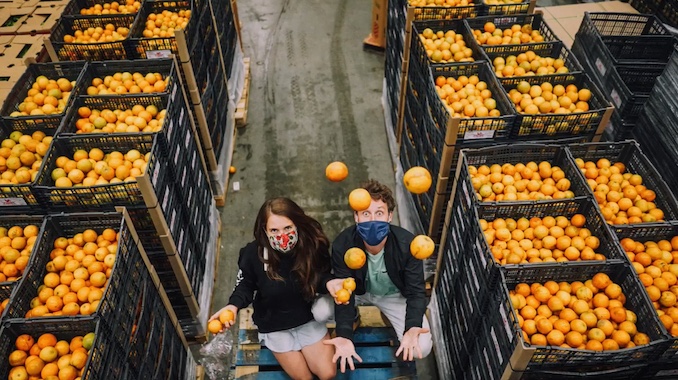 What is your business called and what does it do?
LOOP Mission is a circular economy company that reduces food waste by repurposing the outcasts of the food industry. In a nutshell, we save fruits and veggies that are rejected because they don't have the proper shape, size, or a shelf life that is long enough to survive the distribution cycle.
We transform them into fantastic products like smoothies, cold-pressed juices and probiotic sodas. The residual pulp from our juice factory is reused to make vegan dog treats and pizza crusts! We also have beers made with day-old bread, a gin that upcycles potato cuttings from a potato chips company, and soaps that give a second life to cooking oil from a vegan fast food chain.
What made you want to do this work?
It all started with a phone call from Frédéric Monette, Vice-President of Operations at Courchesne Larose, a century old, family-run fruit and vegetable distributor in Eastern Canada. In 2016, Monette called Julie and David and said that they were throwing away 16 tons of fruits and vegetables every single day, 365 days a year. Julie was working as a Sustainability Specialist in the food industry and David was working full time in the two other businesses that he also cofounded; a raw vegan fast food chain and a kombucha company. When they heard about that food waste issue, they quickly left everything in order to start LOOP Mission.
What problem did you want to solve with the business?
We wanted to work towards a cause and see actual change in our societal environment. There are so many things left to accomplish in fighting food waste and educating our government, the industries and the public and so that motivates us to continue to push forward.
Who are your clientele/demographics?
"Healthy Indulgers and aspirational consumers"
-Age between 20-45 y/o, Women (60%), Men (40%)
-Consumers who like products that are good and healthy enough for them, but without compromising the taste. -They are looking for food solutions that are simple and practical while being healthy and tasty.
-They are defined by their desire to meet their needs, to connect with what surrounds them and to have positive impacts in the community;
-They are followers of responsible consumption
How does your business make money? How does it work?
We create juices, smoothies, juice shots, beers, soaps and GIN and sell them in stores across Canada and online.
Where in Montreal can we find your products?
LOOP Mission products are available online, at most major grocery stores, independent retailers, cafes and even many hotels across Canada. We have more than 3000 points of sales.
What advice would you give as entrepreneurs?
Don't start a business out of a desire of just success, but out of desire to solve a problem. Often the first motivation is to make money. That's the wrong path because you get exhausted and not really excited about what you're doing.
What is the best part about what you do? What is the worst part?
BEST: Having a thriving business that carries a vital mission, friends, family and colleagues who are supportive, and help drive this mission with us.
WORST: Lack of sleep 😉
What is your favourite joke about your own profession?
Get in the LOOP 😉
Where can we follow you?
Website | Facebook | Instagram | LinkedIn
What is another Montreal business that you love?