"We named this light and colourful quiche for its biggest fan, our beverage director, Caitlin Burke. The combination of asparagus, feta, and dill makes it perfect for a spring brunch. We leave the asparagus raw, because the slightly crunchy texture contrasts beautifully with the soft egg and cheese filling. If you don't have dill, parsley is a great alternative." -Elise Marshall and Benjamin Sormote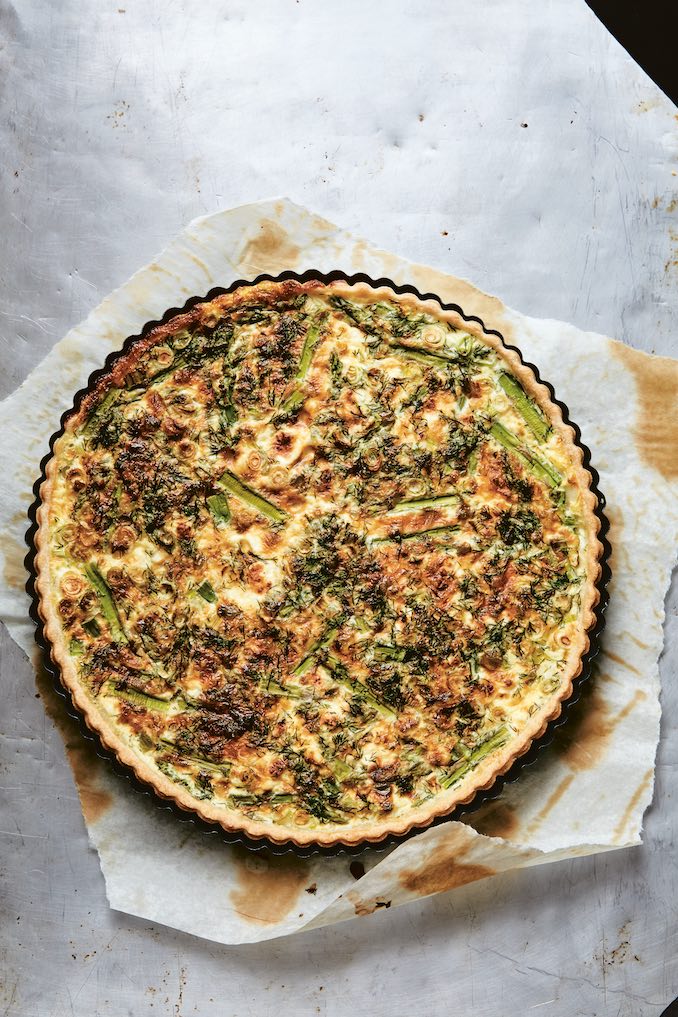 Quiche Caitlin with asparagus, feta, and dill
Serves 6 to 8
Ingredients
-1 disk Classic Pastry Dough or store-bought pie dough
-6 large eggs, beaten
-2 cups (480 ml) half-and-half
-½ teaspoon grated nutmeg
-½ teaspoon fine sea salt
-½ teaspoon freshly ground black pepper
-1 large bunch asparagus (about ¾ pound / 340 g), trimmed and cut into 1-inch (2.5 cm) pieces
-½ cup (30 g) sliced scallions
-1 cup (150 g) crumbled feta cheese
-½ cup (13 g) packed chopped fresh dill
Directions
1. Roll out the dough and fit it into a 9½-inch (24 cm) round plain or scalloped tart pan. Transfer to the freezer for at least 15 minutes.
2. Set a rack in the centre of the oven and preheat to 350°F (180°C). Line a sheet pan with parchment paper.
3. In a medium bowl, whisk together the eggs, half-and-half, nutmeg, salt, and pepper until fully combined.
4. Remove the tart shell from the freezer and set the pan on the prepared sheet pan. Scatter the asparagus, scallions, and feta evenly across the bottom of the pastry shell. Whisk the dill into the egg mixture, then slowly pour it over the vegetables and cheese.
5. Carefully transfer the sheet pan to the oven and bake until lightly browned around the edges and set in the centre, about 1 hour. To test, give the sheet pan a gentle shake—the quiche shouldn't wobble at all.
6. Let cool for 30 minutes, then remove from the pan, slice, and serve.
Tip: Store the quiche wrapped in plastic and refrigerated for up to 3 days. Reheat in a 400°F (200°C) oven for 7 to 10 minutes
Excerpted from Maman: The Cookbookby Elise Marshall and Benjamin Sormote. Copyright © 2021 Elise Marshall and Benjamin Sormote. Photography ©2021 Linda Xiao. Published by Penguin Canada, a division of Penguin Random House Canada Limited. Reproduced by arrangement with the Publisher. All rights reserved.