Arthritis Society Canada is a national health charity that is dedicated to improving the lives of people living with arthritis. We spoke with Trish Barbato, President & CEO, to learn more about what they do.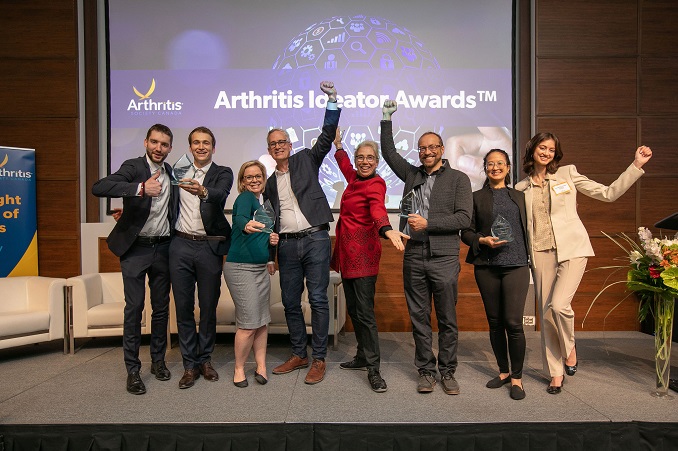 Describe your charity/non-profit/volunteer work in a few sentences.
Arthritis Society Canada is a national health charity that is dedicated to improving the lives of people living with arthritis. In Canada, that's a staggering 6 million people – or 1 in 5. Our goal is to raise awareness and funds for research, advocacy, information, innovation and support.
What problem does it aim to solve?
Did you know that more Canadians report living with arthritis than diabetes, heart disease, cancer and stroke combined, yet it remains one of the most underfunded, under-recognized and under-represented diseases? It's the leading cause of disability and work limitations in Canada, and if nothing is done, as many as nine million Canadians, or one in four, could have the disease by 2040. That keeps me up at night and keeps me focused on our goals.
What are some common misperceptions about arthritis?
– Many people think arthritis is an older person's disease, but the truth is over half of Canadians with arthritis are younger than 65, and it impacts 25,000 children.
– Arthritis is also so much more than just a mild, aching joint. I can't tell you how many times I've heard: "It's just arthritis", but it's not just arthritis! It's a brutal disease that robs millions of people of their mobility, independence, livelihood, mental and physical health, and overall quality of life.
– Many people also think it's always the result of wear and tear on joints, but it's not. There are 100s of different types of arthritis. Rheumatoid arthritis, for example, is an autoimmune disease where the body's immune system mistakenly attacks the lining of the joints.
When did you start/join it?
I joined Arthritis Society Canada in February 2020
What made you want to get involved?
Like millions of Canadians, I have been touched by arthritis. I live with arthritis myself, and so do my mom and siblings, including my brother, who, at 52 was forced to retire because his hand arthritis impacted his work as a chiropodist. I know first-hand how debilitating this disease is and want to do all I can to help those who live with it.
At Arthritis Society Canada we're constantly striving to push the envelope, to do more, think differently and innovate – and that's the energy it takes to affect change.
From our donors and volunteers to our advocates and ambassadors, I'm inspired by so many brave and committed supporters who share our passion and our vision.
How has the organization changed in the last few years?
We are focused on bringing more attention to this disease and letting people know that it is a serious problem that needs to be solved. We're also focused on Innovation and have woven it into the entire organization. That's why we recently launched an Innovation Strategy focused on forming alliances with like-minded partners in innovation, technology, science and research – who can help us move the dial on progress, by unlocking research breakthroughs and system changes, and uncovering new ideas.
We continue to offer education and support by providing online resources and programs to help people living with arthritis improve their quality of life, including summer camps, Arthritis Talks Webinars, and numerous resources through our website.
What more needs to be done?
Despite our progress, there is still a lot more we need to do to help everyone who is living with arthritis, including:
– Increase funding for research
– Improve access to care
– Support for caregivers
– Increase awareness and education
– Advocate for policy change
How can our readers help?
There are many ways people can help and get involved:
– Donating to Arthritis Society Canada is a great way to support our work. Donations can be made online, by phone or by mail. Even a small donation can make a big difference. Visit our website.
– Volunteering. Visit our website to learn about volunteer opportunities in your area.
– Participating in our many local fundraising events or creating your own fundraiser in support of Arthritis Society Canada – from a bake sale to a cross-country bike ride to an on-campus fundraiser! Every dollar raised matters.
– Sharing information about arthritis and Arthritis Society Canada with friends, family and on social media can help raise awareness and dispel myths.
– Advocating for change: Contact your local representatives and advocate for policies and programs that improve the lives of people living with arthritis.
Do you have any events coming up?
We recently held the second annual 2023 Arthritis Ideator Awards on April 20, 2023, at Toronto's MaRS Discovery District. The event showcased seven leading innovators from across Canada for their promising ideas that could transform the lives of people living with arthritis.
The finalists participated in a pitch-style competition, vying for one of four $50,000 prizes to help them grow their venture. The winning innovations were: FirstHx, Heal Mary, Pillcheck and Joints on Point. Each winner was selected by an expert panel of judges – including myself, Andrew Oliver, The President & CEO of Oliver & Bonacini Hospitality, Ronald Reuben, The Founder and Executive Chairman of Medicom Group, Mohamad Fakih, The Executive Chair & President of Paramount Fine Foods, and Jasim Gaine-Hobbs, Director Tech Financing of BDC – while the fourth award, People's Choice, was determined by popular vote.
Where can we follow you?
Website | Facebook | Twitter | Instagram | LinkedIn
For more information about the Arthritis Ideator Awards, please visit arthritis.ca/ideators.
PAY IT FORWARD: What is an awesome local charity that you love?
Arthritis Society Canada is my charity of choice!