Ash Davis is a local standup comic in Montréal and our latest featured local comedian. We got a chance to speak with them about their comedy style, influences and where they go to find out about new comics.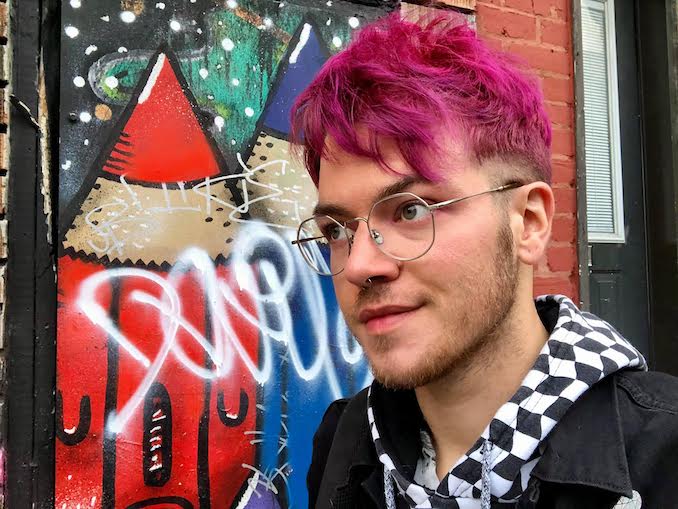 How would you describe your comedy style?
I love telling stories and anecdotes. You know that friend who leads a chaotic but ultimately entertaining life, and who's a bit of neurotic weirdo? That's the comedy I provide.
Who are some of your influences?
I grew up on the internet, so many of my influences are also internet based like SungWon Cho (ProZD), Anna Akana or Bo Burnham. I want to hear about people's inner lives, so I've got a soft spot for writers like David Sedaris or Allie Brosch.
Who was your favourite comedian growing up?
Like any kid of the 90s, I absolutely adored Robin Williams. He was electric, witty and nuclear-powered in a way I could only dream of!
Who is your favourite comedian now?
I'm a big fan of John Oliver! Yes, it's mostly news stuff but at the core of my being I'm just someone who wants to be told depressing facts by an aging British nerd with a homoerotic desire to be pulverized by Adam Driver.
What is your pre-show ritual?
I try to have fun and enjoy the rush of adrenaline. I listen to upbeat music like The Mystery Skulls, bother my neighbours with my singing, and remind myself to be grateful… even for the anxiety.
What is your favourite place you have performed? Why?
I'm still new to the industry, but The Diving Bell Social Club on St Laurent feels like "home turf" now. The owners are great people, the audience is receptive and the street is absolutely electric at almost any time of day!
What is your favourite medium for listening or finding new comics/comedians?
I love finding new people on Youtube, or in person at some of the venues in the city. The talent in this city is unbelievable, we're truly lucky to be surrounded by some of the funniest people on the planet.
Where can we follow you?
You can follow me on Instagram (@ashzdavis). I mostly post pictures of books, my chihuahua and illustrations. I'm starting to use Twitter too but it'll take some time before I'm as prolific as my mom (she has thousands of followers). You can also follow some of my writing at Tabooless.net where I write under the pen name of Zack Zoetic; be warned though, it's 18+!
Tell us a joke.
My math skills. That's it, that is the entire joke! I'm really bad at math.