Gros Soleil recalls the arrogance and urgency of garage and punk rock by incorporating heavier influences. Imperfection, dirt and authenticity characterize the identity of the group. Their first album, Occulture Populaire, was well received by the media and radio considering the pandemic context of its release. Its influence is illustrated in particular by the performance of Cercle de Sel on the airwaves (#1 Stingray, #1 Blvd, IHeartRadio Future Star, Top 50 BDS). Gros Soleil is back with a second album entitled "2038" to come in September 2023. Produced by Steeven Chouinard (Le Couleur, Choses Sauvages, Jimmy Hunt, Valence, Sheenah Ko), the band's following opus channels proto-metal, punk, Grunge and stoner rock influences, managing to maintain provocative and rhythmic aesthetic without forgetting their core garage sound. Gros Soleil's new album offers a more polished, yet still virulent sound and deals with themes such as human stupidity, the environmental crisis and the drifts of modern society, all witnessed through the eyes of big kids playing Dungeons and Dragons.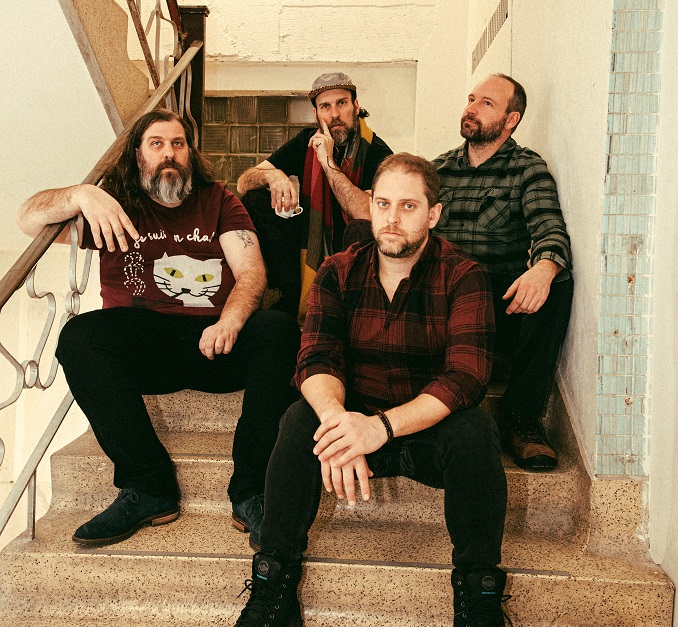 Name:
Gros Soleil
Genre:
Dirty rock, grunge, punk, metal with a pop twist
Founded:
2017
# of Albums:
2
Latest Album:
2038 (To be released on September 15th)
Latest Single:
Banff
Latest Video:
Favourite musician growing up:
Queens of the Stone Age
Favourite musician now:
Uncle Acid & The Deadbeats
Guilty pleasure song:
Easy Lover (Phil Collins & Phil Bailey)
Live show ritual:
Sharing a laugh together
Favourite local musician:
Currently, Population II
EP or LP?
LP, on vinyl 😉
Early bird or night owl?
Early bird
Road or studio?
Road for the people, energy, and connecting with the crowd
Any shows or albums coming up?
The 2038 album will be released on September 15th
Where can we follow you?
***
Rapid Fire Local Questions:
What is your favourite local restaurant?
Pikliz and Caffè Italia
What is your favourite street in your city and why?
St-Laurent, for its diversity and the various experiences it offers on a single street!
What is your favourite park in your city and why?
Dante Park, for its Little Italy ambience and peacefulness.
What is your favourite music venue in your city?
Quai des Brumes, known for its passionate, open-minded audience and great overall atmosphere.
What is your favourite music store in your city?
180G