Ancient Teeth is comprised of veteran musicians who are closer to getting a root canal than starting a TikTok page. Lead by singer-songwriter Adrian Mottram (Sights & Sounds, Seas, The Getaway), the project began in 2020 as a personal outlet to process a string of traumatic life events.
The anthemic, guitar driven debut album 'Death Bed' is an incredible display of musical maturity weaving through a tasteful blend of grunge, shoegaze and straight ahead rock. Washed out, emotion heavy, layered vocals delve into vast depths of poingient introspection on the joys of new birth, the devastating loss of a family member,- missed opportunities and gained perspectives. Through age and experience, Mottram has been able to eloquently refine his thoughts into a tangible collection of meaningful songs.
"I wouldn't have been mature enough to write about grieving 10 years ago. I'm now able to fully understand and transcribe my thoughts into meaningful songs. – Remarks Mottram.
Backed by an incredible lineup of musicians including, guitarist, Chrus Huges (Moneen, Seas), bassist, Jahmeel Russell (Red Vienna, Actors, Kenmode) and drummer Mike Duffield (Beams, Flowers From Hell), ANCIENT TEETH has a summative 103 years of musical experience between them, each bringing stacks of accolades and individual character, rounding out the incredible musicality of the band. ANCIENT TEETH is a group of friends reuniting to celebrate making music for music's sake and playing live.
Mottram affirms, 'the group aims to inspire positivity and light against all the ever-growing darkness in the world. I was put on this earth to play live and want to share that." Ancient Teeth's debut, 'Death Bed', just released.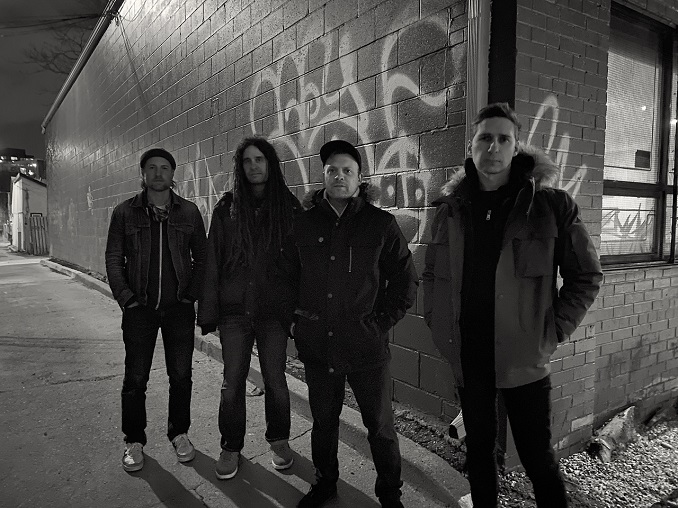 Name:
Ancient Teeth
Genre:
Grunge, punk, dark dreamy pop
Founded:
2019
# of Albums:
3 written, 2 of which are finished and on their way out into the world
Latest Album:
Deathbed
Latest Single:
Look The Part
Latest Video:
Favourite musician growing up:
Nirvana, Green Day, Mew
Favourite musician now:
Right this second!? " Talk Talk"
Guilty pleasure song:
Oh shit…hmmm….Anything off of Madonna "immaculate collection "
Live show ritual:
No booze until after I'm done the set
Favourite local musician:
Boids!
EP or LP?
LP all the way!
Early bird or night owl?
Both, I have two kids hahaha, no rest
Road or studio?
Both at 100% at all times
Any shows or albums coming up?
We just released the first of 3 records on February 7th. The first is titled Deathbed. I think we are playing pouzza in may but I don't know the date!
Where can we follow you?
BandCamp | Facebook | Instagram
***
Rapid Fire Montréal Qs
What is your favourite local restaurant?
Fabrege on Fairmont
What is your favourite street in your city and why?
Oooooo Laurier in the plateau. It has everything and I love the community there.
What is your favourite park in your city and why?
Oooooooo! Lafontaine is fun but a little busy, does Morgan arboretum on the West Island count?
What is your favourite music venue in your city?
Foufs or Turbohaus!
What is your favourite music store in your city?
Jimi's on Sherbrooke is pretty classic. He rubbed me the wrong way when I first started going there but I've been able to crack him up the last few times and I like how honest he is. My favourite record store is cheap thrills. It's in a great building and reminds me of spots in Vancouver and Toronto that were able to stay the course as their street is being redeveloped into soulless condos. Nice approachable people too.