Noelle Hannibal is an award-winning actress/singer/songwriter who appeared in the film Star Trek: First Contact. She has a unique distinction of portraying the first female Vulcan on Earth.
Originally from Los Angeles, Noelle made her professional theatre debut playing Crissy in Hair, then moved to Ireland to tour the country performing in both theatrical productions and concerts. While in Dublin, she made her living as a busker which connected her with several inspirational songwriting colleagues. It was then that she began to write her own music.
Noelle has recorded and performed extensively throughout both North America and Europe. She released her debut album, Somewhere in Between in 2011. Her new EP, Ain't a Tourist, was produced and co-written by her dear friend Grammy Award winner, Scot Sax (Wanderlust, Bachelor Number One), recorded in Nashville, and released on July 2023. The EP is available on all streaming platforms or to purchase digitally on Bandcamp.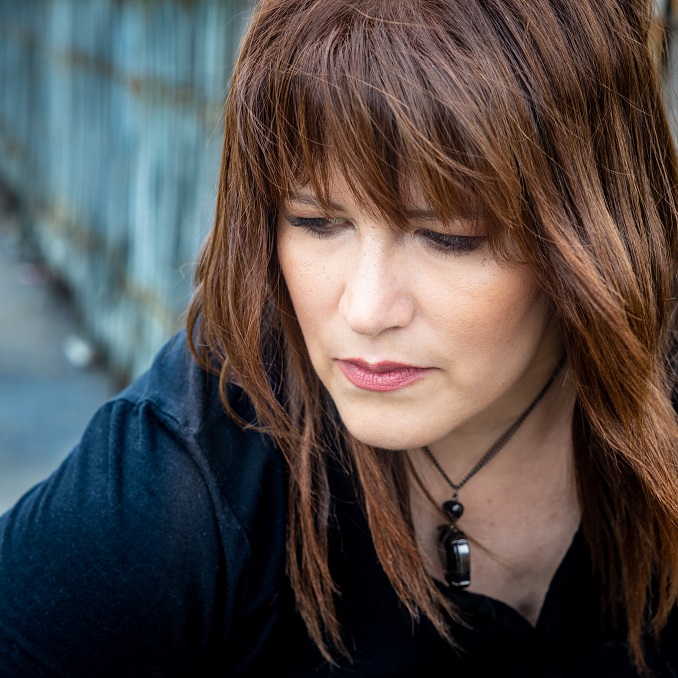 Name:
Noelle Hannibal
Genre:
Pop
Founded:
1990
# of Albums:
2 + a homemade CD release!
Latest Album:
Ain't a Tourist
Latest Single:
Ain't a Tourist
Latest Video:
Favourite musician growing up:
Oof…so many. But my top musical idols were Freddie Mercury, Elton John and David Bowie, for their music, but also for them showing me that it was ok to be a weird theatre kid that didn't have a traditional pop voice. I also adore Marty Willson-Piper, who has been a big influence on me and still is today. Fun fact: I became a fan of Marty's at around 12 when he was in The Church. He started releasing solo material and I was sold. We met a few times over the years and were MySpace friends, then Facebook friends. I covered one of his songs on my debut album, which he has up on his website! Flash forward to 2020 when we were all stuck at home…Marty and I were chatting on Messenger and decided to try to write a song together. We are well on our way to recording an album together of our original tunes, along with an album of me singing his songs. What is my life?!
Favourite musician now:
I'm a big Swiftie (and not ashamed to admit it!). I'm blown away by her songwriting as well as her business savvy! I'm also mildly (well, more than mildly) obsessed with Brandi Carlile, who has one of the greatest voices of all time! I also still regularly listen to Freddie, Elton, Bowie and Marty.
Guilty pleasure song:
Anything Britney!
Live show ritual:
Pre-show: Steam the old vocal cords, throat coat tea in a thermos on stage. I always have a heart somewhere on me. It could be a piece of jewelry or even a temporary tattoo. It was a tradition started by my mom. She used to gift me an item with a heart on it when I would open a new play or play a big concert. It stuck.
Favourite local musician:
Not local to Montreal, but Stephen James Ingram, based in Ontario, is a phenomenal new artist
EP or LP?
Ain't a Tourist is a 6 song EP, BUT….(shhhh) we have a deluxe edition in mind. I'm not sure when we will be able to make it happen, but we have that as a goal.
Early bird or night owl?
Night owl
Road or studio?
Road! There is nothing like connecting with a live audience. I've always been drawn to it. From being a kid in school shows, to live theatre and performing concerts. My happy place is on the stage.
Any shows or albums coming up?
My new EP just dropped on July 28th and I'm in the process of setting up a tour. I'm just back from playing 6 dates in California, along with my EP release show here in Montreal, which was an absolute blast. I'm booked at the International Pop Overthrow Festival in New York City in November and will be planning additional dates around that, so stay tuned!!
Where can we follow you?
Website | Bandcamp | Facebook | Instagram | Youtube | TikTok | Patreon
Also, Stageit! I perform 3 times a week on this ticketed music platform. All shows are pay-what-you-can!
***
Rapid Fire Local Questions:
What is your favourite local restaurant?
I'm a breakfast person. As in, I could eat it all day, no matter the meal. I have a little local breakfast place that is nothing fancy. The food is great, the service is wonderful and the price is right. It's called Coco D'or.
What is your favourite street in your city and why?
The Lakeshore (Bord du Lac) I love being by the water. I was born and raised in Los Angeles and miss the ocean so much. Lakes aren't quite the same, but until it is well below zero, you can find me walking along the lake.
What is your favourite park in your city and why?
Mount Royal, just for the sheer vastness of it. It's so beautiful.
What is your favourite music venue in your city?
I love intimate venues and my favourite to play at, as well as watch shows at, has to be La Sala Rossa. Phenomenal staff, the sound is incredible and you can set it up as cocktail style, row seating or standing.
What is your favourite music store in your city?
My local Long & McQuade is fantastic. The staff are super knowledgeable and will bend over backwards to help me. I've invested a lot lately in things like setting up my home studio for recording and broadcasting, along with picking up my dream guitar, the Taylor 614ce.