Breakfast is often cited as the most important meal of the day, and sometimes making breakfast at home is not something that you want to do. Going out for breakfast is something that many people, including myself, love to do. Breakfast is great for families, and as a motivator to get out and start the day with great food and good memories.
The West Island is quite large, and determining the best breakfast in the West Island is a challenge for some. However, I have a simple answer to where to go if you want the best breakfast in the West Island, and it's called Amy's Déjeuner. Amy's is located in Dollard-Des-Ormeaux. The address is 4701C Boul. Saint-Jean. According to their website, "Amy's is a unique mom and pop shop offering Breakfast, lunch and gourmet donuts," and this is an accurate presentation of the kind of breakfast place that it is.
One of the greatest things about Amy's Déjeuner is the variety they have, and this means they can serve many different food tastes. For example, they have some amazing Vegan options, which get served with a side of plantains, which are outstanding. Another great option is called "Grandma's Favourite", which consists of 2 eggs, a choice of meat, a choice of a sweet (half-waffle, pancake, crepe, or french toast), and a choice of toppings which is fruit, and options like strawberry syrup, and this delicious, and pretty new maple white chocolate sauce that adds just the right amount of creaminess and sweetness. For those who prefer just savoury breakfasts, they have excellent omelette choices as well. When I go, my go-to is the Green Omelette, which has spinach, goat cheese, and olive oil. It is truly out of this world delicious.
Another unique feature that makes it the best place in the West Island for breakfast is the fresh doughnuts that they have every day. Each day, the flavours vary, but no matter which one you choose, it will taste great. Some flavours I have seen and tried are Maple Bacon, Mojito, Peanut Butter, Vanilla, apple fritters, and even the classic cinnamon sugar doughnut. Also, if you order "Amy's Favourite" off the menu, you get to choose a donut fresh of the day to go along with your classic egg breakfast.
Aside from the food, what else makes Amy's Déjeuner the best is the décor and the ambience. The booths are this bright green colour that makes the space pop. The green is inviting and makes the whole space look bright. There are also these lovely large windows, which draw in so much natural light that it makes you feel in good spirits, at least in my experience.
The staff is truly like no other at Amy's Déjeuner. I have frequented the space many times, and every single staff member I have interacted with has been incredible. They make you feel heard, and special, and they are some of the kindest people I have come across in the service industry. They know their menus, they are personable, and sometimes it feels like you are talking to a friend.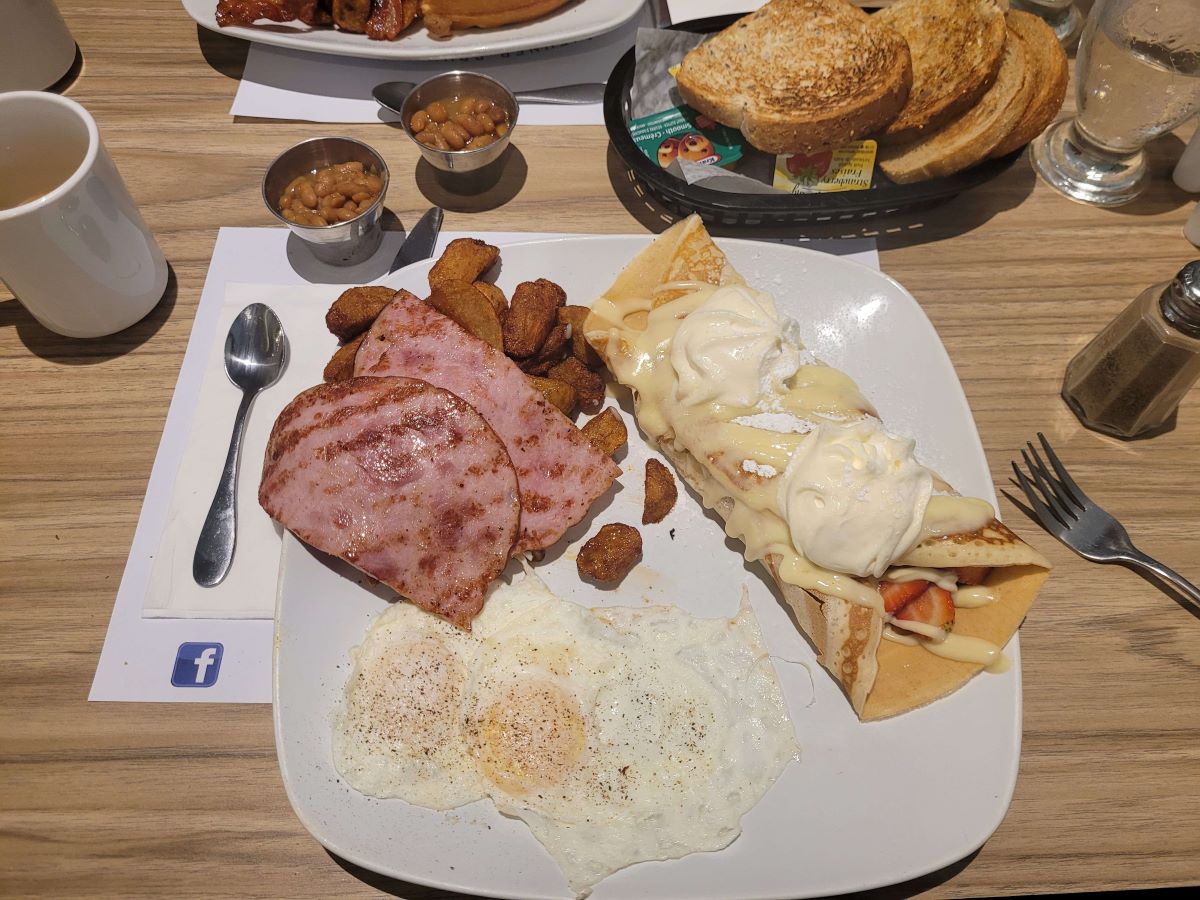 Here are some tips if you plan on visiting Amy's Déjeuner anytime soon. First, make sure you don't show up on a Tuesday because on Tuesdays they are closed. So, make sure you go any other day of the week. If you are going for the doughnuts, they are usually out and ready by 9 a.m., so keep that in mind. Go with an empty stomach because the portions are very generous. If you are a large group, get there early because this place fills up quickly, and for good reason. Also, you can bring your children as they have plenty of high chairs and booster seats.
The best breakfast in the West Island is hands down this one-of-a-kind location. If you visit them, you will never forget the experience, and before you know it, you will become a regular.
According to their website, "Amy's is changing the way you look at breakfast and brunch. Come discover the first Breakfast, Lunch and Gourmet Donuts hotspot in Montreal." Truly, Amy's is changing the way we interact with our breakfast, and what breakfast is and can be.