Hi, I'm Fifille! I came to the SPCA as a stray – I'm ready for my forever home! I love the comfort of lounging in my bed, but I could also use some enriching activities. I have not been used to being petted or handled, so I will need time to adjust and come to you once I feel ready. If you respect my cues and let me come when I feel comfortable, I could quickly become affectionate. Your patience will be rewarded with my incredible loyalty, gentleness and who knows, cuddle sessions on the couch! As for exercise, I'll need to make sure I spend my energy in a variety of ways while limiting high-intensity activities until I'm back to a healthy weight – you see, I didn't eat enough before I came to the SPCA! For example, self-paced walks with lots of opportunities for me to use my nose, as it calms me down a lot. Other ideas for activities to do with me would be to feed me interactively – for example with a slow bowl or in a sniffing mat. Creativity will be your best friend in keeping me busy! I am a quiet dog who is looking for a calm, comfortable environment where I can learn to trust and thrive.
Regarding other animals, shelter observations show that I can be disinterested in other dogs, even choosing to leave. It will be essential that I be introduced gently. I think it's about time I was in a family that gives me their undivided attention. I am good at walking but I will need to get used to the harness gently with lots of treats. I am looking forward to a comforting routine and continuing my learning.
The SPCA staff and volunteers say I am gentle, kind and calm! Life in a shelter is not ideal for a sensitive dog like me! I deserve a family that will take my health and well-being to heart. One look at me and you will fall in love with me.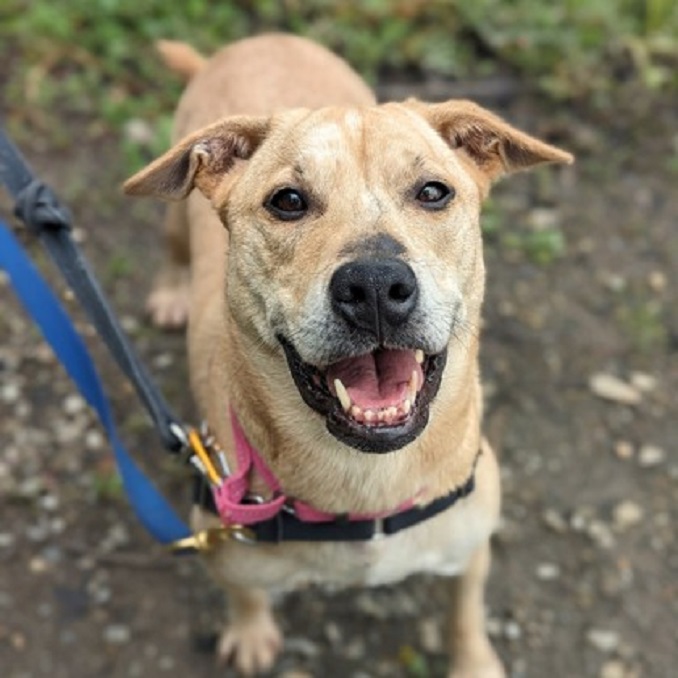 Fifille
Age: 5
Sex: Female
Breed: Mixed Breed, Large (over 44 lbs fully grown)
Size: L
Colour: Beige
Declawed: No
If you would like to adopt this handsome dog, don't hesitate to fill out the online adoption form!
About this column:
Each week we feature animals available for adoption from local shelters in the Montréal area with the hopes that our readers will assist in finding good homes for them. If you, or someone you know, has the resources to take care of one of these animals, please do get in touch with the appropriate shelter via the links provided.