Kareem comes from a poor Moroccan family whose financial situation is precarious and his mother was obliged to work as a cleaning lady for the then ambassador. It was at the age of two that he and his parents were fortunate enough to follow the Moroccan Ambassador to Canada, and at that same moment, Kareem learned French.
When Kareem was 10 years old, Zahra was able to raise enough money, so that she could finally rent an apartment and keep her son close to her. It was thanks to his mother that he fell in love with music, she always sang songs of Oum Kaltoum to him.
These songs and her voice, made Kareem bewitched by the melodies. His first musical influences are those of alternative groups like Nirvana and Metallica for example. His admiration for Kurt Cobain encouraged him to learn the guitar. At the age of 15, he formed his first music group, No Self Control.
As he progressed within this group, Kareem discovered a particular talent for writing and poetry. As he enters the adult world, french hip hop is experiencing incredible effervescence thanks to artists like MC Solaar and I am. The young aspiring author is particularly impressed by their rhythm and poetry, so much that he turns his desire into reality while evolving on the French hip hop scene.
In the early 2000s, Kareem met his future friend and producer, DaHeala. Together, they formed his first hip-hop group, La Symphonie. With the help of DaHeala, Kareem performs on stage on a regular basis. The performances were added and Kareem received the support of François Carrier, now president of the Association of Song and Music Professionals (APCM), which offered him several opportunities to perform in front of the public. The latter is found to be very receptive to Kareem's material. The future will prove him right as Kareem will reach the semi-final of the Hip Hop 4 Ever competition for two consecutive years. The young artist also participates twice in the show Le Garage hosted by Véronic DiCaire and broadcasted on Radio-Canada and ARTV.
After receiving many good comments and encouragement, Kareem decides to professionally record a very first song at Raven Studios. At this point, he meets Quest who will become his sound technician and his right-hand man. Their passion and common goals lead them to build their own studio.
In 2002, Kareem entered a competition organized by the French Embassy and won the grand prize, a two-week workshop in Paris, in the company of established artists from the French scene. Public appearances accumulate and songs multiply, including "Poursuivre mes rêves" which he sings in duet with the future Canadian Idol, Eva Avila.
Subsequently, he was invited to numerous radio interviews, including Tag Radio and La Voix de l'Outaouais. Kimberly Graveline sees in him an innate talent and suggests that he will be the only artist invited to a press conference organized by the Regional AIDS Action Office (BRAS). During the event, he captured the attention of the media, who discovered a rising figure on the region's art scene.
Now, Kareem wants to leave his mark on the music scene in Quebec as well as in France. The young artist wants to express himself through his "Urban Grunge" music style and thus help restore the reputation of this music in Quebec.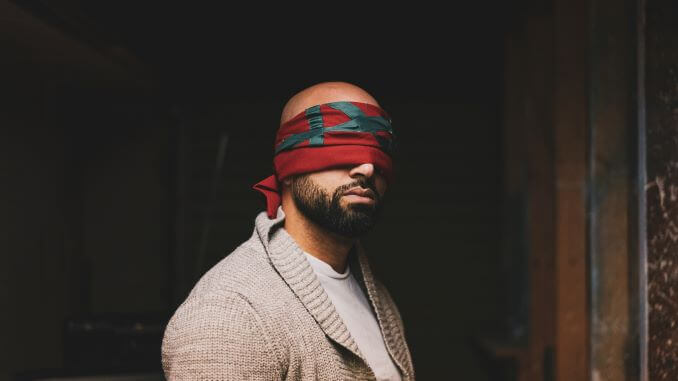 Name:
Karim Mokairita
Genre:
Urban Grunge
Founded:
1994
# of Albums:
2
Latest Album:
Hamdoulilah
Latest Single:
Télé-Réalité
Latest Video:
Favourite musician growing up: Kurt Cobain, I started playing guitar and the first songs I learned were Nirvana songs.
Favourite musician now:
Actually, there are a couple, but the one that impresses me the most is Stromae. That guy disappeared for years because of personal issues and he came back with Multitude. Nobody sounds like Stromae
Guilty pleasure song:
Lithium brings back a lot of childhood memories. Memories of when I had absolutely no responsibilities.
Live show ritual:
I drink two glasses of Grand Marnier on ice, helps me relax and Grand Marnier is my favourite drink.
Favourite local musician:
High Klassified, he actually made a remix for me for the song Cocaine. It's not available anywhere but I should maybe put it back on the internet or maybe give it to you guys for exclusivity 🙂
EP or LP?
EP. Kanvaz, I think High Klassified is one of the best Canadian producers and he is underrated. This guy is a musical genius, I had the chance to work with him.
Early bird or night owl?
Night Owl, I'm an introvert and I live a lot in my head. This brain of mine is always thinking even when I sleep.
Road or studio?
Studio, I'm an introvert, I just like putting out music that describes what I'm thinking about. It's a therapy for me.
Any shows or albums coming up?
No shows, but another single very soon and hopefully an EP or album for 2023
Where can we follow you?
Facebook | Instagram | Spotify | YouTube
***
Rapid Fire Montréal Qs
Favourite local restaurant:
Alep, Good food, good vibe and the service is excellent. For all the men, very nice place for a first date.
Favourite street in your city:
Saint Paul, I like the architecture and I think the old port is the most beautiful part of our city.
Favourite park in your city:
Jarry Park, because it's next to my place. When I first moved to MTL from Gatineau, I moved to Villeray so that park has a special place in my heart.
Favourite music venue in your city:
Olympia, because it's not a too big venue. So when you go see a show it's intimate.
Favourite music store in your city:
Steve's Music, it's paradise. Each time I go there I want to buy everything. Maybe i should just start a music store.