Loon Town is a 4-piece time-travelling collaborative synth-rock outfit. The tunes oscillate between dense high-energy textures and sparse moments of reflection. It's music to dance, relax, cry, or drive; across wide open spaces, from one side of the continent to the other.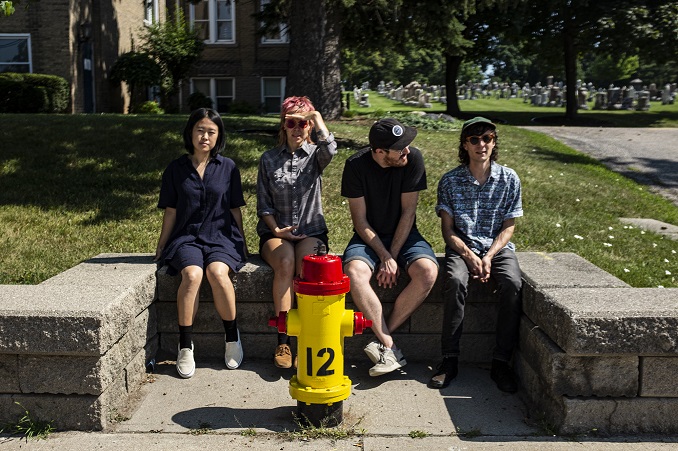 Name:
Loon Town
Genre:
Pop? Synth rock?
Founded:
2018
# of Albums:
2
Latest Album:
Slow Space (out in Nov 2022)
Latest Single:
Party at the Ice Cream Shoppe
Latest Video:
Favourite musician growing up:
We've all got some different answers here, but some that came out are No Doubt, Queen and Jimmy Eat World.
Favourite musician now:
We'll throw a few out there – Shirley Gnome (Danielle) Phoebe Bridgers (Nic) Buffy Saint Marie (Dave)
Guilty pleasure song:
Aventura "Obsesion" (Danielle) Hot Line Bling (Nic)
Live show ritual:
Take a minute to do nothing at all!
Favourite local musician:
Thanya Iyer is a big love of ours
EP or LP?
LP!
Early bird or night owl?
We're a big split on this, so it can be hard to coordinate
Road or studio?
Love the balance of both, though so far we've been studio creatures with this band. We're hitting the road this fall!
Any shows or albums coming up?
Our LP Slow Space comes out in November 2022 and we will be touring Ontario/Quebec Nov 10-20…stay tuned!
Where can we follow you?
Website | Instagram | Facebook | Spotify
***
Rapid Fire Montréal Qs
Favourite local restaurant:
Guadalupe Mexicaine or Patati Patata
Favourite street in your city:
Beaubien
Favourite park in your city:
BBQ in Parc Laurier, picnic in Jarry;
Favourite music venue in your city:
The combo of Casa del Popolo & Sala Rosa, they've been such stalwarts in our musical and communal lives
Favourite music store in your city:
Aux 33 Tours or Moog Audio