Producer and genre-bending singer-songwriter Loryn Taggart has ambitiously broken through the music industry, achieving notable recognition all before releasing her debut album. This Hungarian-Canadian musician who was raised in the Prairies, took a leap of faith at just 16 years old when she left her family home and moved to Toronto in the pursuit of living out her dream. From performing with a Toronto-based bar band to taking the stage solo at legendary venues such as Horseshoe Tavern, Rivoli, Cameron House and Le Verre Bouteille, Loryn quickly gained acknowledgement through nominations from Canadian Folk Music Awards, the 18th Annual Independent Music Awards, SoundClash Music Awards and was the runner-up recipient of the Cobalt Prize for Blues Innovative Songwriter of the Year.
Now based in Montreal, it wasn't before long when Taggart's talents were being noticed. Before the world shut down in 2020, Loryn had the pleasure of touring with Canadian Folk Musician Donovan Woods, and most notably in 2021, was asked to audition for the role of David Bowie on an international tribute tour highlighting Bowies 'The Berlin Trilogy' era, in which she landed the job on the spot. After partnering with La Tribe Agence and Moment Factory, Loryn went on to perform the role of David Bowie at renowned venues such as Place Des Arts, Canadian Arts Centre and the Amphitheatre Cogeco, performing songs such as Station to Station and Heroes, being one of the first female musicians to do so.
Following the loss of her father, Loryn Taggart began creating her debut album as a concept album, bringing the listener on a journey through loss and how creation can bring you back to life and out of the depths of anger, self-doubt and writer's block. In 2022 she partnered with Marcus Paquin (The National, Tim Baker) and in collaboration with the musicians taking part in the David Bowie tour she began to record her debut album, which she is thrilled to be releasing to the world in September 2023, thanks to the support of FACTOR Canada.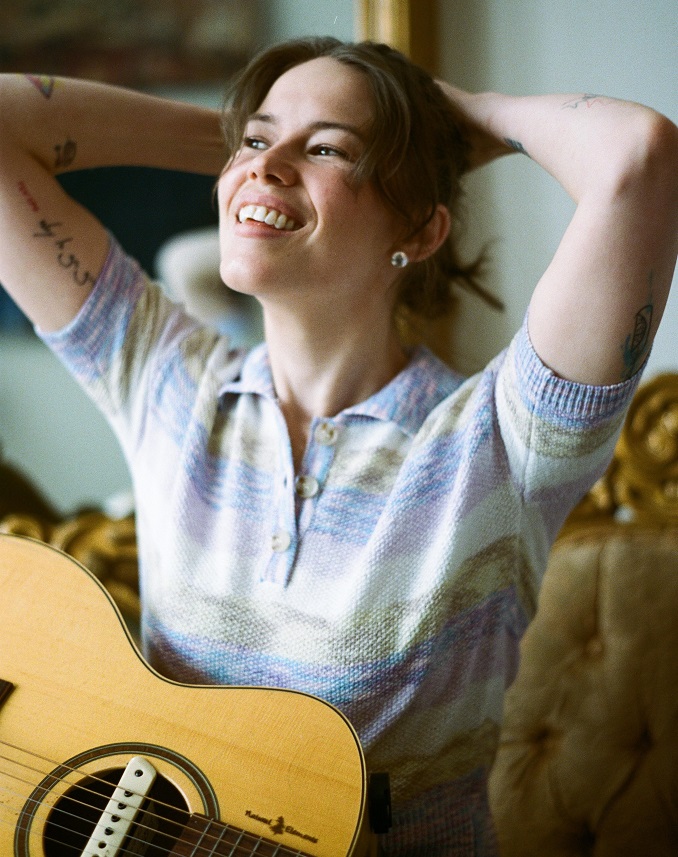 Name:
Loryn Taggart
Genre:
Jazz-Indie
Founded:
2010
# of Albums:
One up and coming!
Latest Album:
The name hasn't been revealed yet but I'm excited to announce more about it in August!
Latest Single:
Tell Me How (Released July 21)
Latest Video:
Favourite musician growing up:
Feist & Cage The Elephant
Favourite musician now:
Feist & Cage The Elephant. Old habits die hard.
Guilty pleasure song:
Sneaker Night – Vanessa Hudgens
Live show ritual:
Wearing my lucky red boots.
Favourite local musician:
Franklin Electric, Genevieve Racette
EP or LP?
LP!! Love a good long winding story.
Early bird or night owl?
Early early early.
Road or studio?
Road. People give me strength.
Any shows or albums coming up?
I do have an album coming out in September but I haven't released the title yet so I'm going to keep it secret until the big reveal. I have an album release show at Cabaret Lion d'Or on October 2nd! Tickets will go on sale on September 1st. I'm very excited to perform in Montreal!
Where can we follow you?
***
Rapid Fire Local Questions:
What is your favourite local restaurant?
Patati Patata
What is your favourite street in your city and why?
Avenue Laurier Est
What is your favourite park in your city and why?
Verdun !!! During lockdown, Verdun Park was our happy place. Grabbing ice cream and walking along the Verdun rapids are my favourite past time.
What is your favourite music venue in your city?
Mtelus
What is your favourite music store in your city?
Nantel Music