NO HAY BANDA is a Montreal-based non-profit organization committed to the production, performance, and promotion of musical events rooted in exploratory and avant-garde practices. Through our annual concert series in Montreal, along with a number of touring productions, NO HAY BANDA provides a space for artists working on the fringes of established genres to realize projects that would not take place otherwise.
NO HAY BANDA promotes music born of a generation that sees no barriers between musical genres, theatre, performative arts and contemporary culture. Productions are designed to broaden and challenge the musical experience of the audience, showcasing the work of the intergenerational avant-garde that takes its roots in pop/rock, DIY culture and post-war experimentation.
NO HAY BANDA has made its mark in Canadian programming and performance as an organization at the forefront of musical creativity and innovation. We view the performance space not as a museum for the reproduction of historical works, but rather as a space full of potential to be exploited, shaped, and transformed to serve the presentation of new and stimulating artistic ventures.
In addition to programming a wide range of Canadian and international artists, NO HAY BANDA hosts and commissions composers to create new works in close collaboration with a core group of Montreal-based musicians associated with the organization. These works are then toured and performed by the group outside of Montreal, promoting and contributing to the reciprocal exchange that is so important within the international artistic community.
NO HAY BANDA was founded in 2016 by three Montreal-based musicians: Daniel Áñez, Noam Bierstone, and Geneviève Liboiron. We launched the independent record label No Hay Discos in 2021.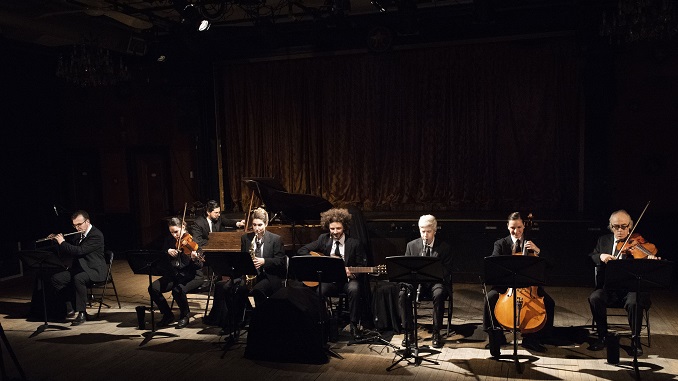 Name:
Daniel Áñez, from No Hay Banda
Genre:
Experimental – Contemporary Music
Founded:
2016
# of Albums:
1, but our label No Hay Discos, already has 2. 3 is coming up soon!
Latest Album:
I had a dream about this place
Latest Single:
The first track of the album: An Overall Augmented Sense of Well-being
Latest Video: 
This is a YouTube playlist featuring Sarah Albu, Geneviève Liboiron and An-Laurence Higgins performing "51 Short Pieces for Soprano, Violin and Guitar (Opera)" by Tomomi Adachi, that we released during lockdown months.
Favourite musician growing up:
I guess it was somewhere between Kurt Cobain and Chuck Schuldiner (Death)
Favourite musician now:
Caterina Barbieri!!!!!!
Guilty pleasure song:
I don't feel guilty listening to pop or cheesy ballads, but I guess the answer would be listening and dancing to Jerry Rivera's romantic salsa.
Live show ritual:
Contemporary-classical music is so hard sometimes, so my ritual is kind of a boring one: have a meal with protein and vegetables but no carbs, so that I can have more focus. Then try to isolate from other people so that I can get in the zone by myself.
Favourite local musician:
thisquietarmy
EP or LP:
LP all the way. I only listen to complete records, even now.
Early bird or night owl?
I'm useless all day long
Road or studio?
Road. Playing live is energizing. Playing in the studio is drenching.
Any shows or albums coming up?
On June 16th and 17th, No Hay Banda will be participating in the Suoni Per Il Popolo Festival, performing a new experimental AI opera by the Japanese composer Tomomi Adachi. No Hay Banda already performed a work of his in 2021, during the lockdown months, where we released for 51 days in a row a short video from his "51 short pieces", a set of brief and comical music theatre pieces.
No Hay Banda will develop the new work with Tomomi Adachi as part of a residency at the Chapelle de la Cité-des-hospitalières, where the performances will take place (209, avenue des Pins).
As an opener for the performance, we will celebrate the launch of the third album released on our record label No Hay Discos: "The Garden of a Former House Turned Museum" by Chloë Lum & Yannick Desranleau.
Where can we follow you? 
Facebook |  Instagram | Bandcamp | Website
***
Rapid Fire Montréal Qs
What is your favourite local restaurant?
I live in St-Michel. My two faves around here are the Haitian magnificent "Sissy et Paul", and the Peru meets Italy "Les Deux Fours"
What is your favourite street in your city and why?
St-Laurent. It has everything for everyone, cheap/expensive, trashy/snobbish, clean/dirty, but it's always fun. And it's Main.
What is your favourite park in your city and why?
Parc Julie-Hamelin by the side of Frederik Back. It has the best playground in the city, good for adults, children or anyone!
What is your favourite music venue in your city?
Sala Rossa and Casa del Popolo will always feel like home
What is your favourite music store in your city?
I love Raymond's recommendations at Atom Heart.