A Shirley is a ride or die, a way of life. Raphaëlle Chouinard (Vocals; Guitar), Sarah Dion (Bass), and Lisandre Bourdages (Drums) had too much whisky one night and accidentally unleashed the beast within them to become Les Shirley; a kickass rock power trio.
Drenched in early 2000s pop culture, their sound is shaped by their punk rock teenage years and the women they became today, karaokeing their nights away to pop anthems. A symphony of raw power chords, raging riffs and wild vocal melodies that are never getting out of your head. From Blink-182 to Céline Dion, their influences are vast and it shows in the craftsmanship of their songs. Forever Is Now, their debut album came out on March 19th, 2021.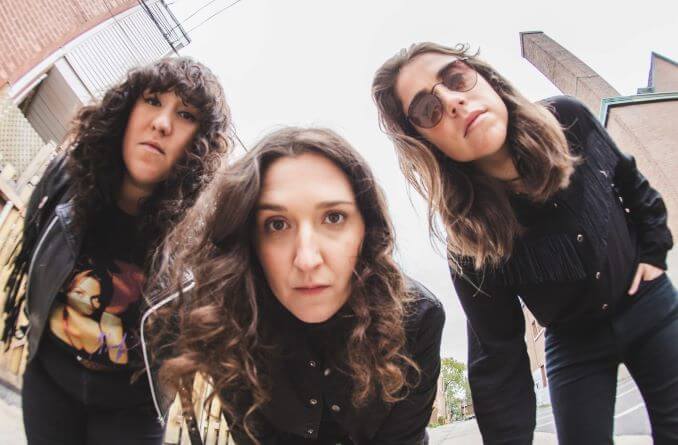 Name:
Les Shirley
Genre:
Pop Punk Rock
Founded:
2019
# of Albums:
1 EP + 1 LP (second coming out fall 2022)
Latest Album:
Forever Is Now
Latest Single:
Easy Target from Forever Is Now
Latest Video:
https://www.youtube.com/channel/UCxldO9b6_mAKy5IUEp4zdog
Favourite musician growing up:
Rapha (Imogen Heap)
Favourite musician now:
Rapha (Amber Bain from The Japanese House)
Guilty pleasure song:
Any songs by Aqua (but mostly Aquarius or turn back time)
Live show ritual:
We walk on stage to Sandstorm by Darud (it works every time, so pumped)
Favourite local musician:
Ariane Roy and Julie Gagnon AKA Calamine
EP or LP?
LP, people have less time to write LPs and to listen to them nowadays but music takes time and we need to make time to listen to it, to get into a whole album's vibe again. That's the experience.
Early bird or night owl?
Night owl 100% (I love to write music at night or smoke weed and game)
Road or studio?
Studio all day, every day
Any shows or albums coming up?
The first single from album 2 came out on May 19th!
Where can we follow you?
Instagram | Facebook | Youtube
***
Rapid Fire Montréal Qs
Favourite local restaurant:
Yokato Yokabi (corner st-denis and Drolet) AMAZING ramens.
Favourite street in your city:
Mont-Royal
Favourite park in your city:
Maisonneuve, it's so big and spacious, you almost feel like you're out of the city when you're in the middle of it.
Favourite music venue in your city:
L'esco and M Telus (2 different sizes but equally well spotted and cool)
Favourite music store in your city:
Aux 33 Tours, always and forever.