This Pulled Pork Rolls recipe by BakeGood is a mouth-watering combination of soft and fluffy dough, seasoned with fresh thyme and chives, filled with juicy and flavourful pulled pork, smothered in BBQ sauce, and topped with melted mozzarella cheese. It's the perfect handheld snack for any occasion, especially for the big game. With 20 easy-to-follow steps, this recipe will guide you through the process of making this delicious treat from start to finish. Whether you're a seasoned cook or a beginner, this recipe is a great addition to your culinary repertoire. So, gather your ingredients, roll up your sleeves, and get ready to enjoy the best Pulled Pork Rolls you've ever tasted.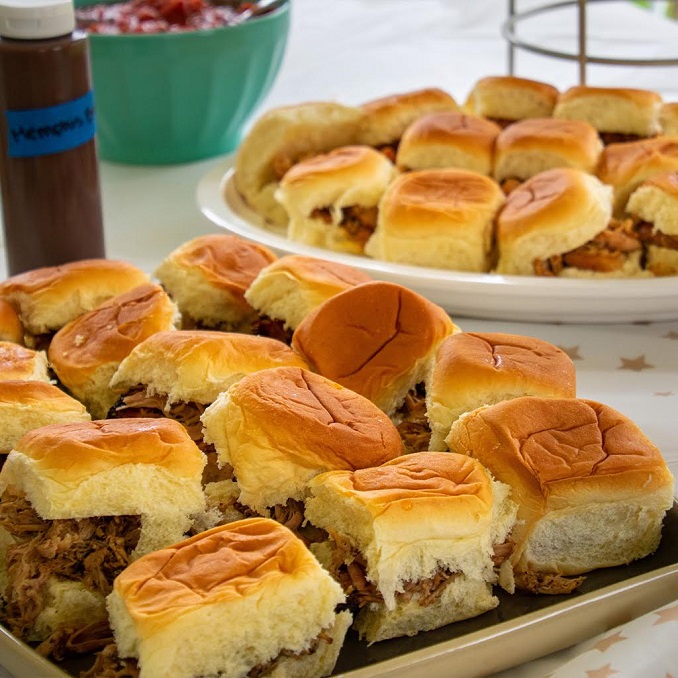 Pulled Pork Rolls
Ingredients:
● 3 cups of premade pulled pork, warmed
● 1 cup of bbq sauce
● 2 cups of shredded mozzarella
For the dough:
● ¾ cup of whole milk
● 2 tbsp of sugar
● 2 ¼ tsp of active dry yeast (or 1 envelope)
● ½ tsp of sea salt
● 3 tbsp of unsalted butter, room temperature
● 1 large egg, beaten and at room temperature
● 1 tbsp of minced fresh thyme
● 1 tbsp of minced fresh chives
● 3 ½ – 4 cups of all purpose flour
● 2 tsp of bread booster
For the Eggwash:
● 1 egg, beaten with 1 tbsp of cold water
● Garnish with crushed walnuts and fresh chives.
Directions:
1. Warm milk in a microwave safe bowl for approx. 30 seconds. Milk should feel warm to the touch but not hot (approx. 105°F).
2. Combine milk, sugar and yeast in your stand mixer, fitted with the dough hook. Stir to combine.
3. Let the mixture sit for 5 minutes or until the yeast begins to foam.
4. Combine your flour and bread booster in a separate bowl and set aside.
5. Once your yeast mixture foams, add in the salt, butter, egg, thyme and chives.
6. Turn your mixer to speed 1 and slowly start incorporating your flour mixture, ½ cup at a time.
7. Once all the flour has been incorporated, turn the mixer to speed 4 and mix for 5 minutes. If the dough appears too wet and is not pulling away from the sides, add more flour 1 tsp at a time.
8. Once the dough pulls away from the sides of the mixer, roll out onto a lightly dusted surface and knead into a smooth ball.
9. Place the dough ball into a lightly greased bowl. Cover and let rest in a warm place for 1 hour or until it has doubled in size.
10. Once the dough has doubled, punch down and turn out onto a lightly floured surface. 11. Roll out to about a ¼" thickness and roughly a 19"x12" rectangle. Make sure the long edge runs parallel to the edge of your counter and that the short edges are on the
sides. Check that the bottom is not sticking to your surface so that it rolls easily.
12. Brush the surface with the bbq sauce, coming all the way to the edge of the sides and closest to you and leaving a clean edge along the top (approx 1 ½" strip).
13. Next layer the shredded cheese over the bbq sauce, followed by the pulled pork mixture and a final layer of cheese.
14. Starting at the edge closest to you, begin to tightly roll the dough upwards towards the clean edge. Seal the seam by pinching the dough together. You should be left with a log that is approx 19" long.
15. Cut approx 1 ½" -2" off the ends and cut the remaining log into 8 even pieces, approx. 2" each.
16. Place rolls onto a parchment lined baking sheet, ensuring the rolls are at least 2" apart. Loosely cover the rolls and place in a warm area to rise again for 30 minutes. 17. Preheat the oven to 350°F.
18. Remove cover and brush with the egg wash. Bake for 25 minutes or until the rolls are a deep golden colour.
19. Transfer to a wire rack and let cool for 10 minutes.
20. Garnish with additional bbq sauce and sprinkle with crushed walnuts and chives.