City Shred shared with us this recipe for Blueberry & Lemon Stuffed Ricotta French Toast, the perfect breakfast for any long-weekend brunch. It can be prepared in so many ways, but blueberries and lemon together are always an epic combo. That said, feel free to experiment with your favourite berries to make it even more irresistible for you or your guests. And if cutting pockets into your bread seems like too much work for this weekend, just build this like a sandwich with 2 slices per piece of French toast. If you want to impress your guests, this is sure to do the trick and have them wanting more.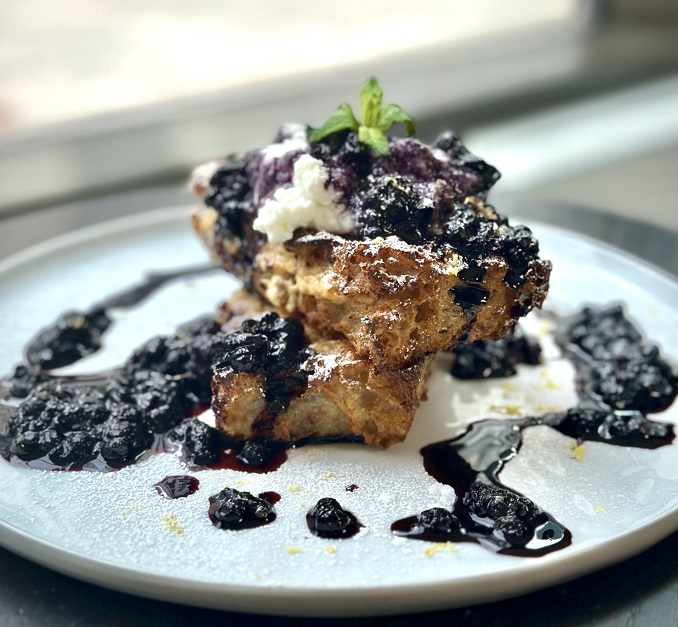 Blueberry & Lemon Stuffed Ricotta French Toast
Serves: 2
Prep Time:10 minutes
Cook Time: 15 minutes
Total Time: 25 minutes
Ingredients:
2 large eggs, whisked
1/2 cup whole milk or dairy substitute (unsweetened)
6 tbsp coconut sugar
¼ tsp vanilla
¼ tsp cinnamon (optional)
4 slices sourdough bread, cut 1.5" thick (crusts removed)
2 cups ricotta (1½ cups for ricotta filling, ½ cup separate for garnish) 2 ½ cups
frozen blueberries
2 cups water
1 sprig of mint (optional – for garnish)
1½ lemons – zested (½ zest of lemon for filling, ½ zest of lemon for blueberry compote, ½ zest of lemon for garnish)
salt
non-stick cooking oil
Directions:
1. Preheat the air fryer to 350 degrees F with the rack inside.
2. In an uncovered small saucepan on medium heat, add the frozen blueberries, 4 tbsp coconut sugar, water, ½ zest of lemon, and a pinch of salt. Once the mixture has come to a boil, turn down medium-low and allow simmer for approximately 10 minutes, allowing the liquid to reduce by half.
3. In a small mixing bowl, add 1½ cups of ricotta, 1 tbsp coconut sugar, zest of ½ lemon, pinch of salt. Mix together.
4. Using a serrated knife (can also use a very sharp knife or large sharp steak knife), cut 4 x 1.5-inch slices of sourdough bread. Remove the crusts from the bread. Insert the knife horizontally into the side of each slice of bread. Cut along the length to make a pocket, without cutting all the way through (¾ of the way). If the bread is too fresh it may be a little difficult to cut, try letting it air dry for 10 minutes before cutting! The more gentle you are with the bread, the less tearing there will be!
5. In a shallow bowl, whisk together the eggs, milk, 1 tbsp of coconut sugar, vanilla, cinnamon, and a pinch of salt. This is the custard base.
6. Now we are going to take the sliced sourdough with the pocket, and carefully stuff it with approximately 1 large spoonful of the ricotta mixture in each portion of bread.
*Save ½ cup of the fresh ricotta for garnish.*
7. Once the bread is stuffed, soak in the custard base. You will want to soak it just until the bread has absorbed the custard. Depending on how fresh the bread is the time may vary but generally approximately 5 seconds a side (for fresher / softer bread) to 2 minutes (for more stale bread). Careful not to over-soak the bread, this will create a soggy french toast. Make sure to allow any excess custard to drip off before the next step!
* If you can't fit all 4 pieces of bread in the air fryer, do not pre-soak the french toast. You will have to cook it in 2 batches. If this is the case, only soak what is going in the air fryer right away and then soak the second batch of french toast right before going in the air fryer!*
8. Lightly spray the tray in the air fryer with non-stick cooking oil. Place uncooked french toast on the rack. Spray the uncooked french toast with a little oil as well. Cook for approximately 8-10 minutes, (flipping halfway) until the toast is golden and puffed.
9. To serve, place 2 pieces of the stuffed French toast on your favourite plate, a spoonful of the fresh ricotta, and top with the blueberry compote. Finish it off with some lemon zest, and a leaf of mint. Enjoy!
Notes:
1. Use day-old or stale bread for best results. This will help prevent soggy french toast!
2. Don't have an air fryer? No problem – this can be made on a stovetop. On medium-low heat, add ½ tbsp butter to a fry pan. Add your soaked french toast and cook each side until golden (5 minutes approximately).
3. If you can't find an uncut loaf of sourdough bread, you can use 4 slices of bread per serving. Place one slice of bread on your cutting board, add the filling (keeping it about ½ cm away from the edges) and place the other slide on top. When soaking the bread, just be cautious that the bread slices don't come apart. Cook as per usual.
4. When you cut the crusts off of your bread, save the crusts! Cut them into small 1-2 cm pieces to make croutons for your next salad! Or you can place them in a paper bag and let them dry out for a couple of days. Pulse them in a food processor/blender/using a rolling pin and you have homemade bread crumbs!
5. Can't find sourdough? That's okay! You can substitute it with your choice of bread!