Armstrong Cheese shared with us this tasty recipe for Tex Mex Pork Chops. A symphony of succulent pork loin chops, zesty taco seasoning, and Armstrong Tex Mex Shredded Cheese unite atop a bed of flavorful rice, creating a hearty dish that's sure to satisfy your Tex-Mex cravings. Finish it off with a garnish of fresh coriander and creamy avocado for a truly delightful dining experience.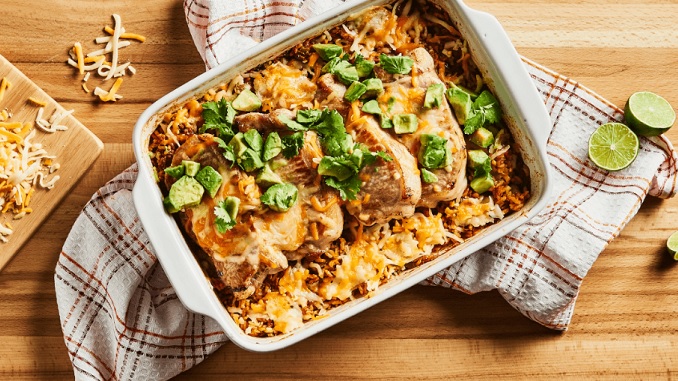 Tex Mex Pork Chops
Prep time: 20 min
Total time: 1 h 20 min
Serving: 4
Ingredients:
250 ml (1 cup) of chicken stock
1 can (8 oz) of tomato sauce
1 medium-sized green pepper, chopped
250 ml (1 cup) of long-grain rice
30 ml (2 tbsp) of taco seasoning
6 pork loin chops, 1.25 cm thick (1/2 inch)
30 ml (2 tbsp) of canola oil
Salt and freshly ground pepper to taste
125 ml (1/2 cup) of Armstrong Tex Mex Shredded Cheese
Chopped fresh coriander, optional
2 pitted avocados, peeled and cubed
Directions:
1. Preheat the oven to 180 °C (350 °F).
2. Butter a 28 by 18 cm (13 x 9-inch) baking dish. Pour the chicken stock, tomato sauce, green pepper, rice and taco seasoning, and mix well. Cover with aluminum foil and cook for about 1 hour, or until the rice is tender.
3. During that time, in a large pan, cook the pork chops over medium-high heat in oil until juices run clear, 4 to 5 minutes per side. Sprinkle with salt and pepper. Set aside and keep hot.
4. Spread the rice mix with cheese, put the pork chops on top. Cook in the oven until the cheese is melted, approximately 5 to 10 minutes. Sprinkle with coriander and avocado, to taste.