Mayfly's debut EP ESSENCE, released earlier this summer, was inspired by TV shows and movies they watched throughout the past year including Euphoria and Call Me By Your Name. With tracks performed in both French and English, the album blends indie and folk music to produce a sound full of rawness and vulnerability.
The pair is a perfect storm of talent and skills; Charlie has a knack for the instruments and melodies while Emma creates a visual universe for listeners. MAYFLY is one of nine emerging Canadian groups selected as a First Up with RBCxMusic Featured Artist. Since launching in 2020 to support Canadian musicians through the COVID-19 pandemic, First Up with RBCxMusic has supported more than 150 artists by providing our country's emerging talent with a platform for exposure, funding, education and mentorship opportunities. First Up was created to help emerging recording artists continue to hone their craft, perform for new and diverse fans, and ultimately, progress their careers.
The two women met at Concordia University four years ago in a Creative Arts program and a final course project became a life project and the inception of MAYFLY. After doing covers for a few years, they decided to take their craft to the next level by creating and producing their own songs. Their participation this past year at Francouverte turned into a record deal after being noticed and signed by Canadian record label Duprince.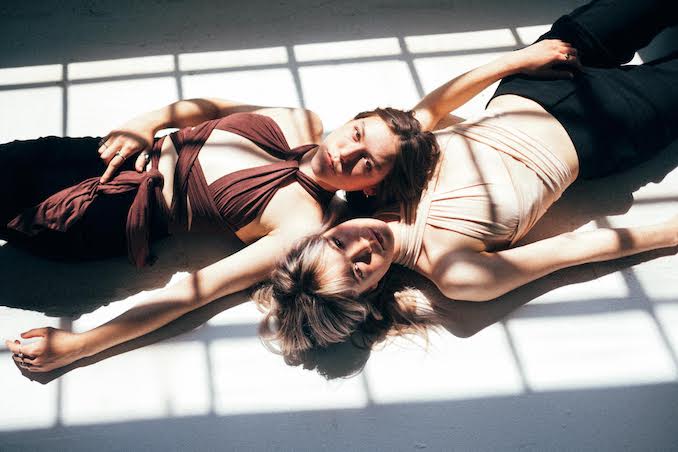 Name: Mayfly – consists of Emma and Charlie
Genre: Soft indie-pop / electropop
Founded: 2019
# of Albums: Only 1 EP so far + multiple singles (we're currently working on our first album) Latest Release: Our EP "ESSENCE" – released on June 17th, 2021
Latest Single: "When all we knew was us" – focus track of the EP released on May 20th, 2021
Latest Video: This is one of five videos we released for the EP. Each song has its own video and universe
Favourite musician as a teenager:
City and Colour, Temper Trap, Feist, Mac Miller, Cat Power, Jon Bellion
Favourite musician now:
Billie Eilish, Tora, Angèle, H.E.R, Men I Trust Guilty Pleasure Song: "P*$$Y Fairy (OTW)" by Jhené Aiko
Live Show Ritual:
Group hug + we tell each other "WE GOT THIS" Favourite local artist: Geoffroy (from Montreal)
EP or LP?
LP
Early bird or night owl?
Emma is an early bird, Charlie is a night owl
Road or studio?
Studio
Any shows or albums coming up?
We're still 100% promoting our EP! Go have a listen to ESSENCE if you haven't had the chance yet. It's the most personal and authentic project we have put out so far. We are also currently working on our first full-length album and we've even started working on building a show for the album (visuals, interpretation, lights, etc).
As well, we're currently part of the First Up with RBCxMusic program right nowthat helps provide Canadian artists with a platform for exposure, funding, education, and mentorship opportunities. This has really helped us keep making music during the pandemic. RBC is continuously amplifying Canada's creative community and we're so thankful to them for all the support.! The team is absolutely incredible and they are huge supporters of what we do. They allow us to reach our goals and give us great visibility and opportunities in the industry.
***
Rapid Fire Qs from Montréal
Favourite local Restaurant:
A ramen restaurant called Tsukoyomi
Favourite Street?
Laurier Avenue (There are so many cute cafes and shops on this street, it's so cute and so alive)
Favourite Park?
Jarry Park (This park is literally heaven at sunset. There's a beautiful waterfall and birds. It's magic)
Favourite Music Venue?
M Telus in Montreal
Favourite Montréal Staple?
Rooftop terrasses
Where can we follow you?
EVERYWHERE!
Website | Facebook | Instagram | Spotify | YouTube