February is the month of love and we're always on the lookout for ways to celebrate love — whatever that may look like for us.  Pizza Pizza also recognizes that everyone should have the opportunity to acknowledge love on this day regardless of  their relationship status.  It's no surprise that Pizza Pizza has welcomed tens of thousands of orders from couples and families to mark the occasion. And let's be real, who doesn't love pizza?  However, this year the popular pizza restaurant also wants to give Valentine's Day celebrations a twist by including the single people out there!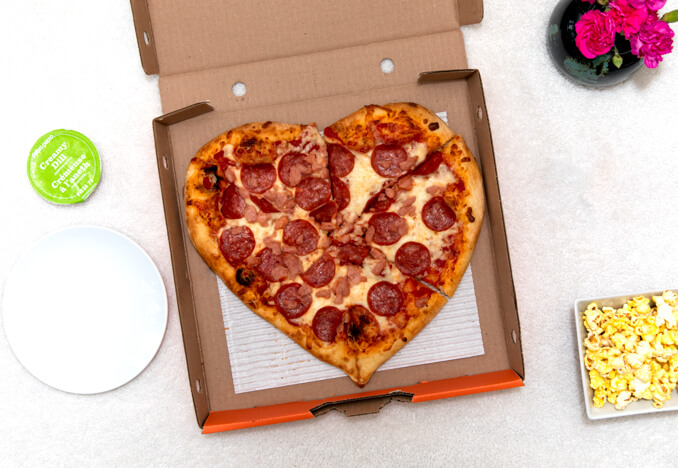 In their honour this Valentine's Day, Pizza Pizza will change its name to just 'Pizza' at 5 participating locations in Vancouver, Toronto, Winnipeg, and Montreal to celebrate the occasion with singles.  They will be giving out free single slices to unattached pizza lovers! Being single has its perks!
"As part of our belief that Everyone Deserves Pizza, this year on Valentine's Day, Pizza Pizza is celebrating single people alongside those who have traditionally celebrated Valentine's Day with us such as families or those in a relationship," said Amber Winters, Marketing Director, Pizza Pizza. "As a fun gesture, we'll be removing a "Pizza" from our name in celebration of singles and offering a free slice (single) of pizza to anyone who identifies as single at 5 locations across Canada from Montreal, Toronto, Winnipeg and Vancouver."
Winters also tells us the new brand positioning at Pizza Pizza 'Everyone Deserves Pizza' focuses on the idea that good days or bad, pizza can always be a little bright part of our day. "It's something many of us can connect on, and Pizza Pizza has been a part of those moments for many years.
As an example of Everyone Deserves Pizza, we developed the Fixed Rate Pizza based on the idea that rising prices, interest rates etc. have become a drag on many of us. So we decided to come up with a pizza deal where people can "lock in" their price for a year, so at least that's one less worry for now."
We're here for this! (and the pizza!) Winters tells us they will definitely have more coming that touches on Everyone Deserves Pizza so stay tuned!
So, how can single people claim a free slice of pizza ? Simply drop in at the following select locations for a FREE cheese or pepperoni slice on February 14th during dinner time (6:00 pm to 9:00 pm, local time). To get the single slice, all you have to do is show the Pizza Pizza App to redeem. Valid for one slice per person.  
Participating Locations: 
Toronto: 558 Bloor Street West AND 125 The Queensway
Winnipeg: 3025 Ness Avenue
Vancouver: 345 Robson Street
Montreal: 1001 Rue Saint-Catherine Est
And of course, if you want to order up their Valentine's heart pizza they are most definitely still available for $12.49 includes two toppings. Link here to order.