With the Canadian Grand Prix having taken place on Father's Day this year, Duracell created a contest to allow one father and their son to live the opportunity of a lifetime at the Canadian Grand Prix in Montreal. For the winners Christian Escobar, and his son Gabriel it was just that.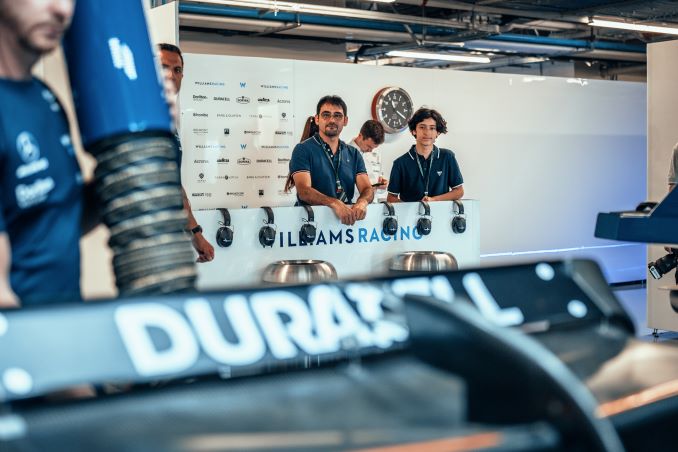 The contest that Duracell created was asking Canadian F1 fans to share their best father-child moments around the sport of racing for a chance to win an exclusive VIP experience at the Canadian Grand Prix in Montreal. As a result, the winners would get to participate in exclusive events held by Duracell in partnership with the Williams racing team. The partnership between the two parties is part of Duracell's new campaign "Engineered for More," which is related to its new Power Boost technology.
The Escobar duo found the contest when they were able to find tickets available for this year's race. "We have been going to the races in Montreal since 2006, but I never went to the paddock which is why it was such a great experience for us," said Christian. Gabriel added that due to the lack of availability of tickets for this year's race on Sunday, the contest was their only chance to see the race live. As a result, they received a nice VIP package for the whole weekend.
This opportunity was a very special one for Christian and his 15-year old son, who was introduced to the sport of F1 by his own father. "I want to thank my dad for being the best dad. I love races because of him." said Christian. He added a great background to his love of F1 when describing his father. "He was a mechanic for Formula 4 and rally in South America back in the 80's."
As for Christian's son Gabriel, he too has shown to pick up on the love of racing that both he and his grandfather developed before him. "My son is a karting driver now and he (Christian's dad) is his mechanic," said Christian. He also states that his dad brought racing into his family's blood by becoming a mechanic in the sport and they haven't looked back since. Christian is also a mechanic for his son's races around the province.
Their love for the sport really made them stick out in what would seem to be the best possible Father's Day for two huge racing fans. "It was a really good experience, I never expected anything like that really," said Christian.
One thing that was especially cool about the experience is that Christian's name was put onto the Williams' racing drivers' uniforms and cars for the race last Sunday.
For the weekend experience the two Escobars got to meet the Williams Racing Team which includes Canadian driver Nicholas Latifi and the Thai driver Alexander Albon. "I would say my favourite part of the weekend was getting to meet the drivers," said Gabriel. As for father Christian, it was really getting to see his name on both race cars prior to the start of the race. "I didn't expect that at all. They told me to come to the garage, and they have a surprise. I originally thought it was for a photo for publicity and that's when I saw it and was like wow that's so awesome," said Christian.
They also got to watch all the races and time trials from the team's paddock (the paddock is an enclosure where the racing teams build their cars before the races just by the track). They also  got to learn about the behind-the scenes stuff that fans don't usually see on TV or even from the stands. The team also explained how their paddock moves from week to week and how they must set it up.
For the weekend, Gabriel said that he felt that he had to cheer on the Williams racing, even though his favourite driver is Sebastian Vettel, while his father's is currently Fernando Alonso.
One thing for sure is that Christian and Gabriel will never forget their experience at the 2022 Canadian Grand Prix. They will be able to bond over their experience for life. Their story also proves that there is always opportunities for the biggest fans of racing to be able to live incredible experiences by entering contests.