The sound of the Montreal-based duo Jitensha is a silvery union of honey-sweet proto-punkiness and modern indie that is harmonically reminiscent of 1950s rock & roll. Jitensha nestles catchy, poignant melodies into hard-hitting rock grooves. Lyrically focused on social justice, environment and psychology, they bring you on a winsome journey of modern human experience.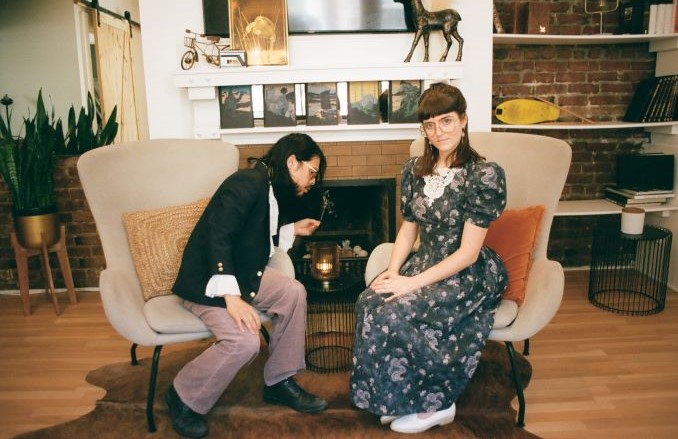 Name:
Jitensha
Genre:
Indie Rock, Indie Pop
Founded:
2014
# of Albums:
2
Latest Album:
Periscope
Latest Single:
Psychotic (What Are Friends For?)
Latest Video:
Favourite musician growing up:
David: Elvis Presley of course!
Rosey: Barenaked Ladies
Favourite musician now:
David: Phoenix
Rosey: Vampire Weekend
Guilty pleasure song:
New Light by John Mayer
Live show ritual:
Take 3 deep breaths and say this mantra aloud:
We are present
We are focused
We are confident
We are emotionally engaged
We are connected
We are grateful
3 deep breaths again.
Favourite local musician:
We have to say Tommy Crane
EP or LP:
LP!
Early bird or night owl?
Night owls – we're stupid to fight against it but we always are.
Road or studio?
David: Road
Rosey: Road!
Any shows or albums coming up?
Our new single Psychotic (What Are Friends For?) is out!
Also, the Cou Cou US Tour starts June 30th in Vermont!
Where can we follow you?
Website | Instagram | Facebook
***
Rapid Fire Montréal Qs
Favourite local restaurant:
El Amigo at St. Zotique and St. Dominique. Run by such a kind hard working guy. Best pupusas and burritos in MTL in our opinion.
Favourite street in your city:
Masson, for the small-town vibe in the big city.
Favourite park in your city:
Park Henri Julien – a lesser-known spot near St. Laurent and Legendre. Big beautiful cottonwood trees, nice sports fields and a friendly vibe.
Favourite music venue in your city:
L'escogriffe. It's the perfect size, welcoming and the sound is REALLY good.
Favourite music store in your city:
For recorded music I would say Librairie Renaissance – we love digging through old tapes and records. But in terms of gear, Long & McQuade, we live off their rental section.