Nazareth Community is a Montreal non-profit organization that provides housing for people in need and promotes social reintegration. We spoke with Sheila Woodhouse, Executive Director, to find out more about them.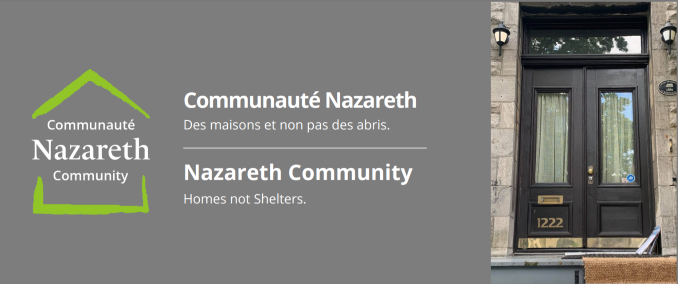 Describe your charity/non-profit in a few sentences.
Nazareth Community is a not-for-profit organization established in 1979, providing housing with support for individuals who struggle with mental health issues, homelessness, trauma and addictions. Our residents enjoy celebrations, pet therapy, music, student stagiaires, medication distribution and individual treatment plans. This "client-driven" approach is supported by trained, empathetic staff, and assisted by our volunteer Board of Directors. Many of our residents' "home" before was the streets. We are nondenominational, transgender friendly, with the goal to increase hope and opportunities to mitigate the risk of long-term homelessness.
What problem does it aim to solve?
We focus primarily on individuals who struggle with homelessness; due to so many varied reasons; mental illness, poverty, conjugal violence, lack of support, trauma etc.
When did you start/join it?
March 2011
What was the situation like when you started?
I feel that the homeless situation in Montreal is not resolving, especially with the ramifications of the pandemic.
Costs have increased, minimal low-cost housing opportunities, job losses, very few places for our homeless to even rest in the daytime. For those of us in the field, there are not enough trained workers and funding is always challenging especially for the grassroots organizations such as Nazareth Community.
How has it changed since?
In Nazareth Community we keep growing; We now have 4 locations; Nazareth House, the Hope apartments, John's House (for young adults) and Anne's house (women) because the needs are there.
What more needs to be done?
Social housing with support in the downtown core support is key. Being proactive to circumvent long-term homelessness by providing daily support and opportunities.
How can our readers help?
Raise awareness; donate your expertise, check out our postings, hold a fundraiser!
Do you have any events coming up?
Our next focus will be raising awareness and funds for our women's residence "Anne's House" because March 8th is "International Women's Day".
The pandemic has been particularly difficult for women with an increase in domestic abuse and financial instability
Where can we follow you?
PAY IT FORWARD: What is an awesome local charity that you love?
There are so many! But we could not provide our 3 meals a day without the help of Moisson Montreal!