The digital revolution can be seen as the third industrial revolution, a scientific and technological transformation. However, the true essence of the digital revolution lies in the ongoing process of change that our society is constantly experiencing. The introduction of different technologies, starting from analog to mechanical and electronic, and ultimately digital technology, has brought about significant disruptions to both society and the economy. It is clear that to comprehend the digital revolution, we must consider the evolution of society.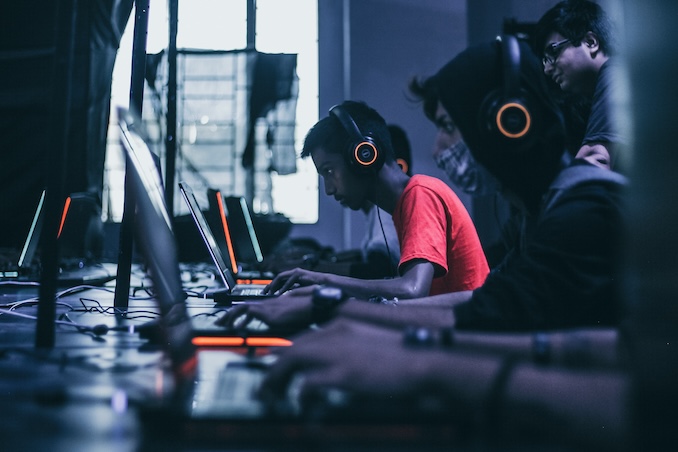 Join us as we explore the digital revolution and how one of its most prevalent industries, gaming, has impacted Canada and the world.
Digital Revolution Impact
Modern technology has brought about a revolutionary shift, leaving behind outdated processes. This shift has been fuelled by the widespread use of technology in industrial processes, as well as its integration into society and the global economy.
Introducing devices like PCs and smartphones has further transformed consumer habits and social interactions. These changes have created the ideal environment for the information era to flourish.
The information era, also known as computer science, marked a significant turning point when information began to travel faster than physical movement. This transformation was made possible by developing digital information and communications technology (ICT).
Today, our world is predominantly digital and interconnected through various devices and digital systems. Moreover, how we access information has drastically changed, as digital media enables direct information delivery to users. On the other hand, personal interactions have decreased, productivity has improved due to more efficient technology, and workers remain constantly connected regardless of location.
The Gaming Industry Revolution Defined
The gaming industry is widely recognized as one of the most crucial and groundbreaking technological fields in modern times. Its impact on culture, social connections, and amusement should not be underestimated.
The term "entertainment industry" no longer solely pertains to Hollywood and the film sector, as gaming now offers a highly immersive and breathtaking form of entertainment to over two billion individuals worldwide.
In 2021, revenue in the gaming sector experienced its twentieth consecutive annual increase. Projections indicate that the global gaming market will reach a staggering value of $256 billion by 2025, a significant boost compared to the 151.5 billion dollars recorded in 2019.
Gaming Industry Evolution
Graphics
Technology has had a profound impact on the gaming industry, particularly in the realm of graphics. With advancements in graphics technology, game developers can now create incredibly realistic games. Every aspect, from the textures on the walls to the characters' movements, is more authentic than ever before. This heightened level of detail truly enhances the immersive and enjoyable nature of gaming.
Virtual Reality
In addition, technology has introduced virtual reality, which is transforming the way we play games. Through virtual reality technology, gamers can fully immerse themselves in the game's virtual environment. They can perceive and experience everything as if they were physically present. This heightened level of immersion adds an extra layer of excitement and thrill to the gaming experience.
Enhancing Casinos
With technology's consistent advances it, the gambling industry is transforming. The existence of Ontario online casinos is revolutionizing how players enjoy their gaming experiences In Canada by providing a vast array of options accessible from anywhere in the world.
These virtual gambling platforms offer many exciting features, including virtual reality slot machines, skill-based challenges, social media tournaments, and live dealer games. Through these innovations, operators have created an immersive online environment that captivates gamers. Gone are the days when players had to visit physical casinos or settle for outdated machines. Nowadays, they can access cutting-edge games with realistic graphics, immersive sound effects, and enticing bonus features.
What sets these online casinos apart is their incorporation of live dealer tables, which provide users with an authentic casino atmosphere. Through webcams or chat boxes, players can interact with real dealers, enhancing their overall gaming experience. Additionally, the emergence of esports betting has further elevated the excitement by granting gamers access to top sports events from all over the world.
Online Gaming
Technology has greatly transformed the online gaming sector within the gaming industry. Thanks to the internet, gamers worldwide can now connect and engage in real-time play with one another. This has unveiled an array of fresh gaming prospects, allowing gamers to interact and compete with individuals from diverse cultures and countries.
Mobile Gaming
As smartphones continue to grow in power and sophistication, mobile games have become increasingly intricate and visually impressive. Consequently, there has been an unprecedented rise in the popularity of mobile gaming, with millions of individuals engaging in gaming activities on their smartphones daily.
Final Thoughts
The media and entertainment sector confronts numerous possibilities and obstacles. Digital technologies present a myriad of opportunities, but they also offer substantial challenges like audience division and illicit content. To effectively address these challenges and capitalize on the opportunities presented by digital technology, the industry must adjust and allocate resources to technology to flourish and achieve success in the coming years.
However, the future of entertainment appears promising as digital technologies persist in pushing the limits of what can be achieved.