Looking to grab your pet some new threads? Our latest Homegrown Business creates cute bandanas for your pet with matching scrunchies for their humans. We spoke with Jade & Vi of Feline Gud to find out more about them.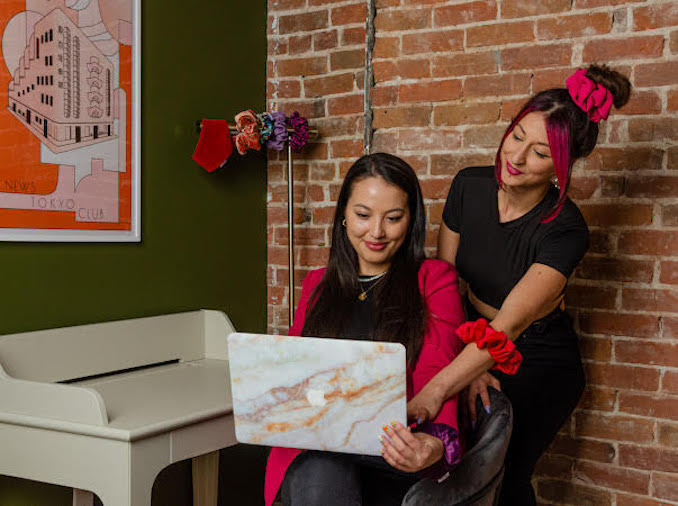 What is your business called and what does it do?
Our business is Feline Gud and we create handmade bandanas for any kind of pet with matching scrunchies for their humans.
What made you want to do this work?
In 2018, I (Vivi) left for a trip overseas while working remotely teaching English as a second language online. I loved working for myself and wanted to come back to Canada to study and start my own business as a floral designer. A few weeks after returning home, the pandemic had started and I had to put all those plans behind me. I started looking for apartments and knew I wanted a cat. In Europe, I was surrounded by strays and had fell in love with their personalities and traits. It wasn't much longer after settling in, that I had seen a friend's Instagram story asking if anyone was interested in kittens since she had four in her backyard. I immediately reached out to her and reserved one. Fast forward a few weeks later, I have a 9 week old kitten, Guddu. Such an adorable little kitty, I really wanted him to be as fashionable and look as cute as possible. After doing research online, I couldn't find anything to dress him up that fit my standards which led me to try and make my own accessories and eventually start a business!
I had reached out to my friend, Jade and proposed her the idea. She as well is a cat lover and I knew that she is fierce when it comes to running a business. She had two cats, Cookie and Nugget who lived with her for most of her life growing up before they had recently passed at the age of 14 and 18. She loved the idea and knew right away to name the business Feline Gud after Guddu as he was the inspiration to all of this!
What problem did you want to solve with the business?
We want to make all furry friends feel Gud and cozy! Most importantly, we want to create fashionable apparel while keeping that strong connection between pets and their owners. A lot of animals require their own custom sizes and here at Feline Gud, we want to make sure we create each bandana to fit comfortably for their size. As for our scrunchies, we provide the best high quality silk and velvets with a 100% natural cotton elastic which is durable and stretchy perfect for any hair type. Scrunchies can be customized as well if the person needs more or less of a stretch, we got you covered!
Who are your clientele/demographics?
It is anyone who has a love for animals or own any pets. We have a wide range of clientele and we really believe in spreading the love and encouraging men and women of all ages to wear a scrunchie in their hair or even by accessorizing around the wrist. Our handmade Guddies also make great gifts for the animal lovers in your life.
How does your business make money? How does it work?
We are an e-commerce business where our money is made through website sales. We also participate in local pop-up events and currently have 1 retailer at Idolem Studio Bois-Franc.
Where in the city can we find your profession?
We are based in Greater Montreal.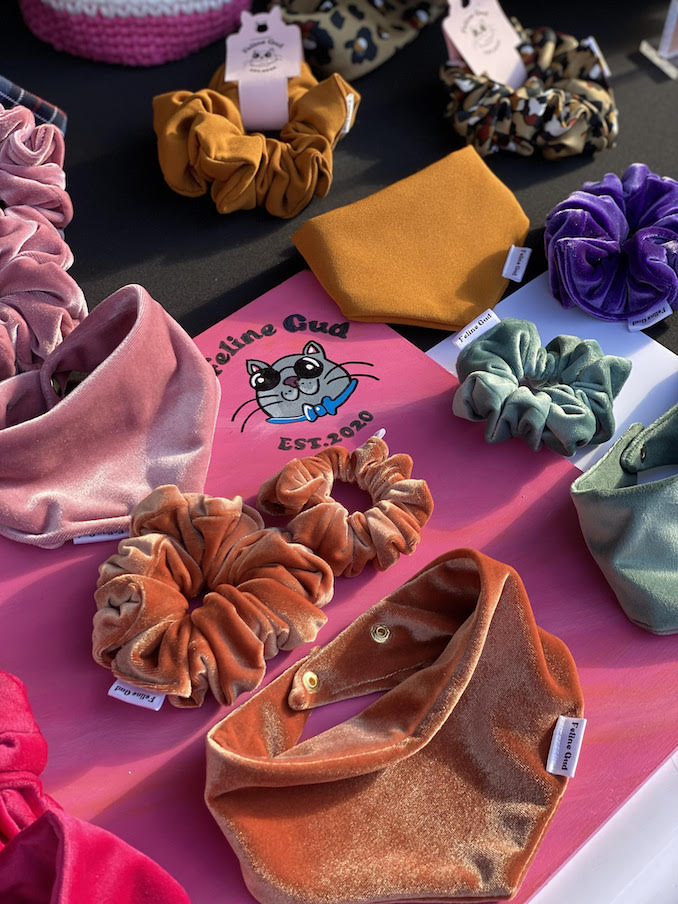 What is the best question a prospective customer could ask a member of your profession when comparing services? Give the answer as well.
What type of fabric do you use?
High quality velvet which is very soft on your hair and comfortable for the animal to wear.
What sizes do you have?
We have a wide range of sizes and if it's not available, we offer custom sizes.
Why is the price $15 starting for one bandana?
Each bandana is handmade and unique with our signature velvet. They also have extra buttons to make them adjustable. Most of our bandanas are made reversible and you can get two looks in one, so more value for your money!
What is the best part about what you do? What is the worst part?
The best part of our job is creating, putting colors together, fabric shipping and visualizing happy animals and people wearing our Guddies.
The worst part is definitely having to clean up after ourselves once all the hard work is done. You can't imagine all the threads and cut up fabric that ends up all around our office!
What is your favourite joke about your own profession?
Our favorite joke is how the words "Feline and Gud" is always incorporated into our daily vocabulary! Whether it's a "Hope you're Feline Gud today!" or walking into the office like "What's Gud my friends?" We will always appreciate having our catchphrases thrown back at us!
Where can we follow you?
You can follow along with us on our crazy cat ladies journey through Instagram.
PAY IT FORWARD: What is another local business that you love?
Another local business that we admire is M Beads Jewelry. She is a true boss woman entrepreneur who has inspired us and helped us grow so much through our business journey. You can follow her on Instagram at to feel inspired too.