BC born singer-songwriter Kandle Osborne is catharsis personified. Embodying equal parts cabaret chanteuse and ambitious rock singer, she's covered everything in her inky blues-influenced songs from heartbreak, sexual assault, chronic illness and a loss of power, providing an immense release for her listeners with her treacle dipped voice.
Kandle discovered a true love for music in Nancy Sinatra, Billie Holiday and Shirley Bassey to name just a few. Strong influences from the fierce female greats of a gone era, Kandle writes, and sings exclusively with her heart; something so often void in the modern era of over produced perfection. Kandle sings honest and raw, vulnerable yet empowered,
never afraid to pen even life's heaviest moments.
Kandle got her start with The Blue Violets, a band she started with her sister Coral Osborne and friend Louise Burns. It was with them that she fell in love with songwriting and overcame her stage fright, building the foundations of her solo career. In 2010, she met her musical partner and co-producer Sam Goldberg Jr. (Broken Social Scene, Yardlets) after he had approached her to take press shots for one of his musical projects. She agreed on the condition that he play on some of her songs she was recording. Kandle moved to Montréal to be closer to Goldberg Jr., and they soon founded The Krooks, featuring Jason Kent (The Dears, Sunfields) on bass and vocals, David Deïas on drums and Félix Dyotte and Tim Fletcher (The Stills) on guitars and keyboards. The Krooks became Kandle's backing band.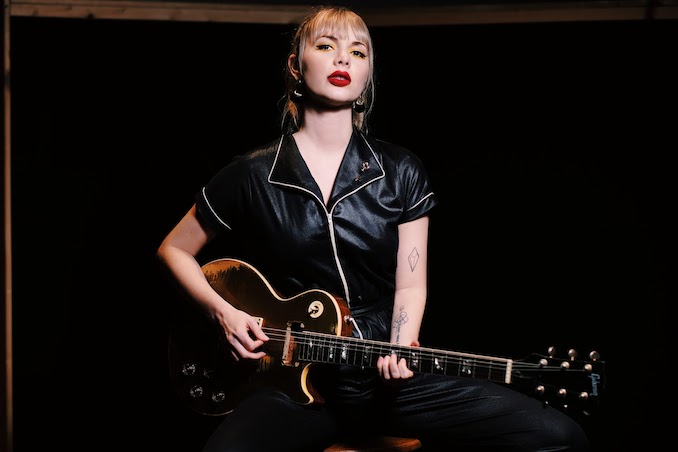 Name: Kandle
Genre: alternative crooner
Founded: 2011
# of Albums: 3 albums and 3 EPs
Latest Album: Set The Fire
Latest Single: Cathedral
Latest Video:
Favourite musician growing up:
Billie Holiday/ Radiohead
Favourite musician now:
Sharon Van Etten
Guilty pleasure song:
Levitating Dua Lipa
Live show ritual:
Be in the bathtub singing along to Portishead and Lana Del Rey at the hotel until the last second
Favourite local musician:
Patrick Watson
EP or LP?
LP
Early bird or night owl?
Night Owl! I despise the morning
Road or studio?
Studio. I would never leave if I didn't have to
Any shows or albums coming up?
Set The Fire Visual album
Where can we follow you?
***
Rapid Fire Questions from Montréal
Favourite local restaurant:
le vieux vélo
Favourite street in your city:
Saint Laurent- feels like you can walk it forever and find every cool venue. Restaurant, jam space, coffee shop and at least 5 friends along the way
Favourite park in your city:
Jarry Park- good dog watching and so close to Jean Talon Market!
Favourite music venue in your city:
Theatre Fairmount- played and seen my favourite shows there! Lots of memories
Favourite music store in your city:
Cheap Thrills for records! For instruments, I'm a woman so I stay away unless I'm in the mood for some sexism and mansplaining