Shawny is a Montreal-based children's artist, Youtuber, and performer for hire. His engaging blend of folk/pop/rock music is sure to get kids laughing, singing, and coming out of their shells. Shawny has been creating children's music since March 2020, beginning as a product of the early pandemic quarantine. Having worked as an elementary school music teacher for many years, Shawny was inspired to write songs that his students could relate to.
Shawny's first EP It's So Sunny was released on June 23rd, 2023 and features previous singles such as "Ollie Ollie Octopus" and "Hiccups Are Forever" as well as new unheard material. The album addresses themes of kindness, acceptance, and socio-emotional learning. Shawny's music has been featured on radio shows and podcasts including The Saturday Morning Cereal Bowl, The Children's Hour, and Suzy & Friends Kids Radio Show. He has been featured on Global News Montreal and been written up in The Suburban Newspaper. Over the past year, Shawny has done over 150 live performances at daycares, elementary schools, libraries, festivals, and public and private events.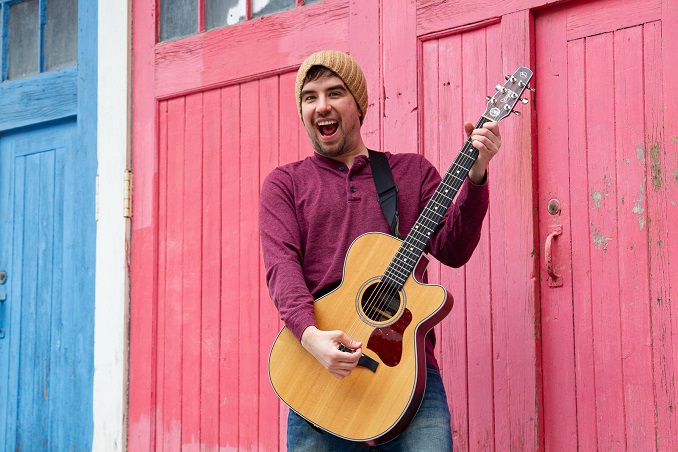 Name:
Shawny
Genre:
Children's Music
Founded:
2020
# of Albums:
1
Latest Album:
1
Latest Single:
Justin Time
Latest Video:
Favourite musician growing up:
Raffi
Favourite musician now:
Oof, that is a difficult question to narrow down. My favourites are David Bowie, Ray Davies, Dolly Parton and MF Doom. If I had to pick a more modern-day artist, I love Genesis Owusu. His album Smiling With No Teeth is a future classic.
Guilty pleasure song:
Footloose. I know it's such a cheesy 80's song, BUT it never fails to make me unbelievably happy.
Live show ritual:
I have quite a few rituals, but my biggest one is having to wear my knitted brown beanie. It could be a heat wave, and I'll be wearing it. I don't feel like Shawny without it.
Favourite local musician:
There are too many wonderful children's musicians in Montreal that deserve a shout-out. Heather Feather, Kimberly Beattie, and Songs on The Bus. All very talented and worth looking into.
EP or LP?
Both have their merit, but I'm an LP guy. I love a big, sprawling album with different stylistic choices and themes. You have to look harder these days to find them, but they are still out there.
Early bird or night owl?
These days I've become more of an early bird. Probably because most of my gigs are in the daytime.
Road or studio?
Both. I love live performing and connecting with families, but since making my first album, I've had a craving to get back in the studio and create more.
Any shows or albums coming up?
I just released my first album, It's So Sunny, on all streaming platforms and Bandcamp. It's a pop/folk/rock album that was written during the first two years of the pandemic and teaches kids the importance of acceptance, hope, and kindness towards yourself and others, while of course, still being fun, catchy and engaging. I'm also currently on a summer tour all throughout Montreal. I'm taking a break to go on my honeymoon, but I'll be back in August for more private and public shows. You can keep up to date on those shows via my social media.
Where can we follow you?
Website | Instagram | Facebook
***
Rapid Fire Local Questions:
What is your favourite local restaurant?
Chu Chai. They have the best and most delicious veggie duck. Mmmmm.
What is your favourite street in your city and why?
Bernard Street in the Mile End. I'm a simple person. I like my coffee, my sandwiches, and vinyl records, and that street has soooo many wonderful spots.
What is your favourite park in your city and why?
Angrignon Park. I love how you feel transported when you're there. It's as if you're up north and not in a city at all. Very peaceful.
What is your favourite music venue in your city?
I have always had a soft spot for Cafe Campus. It was my favourite venue to play in when I was playing in Indie bands, and I have seen some amazing live shows there. Getting to see The Wailers play classic Bob Marley tunes is a definite highlight.
What is your favourite music store in your city?
Long and McQuade have the best selection. You could get lost in there.