Crystal Dreams is a metaphysical store that is specialized in the sale of natural crystals, jewelry, incense, books, tarot cards, oracle decks, essential oils and much more. We spoke with Founders, Rafael and Santiago Hul to find out more about them.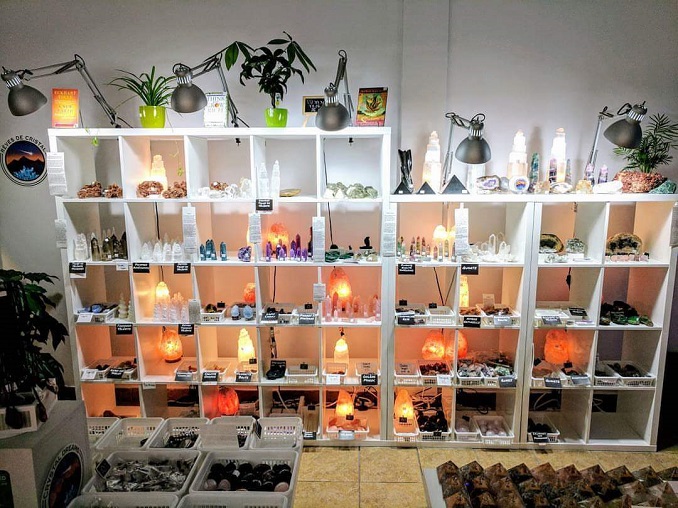 What is the name of your company and what does it do?
Crystal Dreams is one of the most popular metaphysical stores in Canada. This crystal store has 3 retail stores in the region of Montreal and an online store that ships worldwide. It specializes in the sale of natural crystals, jewelry, incense, books, tarot cards, oracle decks, essential oils and much more. However, one of the aspects that have made people so affectionate towards Crystal Dreams, is that it also organizes various events and seminars about wellness and spirituality, such as the metaphysical and spiritual show of Canada, which took place in Toronto (at the enercare centre), Montreal (At the Palais des congres), Quebec City (In the old Quebec) and Ottawa. Each edition of this trade show had between 5,000 to 15,000 visitors and 80 to 200 exhibitors.
What made you want to do this job?
My brother, Rafael Hul, and I became passionate about spirituality in 2012 which led us to discover crystals in our lives. We started collecting them and giving them intentions to help us get under control certain aspects of our lives. We worked with crystals at a personal level and we started noticing how these crystals were having a positive impact on us in the long run. They were teaching us about the power of goal setting amongst, applied faith, taking action, discipline, dreaming and many other things. After 4 years of using them as a hobby to cultivate our spirituality and become better people, we decided to start Crystal Dreams, so we could share our passion for crystals and spirituality with the world.
What problem did you want to solve with the company?
We created Crystal Dreams because we wanted to raise awareness about wellness and spirituality through crystals, various metaphysical tools and other natural products. We want to make a positive impact in the community and help people to raise their vibration.
What is your customer base/demographics?
We have two types of clients: one group that comes to Crystal Dreams because we sell beautiful precious and semi-precious stones and jewelry and these materials have value in the market. These are often mineral collectors, mineralogists, scientists and museums. and the other group because they believe in the metaphysical properties of Crystals. Personally, I collect crystals for both of those reasons, but I find the true beauty of a crystal can be found in its metaphysical properties. Our customers are literally people from all walks of life who are interested in reconnecting with themselves and cultivating a connection with that divine source that is all around us.
How does your company make money? How does it work?
Our company makes most of its revenue through the organization of FREE events and the sale of Crystals. We often organize free events (Such as meditations, seminars, and the metaphysical and spiritual show of Canada) and we always keep the entrance free while absorbing all the hosting and organization fees. We only make our money back when people buy our crystals and other products from us. Our stores in Montreal have also become tourist attractions because they have crystals and other goods that are imported from all around the world. Going into a Crystal Dreams store is similar to going into an interactive museum or art gallery where you can touch everything!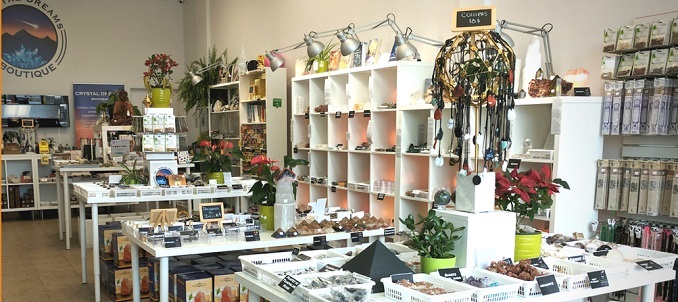 Where in the city can we find your profession?
Our 3 Crystal Dreams stores can be found on the north shore of Montreal (Laval), the west island of Montreal (Pierrefonds) and downtown Montreal. We also have an online store that ships worldwide.
What is the best question a potential client could ask a member of your profession when comparing services? Give the answer too.
People often ask us: do crystals really work? We always tell them the same thing. Crystals are sacred tools put on this earth to help people to use the power of their minds and direct it towards whatever ends they desire. The only limitations are those they impose upon themselves or they allow others to impose upon them. In other words, when you give an intention to a crystal, it is teaching you goal setting, visualization and most importantly: how to dream. Then, when you carry the crystal on you as long as you can until your goal is achieved, you are learning discipline, persistence, patience, applied faith, how to take action and how to manifest. Crystals do work, but only if you are open to receiving them. If you don't believe that a crystal can help you to achieve your goals, then that is exactly what will happen. However, if you truly believe in your heart and in your mind, without any doubt, that your dream is possible and that crystals can help you to achieve it: then everything is possible.
What is the best part of what you do? What is the worst part?
I would say the best part of this job is seeing the positive impact Crystal Dreams has on our clients and the community. Seeing people come into the store and pick up crystals, books or other holistic products that will help them to cultivate spirituality in their lives is something beautiful to see. Another aspect that I love about what we do is how we give back: we have planted several trees in Montreal, raised thousands of dollars in donations to animal shelters and have organized countless FREE events in order to give back such as mediations, seminars and trade shows.
However, I do have to confess that the worst part of what we do has been running a business during the pandemic and all of its challenges and having to deal with the shortage of labour. I don't know what is happening, but it is almost like people don't want to work anymore and if they do, they want to get extremely high salaries as of day one and have to do the least amount of work possible. The senior cashiers that have been with us a few months are paid between 16$-20$ / hour, have 5 weeks of vacation, dental insurance, and health insurance, are eligible for monthly raises of a minimum of 0.25$, and that is still not enough for them.
What is your favourite joke about your own profession?
People often tease us lovingly that we make a living out of selling rocks. It is funny, but when you walk into our store you realize that these are actually not average rocks that you find in your backyard. They are actually precious and semi-precious stones which took millions of years to be born and each one is unique and beautiful, like a work of art.
Where can we follow you?
Crystal Dreams is extremely active on TikTok, Instagram and Facebook 
What other local businesses do you like?
One of my favourite local businesses is "centre refuge nymous". This is a non-profit animal shelter run by a beautiful couple who works relentlessly to save animals and offer them a safe place while they heal. We are very proud to have raised donations for this place. Moreover, it is open to the public! We visited them last year and we had such an amazing experience looking at and playing with the animals who live there. If you would like to know more about them, visit their website.