Ecocat offers an ecological and plant-based cat litter made from tofu residues. We spoke with founder, Carl-Philippe Nantel to find out more about them.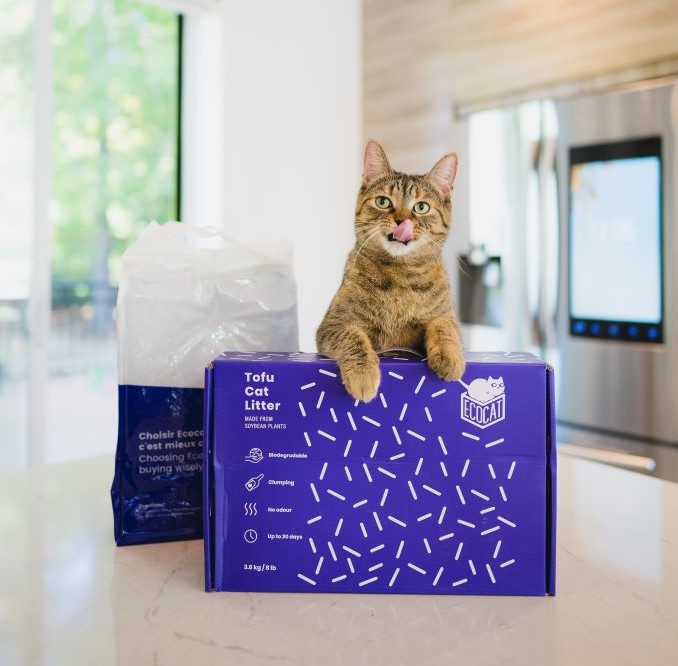 What is your business called and what does it do?
Ecocat looks to make life healthier and happier for felines and their human families – while lightening their ecological foot.
What made you want to do this work?
I am not sure people realize how bad cat litter can be for the ecology. I knew I wanted to encourage pet owners to reduce their waste. I knew I wanted to create an ecological, efficient, and affordable solution. But I didn't know how. For six months, I was obsessed with learning about cat litter. So much so that I finally got my own cat and we started to try different litter together. With my business partner, we began a trial-and-error process that would last two years before he landed on a solution that, he says, is approved by his chief customer – cats.
What problem did you want to solve with the business?
The scope of the problem, well, stinks. Currently, the cat litter market is dominated by products made from bentonite clay, a natural clay that clumps when in contact with moisture. That ability to swell to 15-times its volume makes bentonite clay ideal for litter products. Its convenience, however, comes at a price. Not only is bentonite clay largely obtained via environmentally damaging strip mining, it is also non-biodegradable, which means Fluffy's bulky litter will reside in a landfill for the next millennia or so.
Who are your clientele/demographics?
Every cat lovers that want to make a difference.
How does your business make money? How does it work?
We offer multiple subscription plans where customers pick a package for a recurring order that is shipped to their homes. Our litter is also available in bulk at certain points of sale in greater Montreal.
Where in Montreal can we find your profession?
Our head office is located in Montreal in the Chabanel district
What is the best question a prospective customer could ask a member of your profession when comparing services? Give the answer as well.
Why our litter is the best?
Ecocat litter is made of organic ingredients discarded by the food industry that we collect through our circular supplying chain, which allows us to considerably reduce our ecological footprint. Furthermore, our litter is 4x lighter than traditional litter—8 pounds is enough to replace a 24 pounds clay litter. This means less waste ending up in the garbage, not to mention our litter is biodegradable.
What is the best part about what you do? What is the worst part?
The best part is seeing how happy our customers are with our product and our delivery service.
What is your favourite joke about your own profession?
We are the only litter that can also be used for human consumption. (That's not true, don't try this at home)
What are your social media channels?
Website | Instagram | Facebook | YouTube
PAY IT FORWARD: What is another Montreal business that you love?
Lopez & Nantel Musique