For this week, the chef of the restaurant RYU shared with us this super fresh Signature Salmon Tataki recipe.
RYU offers a traditional Japanese experience with a modern touch. Having three locations in Montreal, RYU restaurants will seduce you with their elegant atmosphere and delicate dishes.
Full of rich flavours, this delicious dish is easy to pull together to impress your friends or family!
RYU: Website | Facebook | Instagram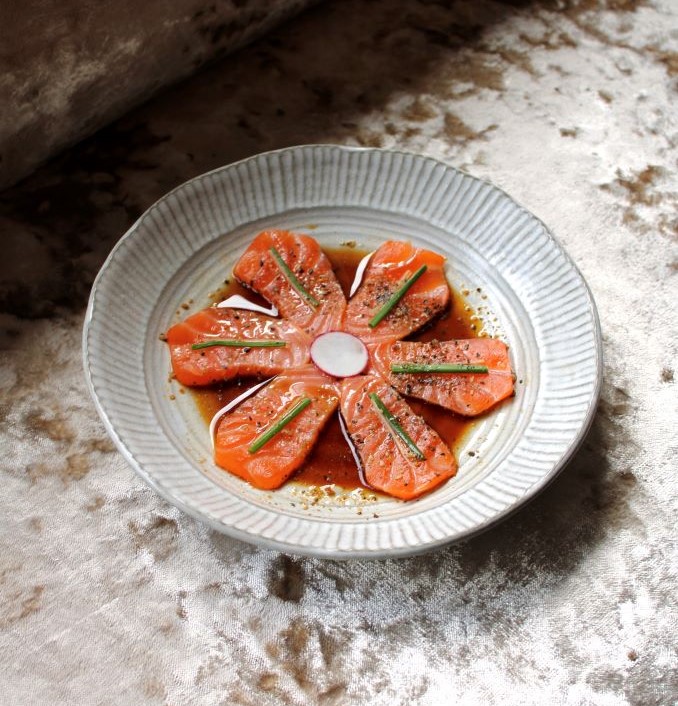 Salmon Tataki
Ingredients:
• 300g Sushi-grade salmon loin
• 3g Black and white sesame seeds.
• 3g Benitade (Japanese water pepper)
• 3g Aonegi (Japanese small green onion) – Can be substituted for chives
• 2tsp Rayu sesame oil
• 40-50ml Citrus ponzu sauce
Directions:
• Thinly slice 6 pieces of salmon
• Place the sliced salmon on a circular plate
• Add rayu sesame oil on top and all around the sliced salmon
• Torch the top side of the salmon
• Scatter minced aonegi and benitade on top
• Sprinkle the black and white seeds
• Drizzle over the citrus ponzu sauce