Jessica Emin shared her recipe for Hot Buffalo Honey Roast Turkey. This spicy recipe only requires seven ingredients and is perfect for any gathering or post-holiday party!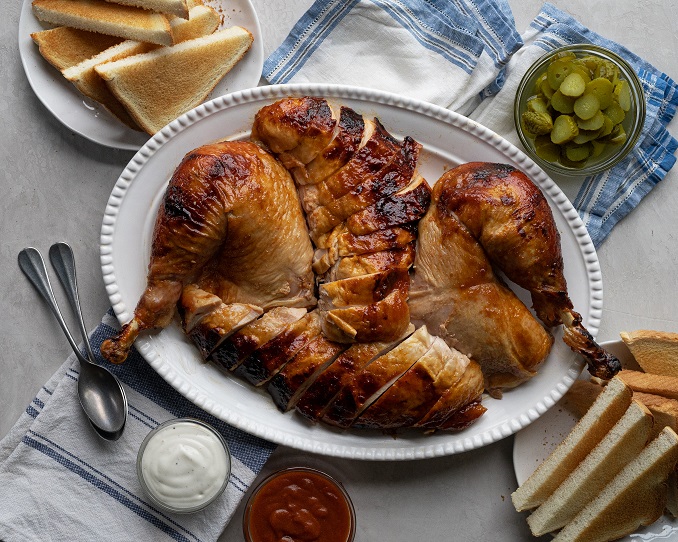 Jessica Emin's Hot Buffalo Honey Roast Turkey
Serves: 6-20
Prep time: 3 days
Cooking Time: 2-6 hours
Ingredients:
1 whole turkey
½ cup Louisiana style hot sauce
⅓ cup butter
6 Tbsp honey
1 tsp cayenne pepper
1 tsp onion powder
1 tsp paprika
Directions:
1. Thaw your turkey. This can take anywhere from 1 to 3 days depending on the size.
2. Once your turkey is thawed, and about 24 hours before you plan to cook it, pat it dry with paper towel to prepare it for uncovered dry brining in the refrigerator.
3. Cover the turkey bottom, top and cavity in fine kosher salt. There should be a generous amount on the bird so that the meat absorbs the salt. Let sit 8-24 hours, or overnight.
4. Rinse the brine off the turkey, pat it dry, and place the turkey back in the refrigerator to air dry for 8-10 hours or until you cook it. Air drying is what creates a crisp skin.
5. Immediately before roasting, rub the turkey with ¼ cup soft butter all over the breast side.
6. Preheat the oven to 425° F and position the racks in the lowest slots. Place the turkey in a roasting pan or on a sheet pan with a rack. Truss the turkey with twine, or tuck the wing tips under the turkey, and tie the legs together if you wish, for aesthetic purposes.
7. Place the turkey breast side-up in the oven for 40 minutes, or until the skin has lightly browned all over, with the legs towards the back of the oven.
8. While the turkey is cooking, make the buffalo honey glaze by whisking together the hot sauce, cayenne, onion powder, paprika, honey and remaining butter.
9. Once the turkey skin has browned, lower the oven temperature to 375° F. Depending on the size of the turkey your cooking time will vary, but using a meat thermometer is the safest way to know you are not overcooking your turkey (the thermometer will read 170°
F at the thickest part of the thigh when cooked).
10. About ⅔ of the way through the suggested cooking time you can begin to check the temperature of the turkey. Once the thighs are at 140° F and when there is about 1 hour left of cooking, begin taking the turkey out every 10-15 minutes and brushing all over with the glaze. Keep repeating every 10 minutes until the turkey has reached temperature. Remove from the oven.
11. Let cool for 20 minutes before carving, and then slowly reheat pieces for serving.
12. Reserve remaining glaze to serve as dip or drizzle for turkey. Warm before use.
13. When the time comes to carve your turkey, see here for a full how-to.