Courtesy of BakeGood, this delicious Pistachio Macarons recipe is perfect for sweet tooth lovers and will make tea time a special occasion. Go ahead and try it!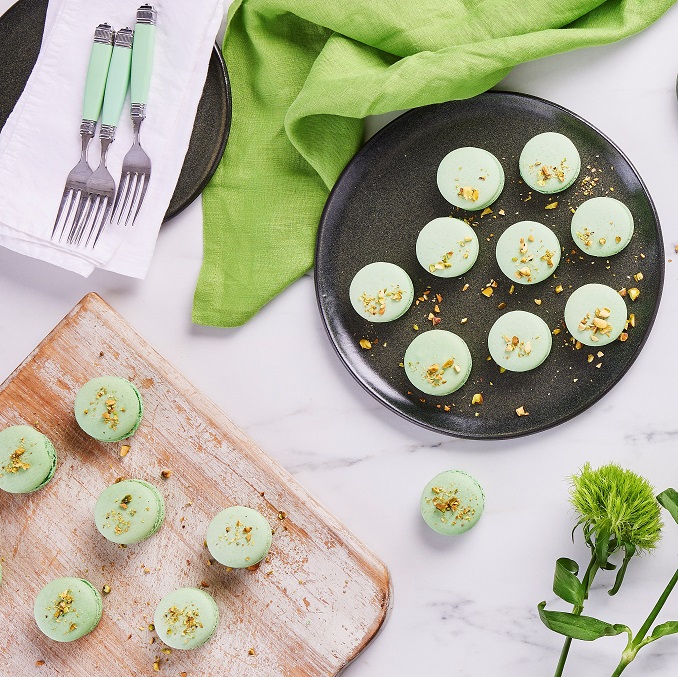 Pistachio Macarons
Ingredients:
Macarons:
● 1 1⁄2 cups of icing sugar
● 1 cup of almond flour
● 4 large egg whites
● 1⁄2 cup of granulated sugar
● 2 tbsp of water
● 2 tbsp of light corn syrup
● Pinch of fine sea salt
● 5 drops of green food colouring
Filling:
● 1⁄2 cup of roasted pistachios
● 1⁄4 cup of granulated sugar
● 2 tbsp of almond flour
● 1 tbsp of vegetable oil
● 1⁄4 cup (4 tbsp of unsalted butter)
● 1⁄4 cup of almond paste
● 1⁄4 cup of almond extract
Directions:
Macarons:
1. In a medium-sized bowl whisk together the icing sugar and almond flour, set aside.
2. Fill a saucepan halfway with water and bring to a boil over medium heat. Once boiling, lower to a simmer.
3. Add egg whites, sugar, and water to a larger heat-safe bowl that will sit on top of the saucepan (make sure the bottom of the bowl does not touch the water).
4. Whisk eggs continuously until the sugar has dissolved.
5. Remove from heat and continue to mix with a handheld mixer or stand mixer until you get stiff, white, shiny peaks.
6. Gently fold in the almond flour mixture and corn syrup.
7. Once combined, fold in 5 drops of green food colouring or until the desired colour.
8. Line 2 cookie sheets with parchment paper or a silicone mat.
9. Fill a pastry bag fitted with a 1⁄2" tip and pipe 1-inch rounds onto the cookie sheet, leaving 1" around each cookie in all directions.
10. Let sit uncovered at room temperature for 30 minutes, up to 1 hour.
11. Preheat the oven to 300°F. Adjust oven racks, placing one on the lower third of the oven and the second in the upper third.
12. Bake for 15-20 minutes or until the macarons have risen and are smooth with crackled edges. Remove from the oven and place the cookie sheet on a cooling rack. Let cool completely before removing the cookies.
Filling:
1. Place pistachios and almond flour in a food processor and blend until the mixture resembles a coarse meal.
2. Slowly drizzle in the oil while continuing to blend.
3. Add in the butter, almond paste, almond extract, and 3 tbsp of water. Continue to blend into a smooth paste (approx 3 minutes).
Assembly:
1. Once the cookies are cool, spread about 1 tsp of pistachio filling between 2 cookies to create the finished macaron.