Handmade & Hygge by Anna is a relatively new business that sells handcrafted and customizable macrame decorations, earrings, and key charms… you name it, Anna can weave it. The business started as an expansion of her adopted hygge lifestyle, and grew in popularity due to the nature in which the artist does her due diligence to craft her pieces: with the intention of love and positivity. We spoke with her to discover more about the world of Hygge and macrame decor.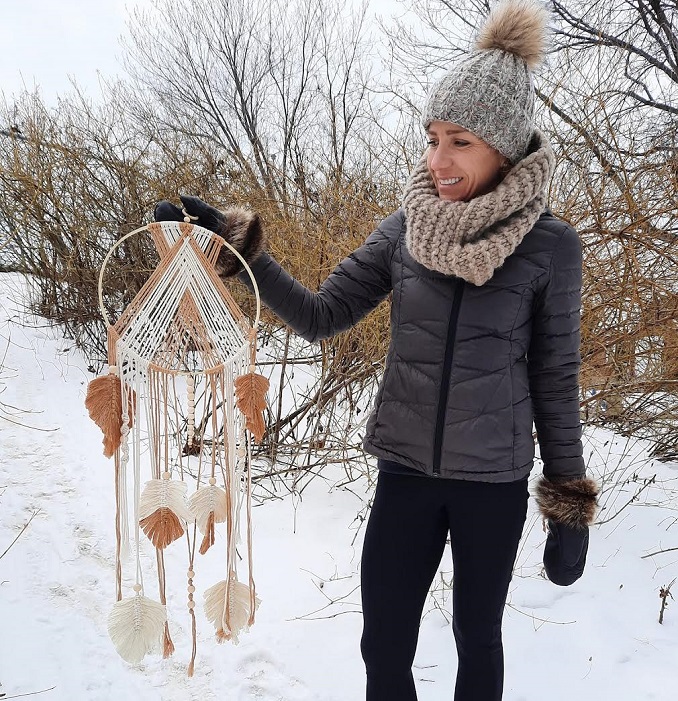 What is your business called and what does it do?
Handmade & Hygge by Anna. I handcraft macrame creations in all (or almost all incarnations). From plant hangers, and hanging shelves to wall art, key charms, earrings, ornaments… I love macrame and all its creative possibilities. I love working with simple, natural materials: cotton cord, wood, dried flowers… The pieces I create can be practical and functional or purely decorative in nature.
What made you want to do this work?
The "hygge" lifestyle I adopted over the years has reignited the inner spark of creativity in myself. With a penchant for creation using simple, natural materials, my goal is to "infuse" my creations with positive vibes and warmth while I remain present in every step of the creation process. Consequently, I started "Handmade & Hygge by Anna", 2 years ago- a little business endeavour that allows me to share my macrame fibre art creations and spread some hygge vibes within my community.
Who are your clientele/demographics?
My clientele is mostly female. Aged 20-99 years, mostly in Montreal, Quebec and the surrounding area although I also have clients in Ontario, British Columbia and in the U.S.
Where in the city can we find your profession?
My handmade creations can be found on my Etsy page, on Instagram and on Facebook.
What is the best part about what you do? What is the worst part?
I absolutely adore creating pieces and seeing them in my clients' homes or being used by my clients. I am so grateful to have people who appreciate my artistry, love my work and choose me and my creations to express their unique style.
Honestly, there is no "worst part" for me!
What is your favourite joke about your own profession?
I'd rather knot answer…😉
Where can we follow you?
Facebook | Instagram | Etsy shop
PAY IT FORWARD: What is another local business that you love?
Please check out Tripinglh! Louna is an upcycling fashion designer in Montreal who also organizes artisan and artist pop-ups and is a great supporter of artists and makers in our city! Her fashion creations are amazing!