Chez Doris is a shelter providing multiple services and programs to women who are experiencing or living with mental health issues, homelessness, job loss and other societal challenges. They are devoted to helping as many women as possible by staying open 7 days a week, 24 hours a day. We spoke with their Executive Director Marina Boulos-Winton to learn more.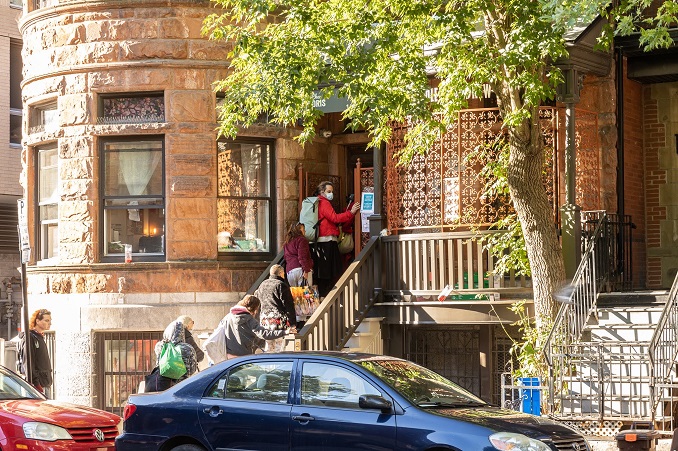 Describe your charity/non-profit/volunteer work in a few sentences.
Chez Doris offers services and programs providing for women's most basic and immediate needs coping with homelessness, poverty, mental illness and/or addiction(s). It is the only women's day shelter in the west end of downtown Montréal open 7 days a week, 24 hours a day. Services include breakfast, lunch, and supper; access to showers, free hygienic products, and a clothing depot; 10-day beds; 24 overnight emergency beds; telephone information and referral assistance; a financial management program; Indigenous cultural activities; a housing search & support program; 2 permanent residences offering permanent social housing; health and mental health services; legal and tax filing services; along with educational and socio-recreational integration programs.
What problem does it aim to solve?
We aim to help anyone who identifies as a woman and experiences a one-time, episodic, or chronic situation(s) that causes instability in one or more areas of their life for which they do not have the support nor the resources necessary to access support, stability, and empowerment needed to move towards a solution and achieve full social reaffiliation. Typically, Chez Doris helps those who are
experiencing: financial precariousness, dependencies, residential instability/homelessness, sudden life-change or job loss, isolation, mental health disorders, sexual exploitation, trauma, fragile physical health, functional/ intellectual limitations, and those who may also be experiencing marginalization, discrimination, and racialization.
When did you start/join it?
I was hired as the permanent Executive Director in April 2015 after serving as Interim Executive Director during a period of transition.
What made you want to get involved?
I wanted to be involved with Chez Doris as it has a long history of providing vital services to vulnerable women in Montreal. Due to a lack of funding in 2014, it risked having to close its doors permanently, and I wanted to prevent this from happening. If it had to shut down, it would have left a huge gap in the community that would have been hard to fill.
What was the situation like when you started?
When I started as the Interim Executive Director in 2014, we were open 5 days a week from 8:30 a.m. to 3 p.m. After 8 months of reduced services, we went back to being 7 days a week in February 2015. In 2017, we began to see an increase in homeless women with nowhere to go at night. Back then, 20-30% of our clientele had no fixed address. Housing was becoming increasingly unaffordable prior to the pandemic, and depending on the time of the year, there were 798 to 1,022 emergency beds for more than 3,000 homeless people. Women represented almost a quarter of those homeless, but only 10-14% of those shelter, beds were exclusively for women.
How has it changed since?
The pandemic exposed how pervasive homelessness is. Now, 80% of our clientele is homeless. Today, there are approximately 1,600 emergency shelter beds for approximately 6,000 homeless people in Montreal. Of the emergency beds, only 188 beds are in shelters for women only. Twenty-four of the shelter beds are at a Chez Doris emergency shelter launched last September. We also offer help to find housing solutions and we will soon launch our own residences to offer permanent, social housing for 46 women.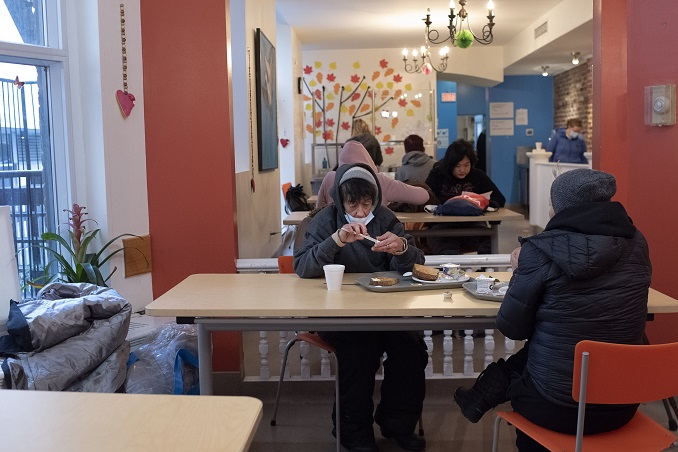 What more needs to be done?
More needs to be done to address the root causes of female homelessness, including the lack of shelter beds for women as well as the city-wide lack of affordable housing. There is also a great lack of trained staff and resources to offer help to those suffering from severe and chronic mental health challenges and addictions.
How can our readers help?
Readers can donate at www.chezdoris.org and follow us on social media where we regularly post updates, including calls for volunteers and requests for specific in-kind donations. There are many opportunities to be personally engaged either on a one-time or recurring basis.
Do you have any events coming up?
We have an event on June 15, our 2nd annual benefit-cocktail Gimme Shelter – Day and Night! chaired by Elizabeth Wirth and Jacques Maurice, in honour of Bash Shetty whose recent donation served as the bedrock by which we were able to purchase and renovate a second permanent residence – Cocktail-bénéfice 2023.
As well on June 5, another event is being organised by a past volunteer of Chez Doris, a storytelling show, "Sharing Women's Monologues". RSVP and donate here. The suggested minimum donation is $50 per person, which is the entry fee.
Where can we follow you?
Facebook | Instagram | Twitter | LinkedIn
PAY IT FORWARD: What is an awesome local charity that you love?
YES Montreal. They have a new readiness employment program for women which is incredible! WERQ: Women Employment Readiness Quebec – YES Employment and Entrepreneurship.