Friends For Mental Health is a Montreal charity that supports the entourage of people living with mental health. We spoke with Victoria Kuczynski, counsellor, to find out more about them.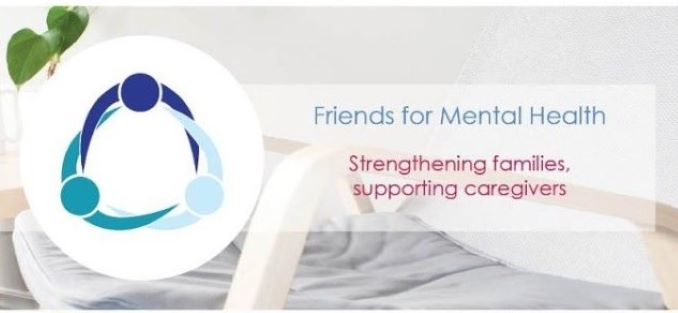 Describe your charity/non-profit/volunteer work in a few sentences.
Friends For Mental Health is a community non-profit organization on the West Island of Montreal. We support the entourage of people living with a mental health issue through psychoeducational courses, one-on-one counselling, and support groups. We also seek to destigmatize mental health issues via presentations/kiosques in schools, cultural community centres, and other organizations. We offer family counselling sessions, classes and workshops, as well as art therapy, mindfulness workshops, and other respite activities.
What problem does it aim to solve?
Friends for Mental Health aims to offer support and other resources to those close to a person with a mental health issue. To clarify, we aim at providing transparency surrounding the mental health system in Quebec, more specifically in the West Island, we help our members gain better insight into the illness of their loved one, how each person in the surrounding of someone suffering from mental illness can have a direct or indirect way of affecting their loved one and the family.
When did you start/join it?
I joined Friends for Mental Health 3.5 years ago.
What made you want to get involved?
I wanted to help the families and caregivers of individuals suffering from mental illness. I believe they are often forgotten, and. I wanted to help this population better support and understand the mental illness of their loved ones. I was also attracted to our second mandate, which is destigmatizing mental health issues through work within our communities and the media.
What was the situation like when you started? How has it changed since?
Friends For Mental Health just celebrated its 40th anniversary, and has changed a lot over the years! We have expanded on our programming, developed more courses on hot topics (ex. Cyberdependence), and added more respite activities (ex. Movie nights, Interactive Webinars online, Mindfulness workshops, individual art therapy sessions for kids, etc. ). We have had a few changes to the team as well. We continue to build new relationships with other organizations in the West Island to see how we can best support the community.
The pandemic has also led to many changes within the organization. We have developed a hybrid model where we offer one-on-one counselling, support groups and psychoeducational courses via Zoom, while also being available to our members for in-person sessions.
What more needs to be done?
Stigma still remains a major obstacle. It is a huge barrier for people who would greatly benefit from support, but fear being shunned or judged. Friends for Mental Health will continue to offer direct services to friends and families, and work towards breaking down stigmatizing views of mental health issues. Speaking candidly about our mental health problems would help destigmatize mental health difficulties. After all, we all speak about having a doctor's appointment, diabetes, or high blood pressure. Why not equally speak about seeing a counsellor, or having a difficult day?
The mental health system is also very overwhelmed, which leads to long waitlists. More work is needed to make these essential services more accessible in times of need.
How can our readers help?
Using person-first language is a simple way to show that you see a person as more than their diagnosis. Instead of saying "He's a schizophrenic," you would say "He has schizophrenia." Be open to listening to a person's experience and try to understand where they are coming from. Gently encourage and support people to seek professional help, and be sure to model this by also seeking help when you need it!
Do you have any events coming up?
We had a mindful walk happening on December 3 rd. The activity took place at Angell Woods on the West Island. This walk allows people to connect with nature, stay in the present moment and take a short break right before the holidays!
There are also many courses starting in January for our members. It's easy to become a member if you have a loved one, diagnosed or not, living with a mental health problem. All you have to do is call at 514-636-6885 or send an email to info@asmfmh.org and request an appointment. You can also visit our website at www.asmfmh.org
Where can we follow you?
Instagram | Facebook | Website
PAY IT FORWARD: What is an awesome local charity that you love?
Perspective Communautaire en Santé Mentale, (PCSM) / Community Perspective in Mental Health