Skateboards For Hope is a Montréal not-for-profit organization that mentors youth using skateboards. We spoke with Betty Esperanza to find out more about them.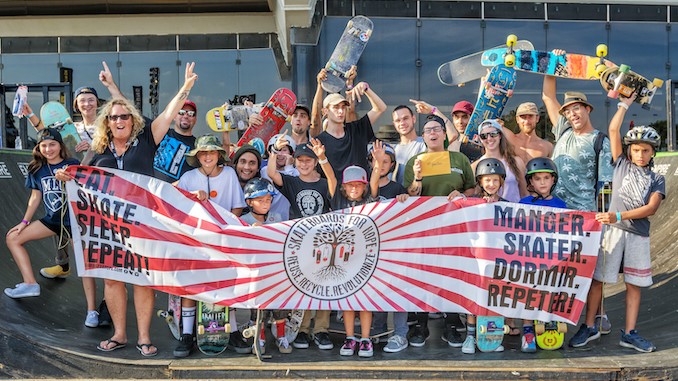 Describe your charity/non-profit/volunteer work in a few sentences.
Skateboards For Hope mentors youth worldwide using skateboards as a tool to promote positive action and active community engagement. We shred the taboos and break the stigma around skateboarding culture by showing that the practice of skateboarding benefits children and youth's physical and mental capacities, teaches self-reliance, perseverance and problem solving, and provides concrete solutions to rise above poverty.
What problem does it aim to solve?
To provide free access to skateboarding to underprivileged youth, we collect skateboards and gear to recycle and then donate them to children who otherwise could not afford them. As part of the United Nations 2030 Goals, we are also providing a service where we are sending fewer skateboards to a landfill site, of which 2 million find their way each year. Our goal is to educate skateboarders to recycle all materials.
When did you start/join it?
I accidentally started in the early 2000s when I gave my skateboard to a young boy in Cuba. I travelled several times annually to deliver used skateboards. It became a nonprofit in 2018 where we have donated over 8000 skateboards to children in several countries.
What made you want to get involved?
I never imagined that I would become so passionate about skateboarding but ultimately it was seeing the smiles on the children's faces that have kept me going. We aim to change lives and we have.
What was the situation like when you started?
It was really hard to be taken seriously. I never gave up and there will always be challenges to overcome such as finances and transportation. It's really hard to collect used skateboards, repair them and then find ways to transport them overseas. Building trust over the years with local and national companies to support our mission has been the key to our success. It truly takes a village to raise awareness about the benefits of sports for our youth's development.
How has it changed since?
The pandemic has slowed us down but has increased our determination to provide more skateboards to youth across the country. We recently distributed over 1000 skateboards to schools in Quebec for our RE-DECK-O-ART program where students will paint messages of hope on the decks. We want to support the future generation in finding ways to counter isolation, depression and anxiety.
Physical activity, art and skateboarding have been proven to help youth get through tough times. We see the benefits already of the program with the enthusiasm of teachers and students.
What more needs to be done?
We would like to see skateboard collecting activities across Canada in educational institutions, skateboard shops and skateboard manufacturers. I believe it's a good time to collaborate to develop more awareness to help underprivileged children get free access to skateboards. Breaking the cycle of poverty using one skateboard at a time.
How can our readers help?
If you want to volunteer your skills, help us fundraise or create mini-events in your community, we are open to it all. We are very appreciative of your support. Our volunteers are the backbone of our nonprofit.
Do you have any events coming up?
The next major event will be JACKALOPE FEST in August 2022 at the Olympic Stadium in Montreal. We partner with other organizations and festivals during the summer and you can find us touring skateparks with our ambassadors too. Check our social media for updates or sign up for the newsletter on our website.
Where can we follow you?
Skateboards For Hope is everywhere!
Check out our Llinktree!
Instagram | Facebook | TikTok | LinkedIn | Twitter | Website | Medium
PAY IT FORWARD: What is an awesome local charity that you love?
This year we hope to do more for Native Montreal